Workers comp claim after the death of Uber Eats rider could lead to a landmark legal case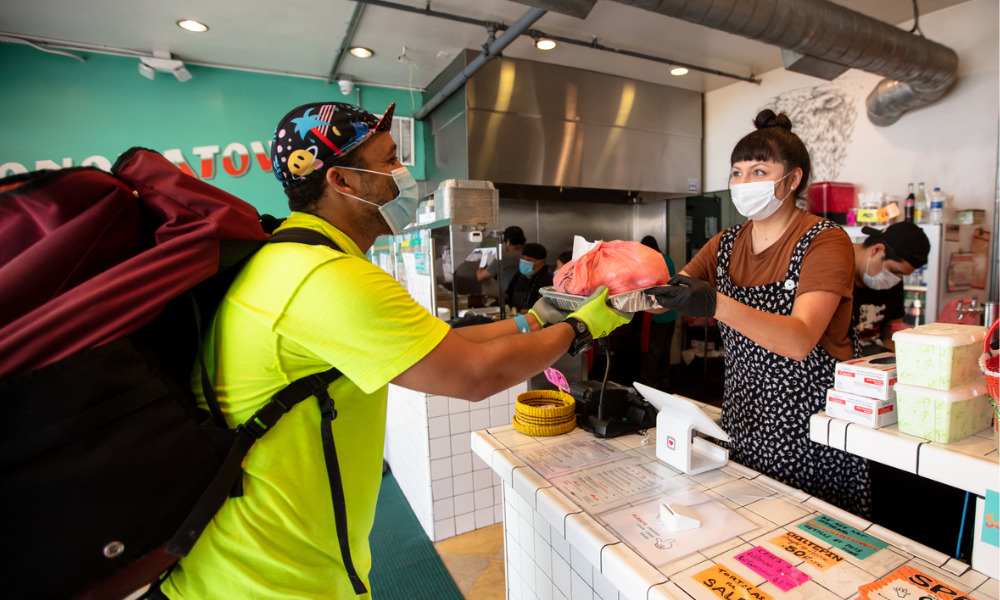 Key takeaways
A claim has been filed against Uber and iCare on behalf of the wife and son of an Uber Eats rider who was killed in September
Under current NSW law, delivery drivers and riders are considered contractors, not employees
If the claim fails, the TWU says it will use it as a test case at the Workers Compensation Commission, which could set a precedent for gig economy workers
A recent law change in California could pave the way for similar legislation in Australia
A workers compensation claim could lead to a landmark legal case around the rights of gig economy workers after the death of an Uber Eats rider.
Dede Fredy, 36, died in September this year, three days after he was hit by a car while delivering food in Sydney's inner west.
Lawyers for the Transport Workers Union have filed a claim for full compensation on behalf of Fredy's wife Nyoman Sunarti and their four-year-old son Muhammad.
The claim filed on Tuesday against NSW workers compensation insurer iCare and Uber is seeking compensation over Fredy's death.
The claim includes a lump-sum of $834,2000 and weekly payments of $150 for Fredy's son and funeral expenses.
If the claim fails, the TWU plans to pursue it as a test case at the Workers Compensation Commission.
It would be the first case brought against a gig economy employer to seek full compensation rights.
Under current laws in NSW, delivery drivers and riders working for companies like Uber, Doordash, and Menulog have been considered independent contractors.
Read more: Casual worker rights: What IR reforms mean for employers
As a contractor, rather than an employee of the company, they are not eligible for the same level of compensation.
Uber provides private cover to its riders but the benefits are less than those available to employees under the statutory workers compensation scheme.
The recent string of deaths across Australia has prompted calls for legislative reform to bring the rights of gig economy workers in line with those of employees.
TWU National Secretary Michael Kaine said in the absence of legislation, the union would take action.
"We intend to take this claim all the way to the Workers' Compensation Commission in a test case to extend full workers' compensation rights to food delivery riders," he said.
"The wife and four-year-old son of Fredy Dede should get full compensation under our laws and they should not be pushed into poverty because of the way Uber structures its business.
"Grieving families of riders should not have to take on multi-national goliaths like Uber but a refusal by the Federal Government to regulate has left them with no choice."
Read more: Employers to be allowed to alter employment terms for up to 2 years
Responding to the claim, a spokesperson for Uber Eats said having the same rights, obligations and responsibilities under workers compensation legislation is neither practical or achievable, given the difference in Uber's level of control, management and oversight compared to an employer's.
"Recent events have been devastating for the families and friends impacted and for the wider delivery community," Uber's spokesperson told HRD.
"Safety is fundamental to Uber and we have instituted a number of measures over recent years to help keep those who use the platform safe.
"Uber enables flexible and independent work in a way that hasn't been possible before. There is no control over a partner's day-to-day tasks or operation, or requirement for partners to report to a manager or boss.
"This genuine two-sided flexibility is what sets the Uber App apart from other types of work. By providing people the freedom to work whenever they choose, Uber helps provide opportunities to work, or a path back to work, for many who have previously been shut out of the labour market."
A recent law change to the rights for gig workers in California could point to future legislative changes in Australia.
The Californian gig law requires companies to reclassify their independent contractors as employees, using a three-pronged test.
Those factors include:
Whether the employee is free to perform services without the control or direction of the company
If the worker is performing work tasks outside the usual course of the company's business activities
Whether the worker is customarily engages in an independently established trade or business of the same nature as the work that is performed