Company's former employees 'face dilemma' as it goes into administration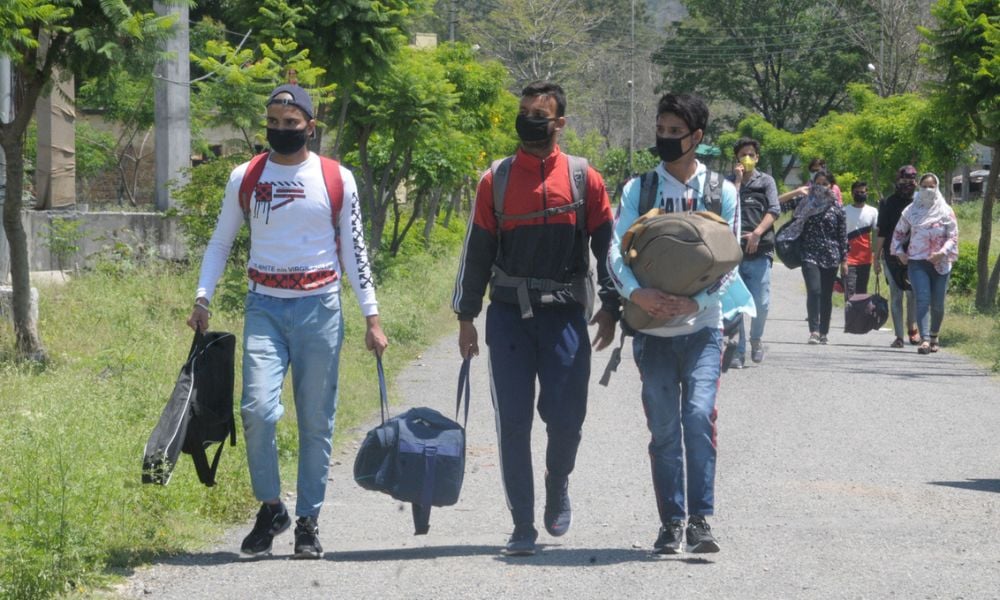 As the grocery delivery business Send liquidated in early May, several migrant workers found themselves not entitled to the wages they were owed.
Hugo, one of Send's store managers, felt angry when he discovered he would not be able to recover more than $10,000 in wages and entitlements he was owed.
"I'm never going to see my money again," Hugo said to ABC News as he declined to give his real name out of fear it could affect future visa or residency applications.
While Hugo was once a full-time contract in Send and paid tax, he was ineligible to claim a federal government scheme because he was a temporary visa holder.
People qualified for FEG
The primary government payment scheme, known as the Fair Entitlements Guarantee (FEG), provides financial assistance to cover certain unpaid employment entitlements to eligible employees who lose their jobs to employers liquidating or going bankrupt.
Based on the Attorney-General Department's website, workers are only eligible for FEG assistance if they are Australian citizens, holders of a permanent visa, or holders of a special category visa that allows a person to stay and work in Australia at the time the employment ends.
"What this means is that international students, people on working holiday visas and other temporary visa holders miss out," Catherine Hemingway, legal director at the Migrant Justice Institute, said. "It's discrimination."
Impact on the majority of Send's employees
Most of Send's employees shared the same dilemma as Hugo because, among the 10-15 delivery riders Hugo managed, 70% were also on a temporary visa.
"All of those people are not going to see the money [they're owed] and I don't know what to tell them," he said. "Everyone is upset but … what can we do about it? The rules are the rules, and they are not made for us."
Dhvani Sutariya, an Indian student and employed as a casual delivery rider at Send, once worked 20 hours over four or five days in the company, according to ABC News.
When Send liquidated on 7 June, Sutariya was owed approximately $2,100 in unpaid wages and entitlements.
Sutariya struggled to pay rent when Send stopped its operation. Thus, she needed to find another job immediately to survive. "I am still hoping to get my money back," she said.
Action towards the government's scheme
Hemingway said that three years ago, a Migrant Workers' Taskforce recommended extending the FEG to all temporary visa holders to help all workers.
In response to the scheme issue, the Attorney-General's Department told ABC News that "the government has committed to implementing the recommendations of the Migrant Workers' Taskforce."
While the government recognized the task force's recommendation, Hemingway said it was time for an evident action.
"Why should two workers who are doing the same job for the same boss be treated completely differently?" she questioned.
Meanwhile, Rob Adams, Send founder and former CEO, said he was "deeply sympathetic" towards employees who were ineligible for the scheme.
"Care for our employees' safety and livelihoods was something that was central to our business model at Send," Adams said in the ABC News report.
The rise and fall of Send
Send operated during the COVID-19 pandemic and was known as "Australia's first digital grocery store."
The Send app, which promised to deliver groceries in "under 10 minutes to your door," had over 46,000 registered users.
The digital store spent $11 million over the eight months it operated based on a report sent to creditors on 30 May and filed to the Australian Securities and Investments Commission by Worrells.
The report noted that Send's operating expenses were primarily on salary and wages, costing more than $5.5 million.
"Accordingly, despite attempts by management to reduce the losses incurred, it is clear that without external funding the company's business model was not sustainable," the report stated.
As 2022 started, Adams said the global economic climate became "most pessimistic since the 1970s," consequently affecting the Send company.
"Despite our best efforts and demonstrating exceptional growth, we were unable to secure the necessary capital to remain operational, a heartbreaking result for everyone involved," he said.