Thousands of Federal government workers will walk off the job this week as part of a long-running industrial dispute over work conditions.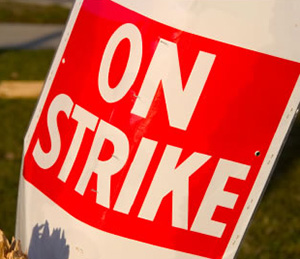 Thousands of Federal government workers are planning strike actions across the country this week as the war over work conditions heats up.

Department of Immigration and Border Protection (DIBP) workers will begin stoppages at international airports from Tuesday and are planning a 24-hour strike on Thursday, Sky News reported.

Thousands of public servants at Medicare, Centrelink, the Tax Office, Defence, the Bureau of Meteorology, the Department of Prime Minister and Cabinet and the Bureau of Statistics will also strike for 24 hours on Monday, says the Community and Public Sector Union.

The strike campaign is part of a long-running industrial dispute with the federal government over work conditions.

Most agreements lapsed in mid-2014, however negotiations for new agreements have been drawn-out with many public sector employees disappointed by the government's pay and conditions offers.

CPSU national secretary Nadine Flood told the ABC that employees were fed up after two years of negotiations over pay and conditions, with no deal struck.

Flood says Prime Minister Malcolm Turnbull has ignored the union's offer of talks to discuss the issue and that industrial action could continue at airports for several weeks.

Customs officers who moved over to Border Force following the merger of Customs and Immigration would suffer the most, because they would lose their allowances and entitlements, the CPSU says.

In a recent ballot, DIBP staff rejected the government's latest offer of a 6 per cent pay rise of three years, with 81 per cent voting against it.

DIBP staff also rejected an earlier agreement in September 2015, when 91 per cent voted against an offer of 3.4 per cent over three years, one of the lowest in the Australian Public Service.

A 24-hour strike is planned for Easter Thursday, Government News reported, with the possibility of a three-week campaign of rolling stoppages starting just after Easter, from Tuesday March 27.

Easter holiday plans may be affected by the strikes, with airline passengers advised to allow extra time for international departures and arrivals, and to contact their carrier for more information.