The union royal commission has brought this contentious negotiating tactic back into the spotlight. What's the best way to navigate a pattern bargaining situation?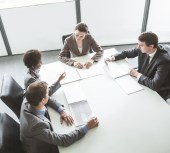 A trade union royal commission has fallen short of recommending a total ban on the controversial union tactic of pattern bargaining, despite heated opposition from Australia's construction industry.
The outcome has been received as a disappointment by many smaller contractors, who due to lack of bargaining power, often fall victim to aggressive pattern bargaining campaigns.
However, industrial relations lawyer Richard Calver says HR managers can successfully navigate situations where pattern bargaining is used to negotiate workplace agreements by sticking to the principles of good faith bargaining and talking to their staff.
"You should seek to alter the pattern to suit your individual circumstances and if the other party refuses to do that and offers the 'sign-up or else' tactics we see only too frequently in the construction industry, then you apply the good faith bargaining requirements and indicate to the commission and others that the agreement hasn't been reached in good faith," Mr Calver told HC Online.
Under the Fair Work Act, pattern bargaining is prohibited except where the parties are genuinely trying to reach an agreement. This is an unpopular union practice where major contractors are convinced to agree to specific pay and conditions, such as site, travel and meal allowances, and often puts pressure on smaller contractors to adopt similar deals or miss out on work.
Master Builders Australia chief executive Wilhelm Harnisch says pattern bargaining entrenches the union's power and promotes restrictive and unproductive work practices.
As such, this practice can have a detrimental effect on smaller contractors who simply aren't the financial position to provide such terms and conditions, and have a knock-on effect on the construction labour market and overall productivity as construction prices are pushed up to cover labour costs.
"Pattern bargaining is driving a race to the productivity bottom in the construction industry," Master Builders Australia chief executive Wilhelm Harnisch was quoted saying in the Australian Financial Review.
Mr Calver says HR managers can address the issue of pattern bargaining by having open discussions with their employees.
"You can engage with your employees about conditions that suit them and suit the business, as your employees don't necessary want a pattern agreement that doesn't suit them and their own circumstances," Mr Calver says.
HR managers need to be aware of the legal ramifications of pattern bargaining and know their rights when faced with such a situation, he says. Companies also need to know when to pursue legal action to ensure existing laws prohibiting industrial action surrounding pattern agreements are enforced.
"It's only when the pattern agreements are insisted upon and can't be altered that you can then rely on the good faith bargaining provisions of the Fair Work Act to make changes to that pattern," Mr Calver says.
The Fair Work Building & Construction website stipulates that pattern bargaining is not permitted unless the bargaining representative is genuinely trying to reach an agreement in good faith with the employer. The factors to determine this are:
whether the bargaining representative is demonstrating a preparedness to bargain for the agreement taking into account the individual circumstances of that employer, including in relation to the nominal expiry date of the workplace agreement and
whether the bargaining representative is bargaining in a manner consistent with the terms of the agreement being determined as far as possible by agreement between that employer and its employees.
If a bargaining representative wishes to rely on these factors to prove that they are genuinely trying to reach an agreement in good faith, they have the burden of proving that the above factors apply.
While it was anticipated that the weight of a recommendation from Justice Dyson Heydon would convince the government to ban pattern bargaining, employers say they will continue to lobby for new laws protecting industry from pattern bargaining.
"The Australian Chamber objects to pattern bargaining by militant unions using industrial muscle to impose predetermined terms and conditions upon employers in a weaker bargaining position because it leads to anticompetitive and unproductive outcomes," Australian Chamber of Commerce and Industry chief executive Kate Carnell told the AFR.
"It should be rendered unlawful and unions should be prevented from taking industrial action in support of it," Ms Carnell said.