Minister for Employment Eric Abetz is set to dismantle some of the work done by Bill Shorten earlier this year, focused on stripping unions of power.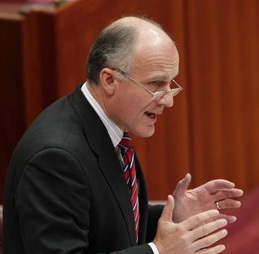 The Coalition promised voters a return to the 'sensible centre' for workplace relations. Minister for Employment, Senator Eric Abetz, has begun the move towards this by peeling back on changes put in place by former Minister for Workplace Relations, Bill Shorten.
Senator Abetz told an Australian Mines and Metals Association (AMMA) conference on 15 November laws that were perceived to give unions too much power – such as allowing them to hold meetings in employee lunch rooms – would be reversed early next year, The Age reported.
The law requiring employers to facilitate union access to remote sites would also be removed. While The ALP has voiced its opposition, Steve Knott, chief executive of AMMA, supported these changes.
When asked for comment, a media representative for Senator Abetz directed HC to The Coalition's workplace relations policy it released in May.
The Coalition has also begun other motions to remove power from unions, through presenting legislation on 14 November that would mean up to six months jail-time for those refusing to co-operate with the reinstated 'union watchdog', the Australian Building and Construction Commission (ABCC).
The ABCC will be able to compel individuals to give information, provide documents and answer questions about suspected breaches of the law.
"Today we moved to reintroduce the Australian Building and Construction Commission because this side of the House represents workers in Australia and the other side of the House represents union leaders," Education Minister Christopher Pyne said.
Those ordered to attend questioning before the ABCC can be represented by a lawyer if they wish.
The move has strong support from business groups, but faces opposition from unions, The Sydney Morning Herald reported.
Greens Deputy Leader Adam Brandt called the move a "curtain-raiser to the government's return to WorkChoices".
Image source: abetz.com.au
What do you think of the changes?