Qantas' announcement of major job cuts is a sign a broader issue facing Australian workplaces. Where do you stand?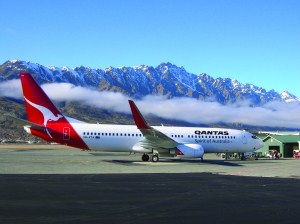 Amid the media tussle between
Qantas
and Virgin Australia, The
Qantas
Group today announced a market update, reflecting the grim market conditions the organisation finds itself in.
"Trading conditions saw a marked deterioration in November in particular, with both passenger loads and yields below the already negative trends for the year to date," the release stated.
As a response to the worsening conditions, a number of cuts have been made, including a staff culling of 1000 individuals. This cut is to occur over a 12 month period – it is unclear if more cuts will be made.
CEO Alan Joyce and other board members will be experiencing pay cuts. Executives will also see pay freezes with no bonuses for FY14 as part of an attempt to achieve cost savings of $2bn in over three years.
"We will do whatever we need to do to secure the Qantas Group's future," Joyce said. "The challenges we now face are immense – but we will overcome them and we will continue to build a stronger and better Qantas for Australia."
While shocking to some, the redundancies at Qantas are consistent with the broader business world, according to a recent report from Mercer.
The
Human Resource Effectiveness Monitor (HREM)
found redundancy levels have reached highs not seen since 2009.
"Our data tells us people are not changing employers as frequently as they were in the pre-GFC environment. However, tightening budgets are contributing to higher redundancy levels. Now one in four departures is an involuntary departure compared to around one in seven a few years ago," Garry Adams, leader of talent business in the Pacific region at Mercer, said.
The median rate of involuntary turnover in Australia has reached 3.4%, compared to 2012's 2.2%. However, voluntary turnover has decreased, down to 9.4% from a pre-GFC high of 15.7%. Overall, this has resulted in less turnover on the whole – dropping from 17.9% to 12.8%.
These results indicate that measuring turnover itself will not yield complete insights into the performance of HR, and instead turnover rates must be examined alongside internal and external market conditions. While a lower turnover rate could signify greater productivity and mean less concern over hiring delays or unfilled roles, the workforce could be fearful of market conditions and so remain in their position, despite being disengaged.
"Organisations need to make fact-based, data-driven decisions to ensure they maintain a healthy turnover rate and retain the right people, with the right skills, in the right places," Adams said.