Take Your Dog to Work Day is only a few days away. Here's what employers should be mindful of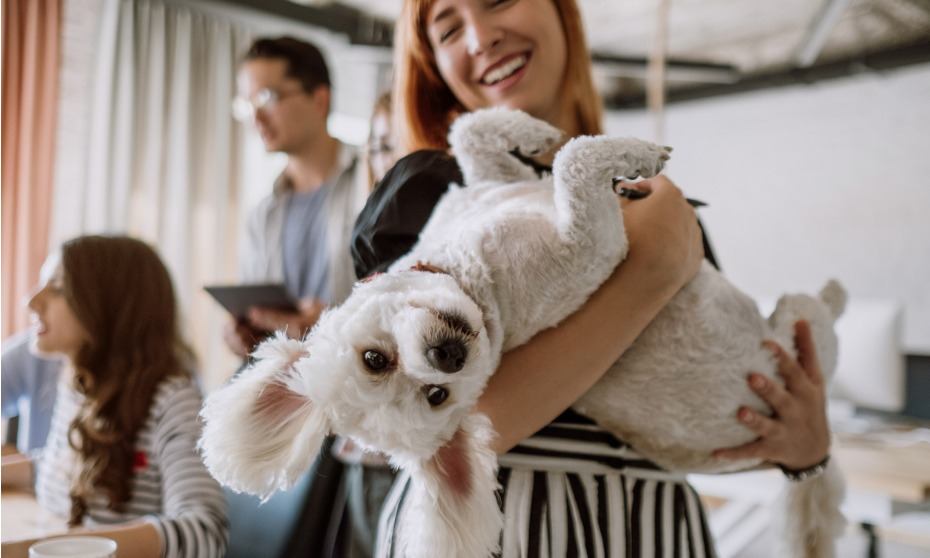 In the lead up to Take Your Dog to Work Day on Friday the 21st of June, it's worth noting how bringing a furry friend to your job can be beneficial to employee performance.
To improve productivity, wellbeing and engagement, many companies are allowing employees to bring dogs to the office, according to Marcela Slepica, Clinical Services Manager at AccessEAP.
"Multiple studies have shown the mental, social, and physiological health benefits of owning or interacting with an animal, which causes the body to release 'happy hormones' serotonin and dopamine that help combat stress, depression and anxiety," said Slepica.
"Additionally, pets have proven positive physical effects from improved cardiovascular health to lower cholesterol levels."
James Parkinson, Product Manager of Happy Tails, said people are increasingly looking at new ways to provide the best care for their pets and for many dog owners, this includes bringing their furry friend to their job, rather than leaving them home alone.
"Not wanting to cart pet beds, leads, toys and food to and from work, many are setting up a 'barking lot' at their desks," said Parkinson.
Considering 43% of employees wanting pets to be allowed in their offices and 39% claiming this would increase their productivity, Slepica outlines five reasons why businesses should allow dogs into the workplace:
Mindfulness
Between meetings, client requests, business opportunities, emails and the many other requirements of our daily working life, it's hard to find time for mindfulness. Taking a few minutes to step away from your to do list and clear your mind can help reduce burn out by reducing stress and regulating emotion.
Dogs require us to stop what we are doing and pay them attention, this reminds us to take a break and focus on something enjoyable, be that taking them for a walk or simply giving a good boy (or girl) a well-deserved pat.
Exercise
From fetching a ball to regular walks, dogs require exercise to remain physically healthy just like us and studies have found that dog owners are 34% more likely to rack up 150 minutes of walking each week than non-dog owners.
However, the benefits don't stop there, a Victorian study found that people who exercise regularly have lower rates of mental illness and better emotional wellbeing. Dogs need to be walked regularly and during the work day – this can provide the incidental movement for those in sedentary roles.
Purpose
Sometimes called the 'protector factor', the sense of responsibility and reward that comes from looking after something that relies on you for food, shelter and interaction provides owners with purpose and routine that requires them to interact with the world and rewards them for doing so.
This can help alleviate the effects of isolating conditions such as depression and anxiety. Pets, especially dogs do not judge, criticise nor blame – they wag their tails with happiness when they see you and don't complain or ask for much except attention and love. This acceptance and giving to a pet and receiving in return is hugely beneficial for wellbeing, feelings of depression and builds resilience.
Social interaction
Not only is having a dog in the office a stress buster, they can also act as a social catalyst by creating an ice breaker between team members.
For those employees who struggle to form bonds with their peers or clients, dogs can also form a bridge for a common conversation thereby easing social anxiety as the focus is not on the individuals. This can lead to increased social interactions leading to less isolation and loneliness and can help people to connect with others.
It's a work perk
For many dog owners, being able to bring their pet to work is a huge convenience that makes their job possible, while for prospective employees it can be a great added incentive.
By avoiding the cost and inconvenience of expensive dog day care and walking services, the financial pressure and stress of pet ownership is reduced, allowing team members to focus on their job.