The office contains collaboration spaces complemented with more quiet, focused and retreat spaces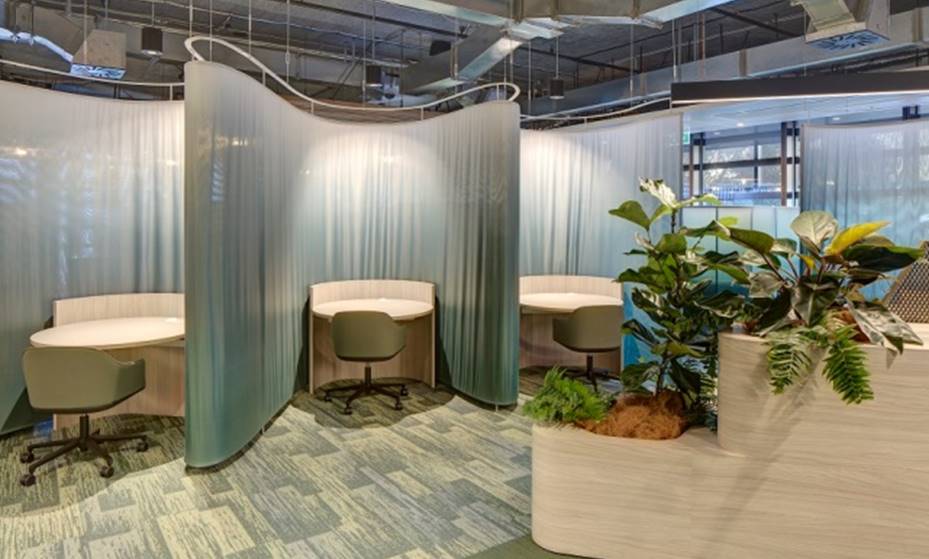 Commonwealth Bank of Australia's (CBA) 10,000 workers have recently been moving into a brand-new building, Axle, at Sydney's new technology and innovation hub, South Eveleigh.
Mirvac Group (Mirvac) and its consortium partners, AMP Capital, Sunsuper and Centuria Property Funds, celebrated the official opening of the first two buildings completed.
The second complete building, Yerrabingin House, has a community centre, gym, childcare and the Australian-first Indigenous rooftop farm.
Global architecture firm, Woods Bagot, designed the tenancy fit-out of CBA's workplace at Axle, with the goal of providing their employees with the best tools, techniques and spaces for a mindset of innovation, to bring ideas to life.
According to Woods Bagot's global workplace design leader, Amanda Stanaway, Axle represents the bank's ongoing change and provides employees the ongoing freedom to work in a place that allows them to perform at their best.
"CBA is transforming itself from a 'bank' to a 'tech', Stanaway told HRD.
In particular, Axle is designed to promote collaboration, movement and socialising, and to maximise 'bump space' with series of stairs and strategically located breakout and collaboration spaces.
"It's a progression in the organisation of space and 'campus workplace' that the bank has been delivering for nearly a decade from Darling Park through to the more recent Darling Square," said Stanaway.
"We realised that the bank's need for flexibility and its 'abw' portfolio could be achieved with simplicity. Axle has a more simplified strategic approach with two key tactical changes: more collaboration spaces complemented with more quiet and retreat spaces.
"For CBA, the digital economy will be defined by collaboration and the bank 'working together', as they build trust and connection across their business lines and with their customers."
Stanaway added that there are 50% more collaborative spaces in Axle than in their previous workplaces and the implementation of 'agile methodologies' has added more stand ups and scrumming spaces to complement the set of spaces delivered to support activity based working.
"The bank has been working with activity based working principles for nearly a decade and Axle is one of the first where these principles are rounded out with the overlay, complexity, and signature tactics and spaces of 'agile' work methodologies."