After a highly successful recruitment campaign, the Lego Group has opened a new Singapore office which will cater to future growth and more collaborative HR strategies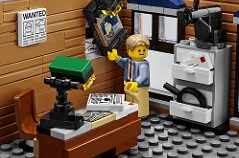 The Lego Group has announced the opening of its new office in Singapore containing upgraded facilities, a brand new design and space for up to 400 employees.
With staff numbers steadily increasing over the past few years, the company currently employs 220 workers. It has built its future-proofed workplace to cope with further growth.
The office will house employees from a number of global functions including HR, legal affairs, finance, IT and procurement. It will also serve as the base of management for Lego Asia-Pacific.
"[We] need to be present globally and attract talented employees in many locations. As part of this effort, Asia is an important growth driver," said Loren I. Shuster, chief commercial officer of the Lego Group.
"Our main office here in Singapore is one of the key elements for us to fulfil our global ambition, and I am very excited that we now have surroundings to accommodate the [sic] increasing number of employees."
Staff in the new Singapore office will follow the guidelines of 'Activity Based Working,' a new methodology introduced with the opening of the company's London office in 2014.
"At the Lego Group, we realise that a key part of our success has been the conscious approach we have taken as a company not to 'divisionalise' the business," said Marko Ilincic, senior vice president & head of Asia-Pacific for the Lego Group.
"Instead, we have a very flat corporate structure where we encourage employees to think 'end to end' across the business to maximise the benefit of the whole as opposed to simply what may be best for a certain individual or team."
This strategy helps create and nurture a collaborative spirit in the company – an essential component of Lego Group's corporate culture, Ilincic said.
The opening of the new office comes on the heels of a recent November announcement where the Lego Group said it would consolidate its global HR function – running everything from just three main offices in Singapore, Mexico and the Czech Republic.
Related stories:
Lego rebuilds global HR function brick by brick
Could your office ergonomics be causing anxiety?
Collaboration – the key to the office of the future