Australian HR pros are facing real employee flight risks in 2014, a new study has found.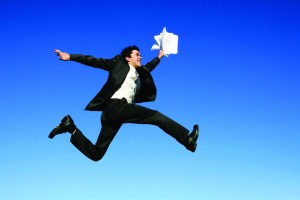 The majority (63.7%) of Australian employees are actively or passively looking for a new job, with 66.7% looking to move within the next six months,
Hudson
's Australian and New Zealand salary guide for 2014 has found.
The primary reason for the itch to jump ship is due to a desire for higher remuneration, followed by the want for a more interesting role or an organisation that will make them happy. Sixty percent of employees stated they feel a higher income would motivate them to work harder.
The demand for higher salaries comes about as employers grapple with tougher market conditions. Most (77.2%) of employers surveyed stated they feel conditions are tougher than a year ago – pressure on budgets is greater, and headcount approval processes have become stricter.
However, 74.1% of employers stated they expect to award a pay increase of 2-3% this year, with 66.6% feeling their organisation will meet or exceed their targets in the next six months.
While employers are feeling the crunch, so are employees. Some employees (45.9%) stated they are working longer hours than 12 months ago, with only 47.1% feeling the same level of job security as they did this time last year.
"Many employees are working longer and harder, feeling less secure in their current role and are looking for new opportunities. Businesses could be facing a potential triple cost scenario: the costs of a disengaged workforce, the costs of staff turnover and the costs of losing key talent," Mark Steyn, CEO Asia Pacific of Hudson, said.
Steyn added that organisations should turn their attention to developing their staff to cut the costs of replacing them. While financial rewards are important, employers should revisit engagement strategies to ensure employees are able to develop their career path through options such as secondments, new projects, L&D, etc.
"We know that strong leadership impacts engagement, driving productivity and increased employee retention. This is something that cannot be ignored, particularly in a climate where there is increasingly high potential for movement within the workforce," he said.
Do the findings match what you have experienced? What do you think of Steyn's advice?