The Australian tech giant says now is the time to experiment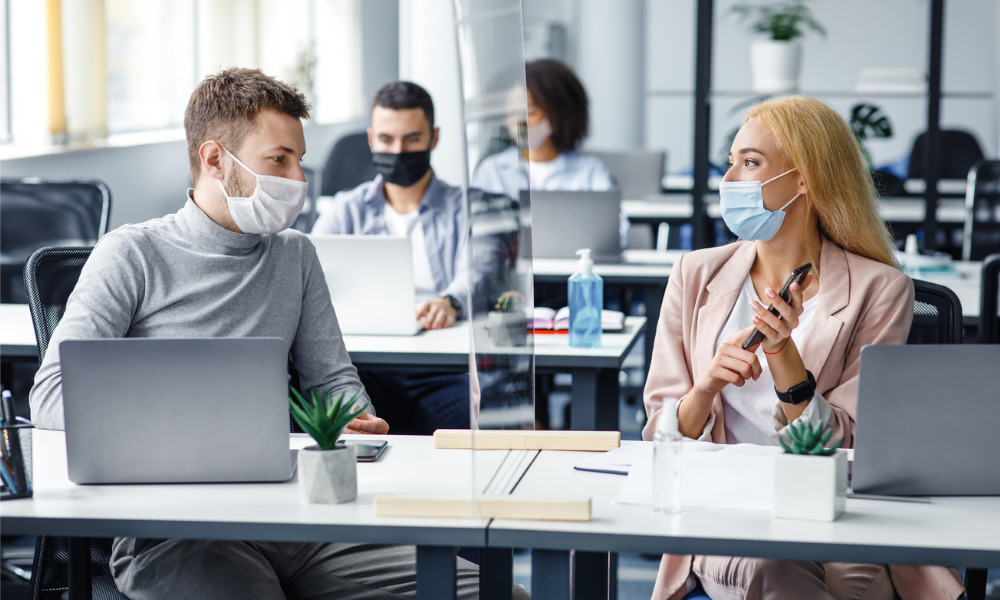 The future of work is the phrase on everyone's lips more than a year on from the start of the global pandemic. Will remote working be here to stay or over time, will the pull to return to a physical workspace become stronger?
No-one knows exactly what workplaces of the future look like but experts believe companies that embrace flexibility for the long-term will retain an edge over their competitors. Traditionally, tech companies have been among those pushing the boundaries and experimenting with new ways of working in the spirit of innovation.
Speaking at a Slack Sessions event, attended by HRD, Atlassian's Work Futurist, Dom Price, said now is a time for experimentation.
"What the pandemic did was pour accelerant on plans we already had," he said. "We were already leaning into the flexibility but we thought we had years to evolve it and then in 48 hours it was 100% and people's homes became our biggest office."
Read more: How to promote unity in the workplace
Talking about Atlassian's Work From Anywhere policy which was introduced in August last year, Price said it was the company's way of announcing their intention to really understand and experiment with the practicalities of flexible working.
But instead of focusing on productivity, which was the key concern amongst most companies at the start of the lockdown, they zeroed in on their employees' ability to be effective.
Price said this obsession with measuring and tracking productivity is actually counterproductive, leading to increased rates of burnout, absenteeism and high staff turnover. The "mystique" around productivity leads to longer hours, but not necessarily better or more impactful work.
Atlassian has added 30% of its workforce in the last year, meaning the company has had to really question how to onboard successfully and instill a strong culture with its new recruits remotely.
"We realised we couldn't wait until the pandemic was over, so we were going to have to experiment with different ways of doing things and I promise you, half of those experiments have been terrible," Price said.
Read more: Burnout is on the rise: How to build more a resilient workforce
This ability to experiment and unlearn behaviours that have been entrenched in the way we work for decades is going to be key for forward-thinking businesses, he said. Simply recreating the old 9-5 way of working in a hybrid environment won't be effective long-term.
At Atlassian, teams are now experimenting with synchronous and asynchronous work. Price said they believe the average knowledge worker requires around four hours of overlap – or synchronous work – with their teammates each day. The rest of the working day can be dedicated to asynchronous work, tasks which can be undertaken alone without the need for collaboration.
This blend of the two working styles allows teammates to be online at the same time when they need to be, but also able to fit their asynchronous tasks around their home lives.
"That experiment is working quite well for us so far," he said. "It's taken quite a bit of unlearning. I think there's a lot of comfort in 9-5 Monday to Friday and a lot of comfort in presenteeism."
Fellow panelist, Luis Enriquez, Grab's head of Grabber Technology Solutions and Enterprise Cyber Security, agreed that the early focus on productivity was the wrong way to look at remote work.
"Fast forward a year, we're not even looking at the [productivity] metrics anymore," he said.
Instead of focusing on outputs, Enriquez said they starting to think about measuring work in terms of impact – particularly on the communities relying on Grab's technology.
"The key for us has been what do we need to do to make South East Asia better?" he said. "Even today, many cities are still under lockdown. In those moments Grab became one of the main components of subsistence in terms of delivery. It wasn't just about what we need to do at Grab… but how are we going to be productive for our communities? That changed the entire ballgame."