Australia's ex-PM talks about the dire state of gender inequality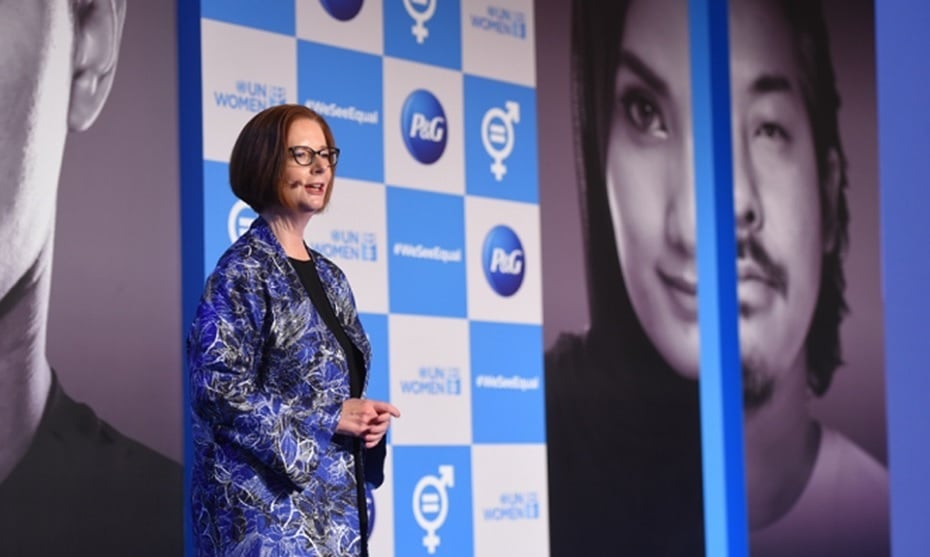 Unconscious bias and misguided efforts are slowing down progress towards gender equality, said Australia's former prime minister Julia Gillard.
The battle against stereotypes and gender myths remains tough due to an ingrained, flawed culture fed to everyone by the "whisper in the back of our brains".
Speaking at P&G's second #WeSeeEqual event, she urged everyone to treat the World Economic Forum's estimate of 202 years to achieve gender parity as a wake-up call to accelerate the rate of progress.
Gillard, currently chairperson at Global Institute of Women's Leadership at Kings College in the UK, was a keynote speaker at the event. Attended by HRD, we heard Gillard speak about her personal experiences from young, as well as her professional journey to the political office and eventually to academia.
"I really embarked on my adult life, thinking we lived in a pretty equal world," Gillard said. "When I got to university, I discovered this idea of feminism and I came to understand that actually the world wasn't truly equal for men and women.
"But I thought in a naïve young way that things are changing fast – everybody's up to it now. There's gender inequality and by the time I'm in my 30s, 40s or 50s, that it will be fixed – everything will be equal by then. Well, it hasn't quite worked out like that."
Unconscious bias – the greatest hurdle
Her experiences, especially as Australia's first female prime minister, was a precursor for her path towards advocacy. Her efforts have recently been recognised when she made the list of 100 Most Influential People in Gender Policy for 2019, an internationally renowned list by Apolitical.
Besides all the "depressing" statistics on women in leadership both in the political and private offices, she shared some choice university studies demonstrating the lasting impact of unconscious bias.
All had the running theme that even if the leader or professor's gender was simply suggested or perceived, certain stereotypes would immediately come into play and impact their performance evaluation.
She shared some persistent gender stereotypes:
Men should be judged by actions, while women by their appearance
Men should act, while women should nurture
Men should lead, and women should show empathy
These five glaring gender myths may be hurting your diversity and inclusion agenda. Click here to find out how you can avoid them.
"When you see a female leader who is acting and who is commanding, then it's very easy to conclude to yourself, 'she is pretty tough. She is pretty hard boiled. She must have given up on this nurturing or empathy routine. She's got [to be] pretty scratching and clawing to get to where she is'," Gillard said.
The first female prime minister
Even Gillard was not spared from the harsh stereotypes while she served as Australia's PM from 2010 to 2013.
She said that at times, the media was more "devoted to what I was wearing" and "sucking out oxygen from far more important messages about what the prime minister was doing for the nation".
For instance, during her first overseas trip to war-torn Afghanistan to meet the secretary general of NATO and visit the Australian troops, the first news report published back home referenced her outfit – "a white short jacket and dark trousers" – before her main agenda.
Additionally, Gillard and her female colleagues were constantly barraged with questions about their family life, instead of their public role as politicians.
"If you do have children – I don't – then the follow up question is, who is looking after them while you get down to the business of politics?" she said. "If you don't have children, like I don't, then you'll have a penalty for that."
Her choice led critics to question her ability to serve as leader because "if you don't have kids then you don't understand mainstream life".
There was even an instance where a male colleague, a senator, referred to her as "deliberately barren". He apologised for the public statement later.
Flawed gender equality efforts
Her experiences show that despite earning her seat in the top office, she wasn't immune to the persistent biases around gender.
She commended ongoing efforts to overcome them and the progresses that the business world have made. However, she is quick to point that despite good intentions, most efforts are still "100% focused on fixing the women".
"Some organisations are still focused on women's training, networking, trying to make women to step forward and be more confident and all those kinds of things," she said. "Not realising that…[they] need to structure their organisation [and send] a message to women."
Want to know how to develop an authentic inclusive policy? Get some insights here.
And while organisations work out the most effective way to tackle the problem, on the ground, stereotypes like the 'queen bee syndrome' exist.
"One of the biases that distresses me the most is this concession that women who make it don't reach out and help other women," she said.
She said the "commonly believed" stereotype is unfounded. Quoting a study by academics from the University of Maryland and Columbia Business School, it was found that once a woman achieved a senior management post, it became 51% less likely for another woman to achieve a similar position.
The real reason behind it? The study found that there wasn't always a second female senior leader because the male chief executive who promoted her "thought he had fixed the gender problem by bringing on one woman" and considered it a "ticked box" for the diversity agenda.
Quick tips for leaders and diversity champions
Instead of looking for quick fixes, Gillard shared some tips all leaders can tap on to get through trudge on the long journey towards their goals.
Be clear of your purpose and write it down
Amongst the whirlwind of pressures as a leader, Alan Milburn, a former UK minister and Gillard's friend gave her this sound advice:
"I know it's hard, I know every minute's precious, but you've got to carve out something and you got to write down what is the purpose of the government you'll lead. Get really clear about the government's purpose. And keep that sheet of paper with you. On the hardest of days, reach for it and it will steady you, it will get you back on course."
Find time to reflect on the bigger picture
Everything seems urgent now with tech ping-ing us 24 hours a day. But despite the day-to-day "busyness", Gillard said it's vital to find a time to regroup and have a moment of self-reflection on the questions that will matter in 5, 10 or 15 years' time.

Find a sturdy "sense of self" to combat criticism
Besides helpful constructive criticism, Gillard suggested making the deliberate decision to focus on your sense of self to avoid being hurt by any cruel critics.
"We all got to make a decision about how much of that kind of toxicity we let get into our heads and into our hearts," she said.
"I've had to make that decision as deputy prime minister or prime minister, where day after day I would see a great deal of cruelty, seen about in social media or very hard-hearing critics [and] the traditional media. And to make a decision about, 'is my sense of self something that I own or have I made it hostage to others."