Are women overrepresented compared to men in the Australian HR industry? We spoke to the experts to find out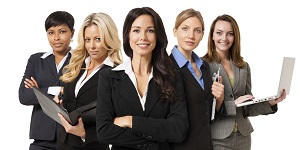 A New Zealand study has cast a shadow over the industry's gender equality in a trend which may also be found here in Australia.

The survey, conducted by the Human Resources Institute of New Zealand, found that 84% of respondents said HR was overwhelmingly over-represented by women.

In particular, one respondent referred to HR as a "pink ghetto" where "talented females within a corporate environment seem to cluster".

Is Australian HR guilty of the same gender mismatch? HC talked to three local HR experts to find out their views.

"From my perception of going to HR conferences or events, I think there is a higher representation of women," said Naomi Mourra, head of HR for Australia & New Zealand, at BBC Worldwide.

"As the role of HR becomes more influential, I think it will be a more attractive role to men. In a company where HR has a bigger role to play, I think you do get more diversity. However if the perception of HR is the fluffy people stuff, that may not be attractive to men."

Having a better gender balance is beneficial in any field, she added, as industries which are not diverse risk losing credibility.

Iain Hopkins, managing editor of HR Director, said that results of a recent APAC survey pointed to evidence that there was some disparity within the industry.

"The perception from inside and outside of business is that HR is a female-dominated area. This is reinforced by results obtained by HR Director's recent APAC HR Report, which was based off a survey of 3,184 HR professionals. In that survey, 27% of respondents were male and 73% were female," he said.

"If this is a fair representation of the HR workforce, I'd suggest that HR teams should be champions of change in business – they should be embracing D&I and showcasing it to the rest of their organisation."

Klaus Duetoft, senior director human resources for eBay Australia & APAC, had a more neutral response.

"In my view, I don't think about this as a gender question," he told HC.

"Rather I would seek to answer whether we, as a profession, are bringing in the right capabilities that are needed to help our business leaders and organisations thrive in a rapidly evolving, highly competitive global marketplace irrespective of gender."

Following on from this, it is important to position these requirements and directions towards new candidates thinking about an HR career, he added.