The cost of sick leave to organisations is dire, and may be a lot higher than many anticipated, a new study has shown.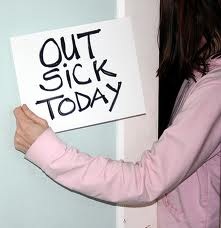 With the average absenteeism levels in Australia reaching 8.93 days per employee pa, employers and Australian Tax Payers are losing $27.5 billion a year in leave costs and lost productivity, a new report from Direct Health Solutions (DHS) has revealed.
2013 Direct Health Solutions Absence Management & Wellbeing Report covered more than 108 organisations and approximately 450,000 employees, finding 63% of organisations demonstrated absenteeism levels higher than the 6.9 days per employee pa target. Seventy-five per cent of respondents stated their absence levels had risen or stayed the same over the last 12 months.
"Organisations need to act and adopt proven strategies to improve how companies manage sick leave, and enhance employee wellbeing at work," Paul Dundon, managing director of DHS, said.
Absenteeism was found to be higher with manual workers, as well as in organisations that foster "sickie" cultures. A correlation was found with high turn-over and absenteeism, suggesting employee fit will lead to greater sick leave before eventual quitting.
Respondents across all industries highlighted unexpected illness (83%), carer's leave (71%) and sickies (68%) as the three most common drivers of employee absence. Unexpected illness and sickies are of the greatest concern, as more than half of respondents stated one day absences to be the most difficult to manage.
Interestingly, although absenteeism is increasing, so is the rate of employees going to work when unwell, with 18% of respondents stating this was on the rise. This alludes to a trend of workers saving sick days for family responsibilities and time off when not sick.
In order to monitor and ensure sick leave is legitimate, DHS suggested interviewing employees when they return to work, managing employees with high levels of absence, and outsourcing absence recording and employee support to specialist absence management providers. Many respondents (60%) believed requiring medical certificates helps to reduce absenteeism.
Is your industry affected?
Although absenteeism appears to be a problem across Australian industries, some are affected greater than others. Broken down by industry, the absence rates are:
Telecommunications & utilities: 5.0%
Contact centres: 4.7%
Transport and logistics: 4.1%
Public services/government: 4.0%
Banking, finance and insurance: 3.9%
Healthcare: 3.9%
Travel, tourism, hospitality, retail: 3.5%
Manufacturing and production: 2.8%