Here's what makes staff love your company – no fancy job titles or pool tables necessary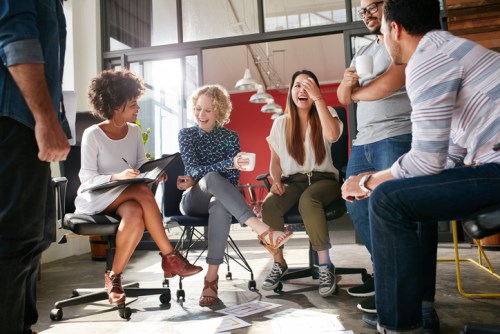 The secret to a great workplace isn't rocket science, according to Zinc CEO Pete Cleary

"The best people do the best work and create the best results," he said.

"Since the day we started Zinc in 2005, our goal has always been to create the kind of workplace that wasn't just about profits, but one that put people first."

Zinc recently finished 10th in the 2017 Great Places to Work list (companies under 100 employees).

"At Zinc, we believe in sharing value with our team members, we challenge our team to achieve the best result and reward them when we've created value.

"That's why we are consistently ranked in the top 50 Greatest Places to Work."

Cleary added that the vision at Zinc has always been to build the best company in Australia to work in.

"If you get a group of like-minded people together and encourage their drive and passion, it translates to great work and most importantly results," he said.

"For us, this is vital to the work we do for our clients, because that's what they need from us."

It has taken 12 years, and plenty of lessons to get the formula right - and Zinc is always looking to improve, adds Cleary.

Below, Cleary outlines five tips on how to create a great place to work:

If you can't find it, create it

After I left my previous job, I had to think about the big question: What's next?

I knew why I left my job, why I was unsatisfied and why I felt disillusioned. I knew there had to be a better way, but no matter where I looked, and despite the various companies I considered, I couldn't find the right fit.

And then it dawned upon me – I wasn't looking so much for what I wanted to do next, but rather, how I wanted to do it. I was looking for a company with the right culture and values that would make me look forward to turning up to work every day, and when I could not find it, I knew I had to create it.

Work with like-minded people

This isn't a new idea, but we spend quite a bit of time up front getting to know people beyond their CV. We do this to make sure the fit is right, not just for Zinc, but to make sure team members are the same people they are at work as they are on the weekend.

This takes time, cost and effort, but in the long- term, we spend less on re-training, re-hiring, and general loss in productivity that comes with high turnover. With our retention rate at 93%, we must be doing something right.

Remove fancy titles

We're not fussed about things like titles and corner offices. They get in the way of people getting along and good outcomes for clients. I think it's strange that companies hire talented people to do a job and then have to incentivise them to perform well.

We place more emphasis on trust. It's the glue that binds us. Once trust is established, a company is then able to remove a whole lot of things that tend to make team members unhappy, such as stringent rules and protocols. We publish monthly or bi-monthly financial reports for the whole company, and when issues arise, we share it with the team and come up with a solution collectively.

Create a 'shared value' culture

Reward your team when things are going well. We have a robust benefits program, most of which is driven by the team. Most recently we developed a health and wellness program, which includes a fully integrated exercise space at our office in Melbourne, complete with a dedicated trainer.

However, rewarding teams isn't a constant part of the mix- it has to be earned, and a mutual understanding needs to exist between you and your team to make this work. Sometimes we have to scale back some of our benefits if we're not creating the value to sustain some of the benefits. It's a flexible system built on trust. We have a saying here: 'If we don't create value, we can't share value'.

Give your team something to support

Find something that resonates with your purpose, team and values. We support Cambodian Kids Foundation (CKF), a not-for- profit organisation focussed on empowering the future of Cambodia. Aside from our financial commitment to CKF, our team help by providing marketing advice and most importantly annual volunteer trips with clients to Cambodia.

The CKF partnership helps us to build a unique bond across teams and within teams, this directly translates to the work we do for our clients - much better than a high ropes course any day.