It's rare for a multinational company with a rich cultural heritage to embrace local norms, but that's just what L'Oréal Group strives for. HRD chats to HR director Amber Kristof about universalisation and what she's learnt from a global HR career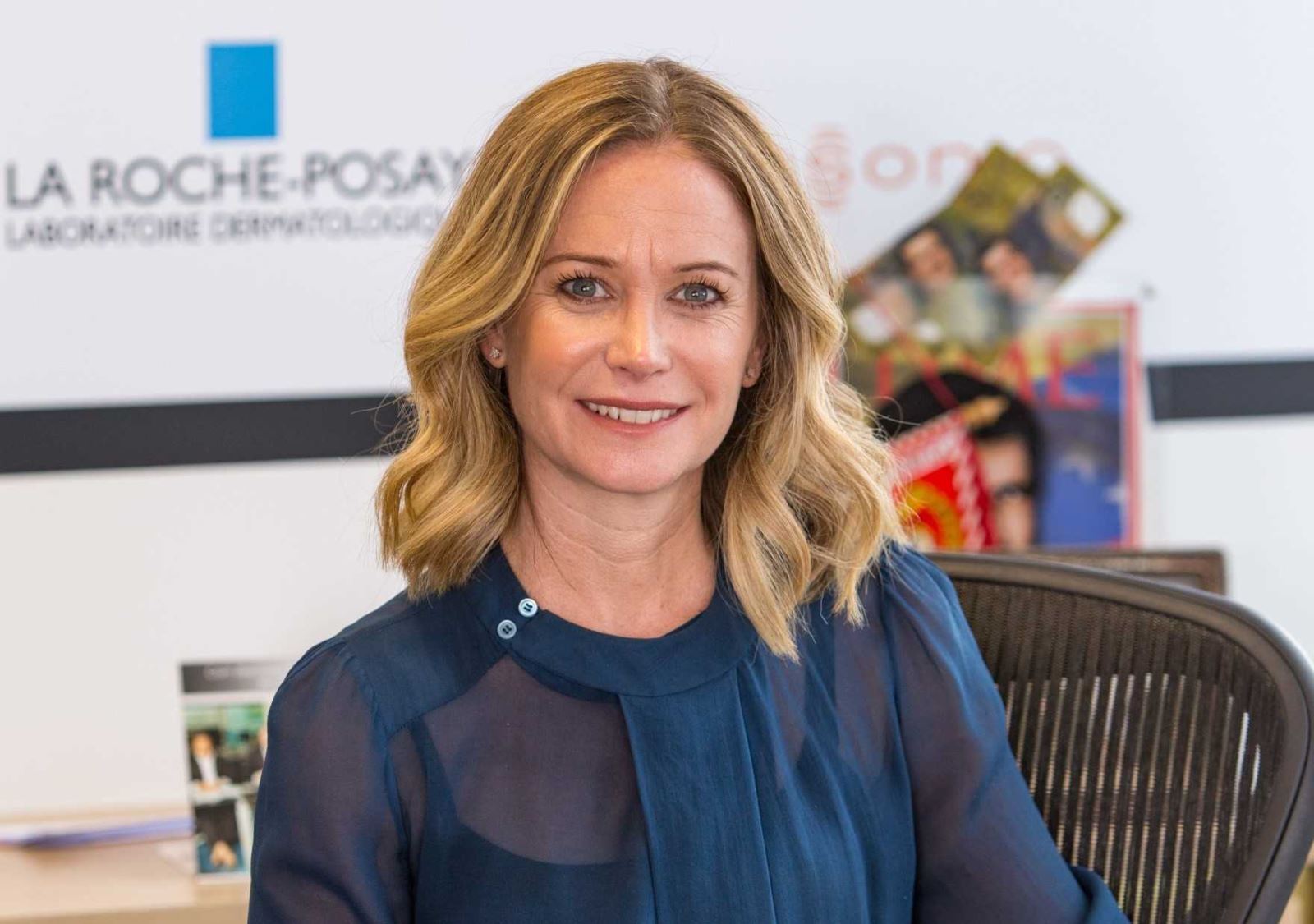 It's rare for a multinational company with a rich cultural heritage to embrace local norms, but that's just what L'Oréal Group strives for. HRD chats to HR director Amber Kristof about universalisation and what she's learnt from a global HR career
With our cultural blinkers on it's hard to imagine two more divergent cultures than those of Australia and France, yet the two nations share surprisingly rich cultural, historical and commercial links. In terms of the latter, most Australians would consider the women's beauty and cosmetics industry to be synonymous with France's – and leading that industry for the past 100 years has been L'Oréal.
The L'Oréal Group is represented in 150 countries and has 34 brands and 80,000 employees worldwide. Not surprisingly, while the company prides itself on its cultural heritage, it has thrived by not just being a slice of France transposed overseas. Instead, the company's leaders aim to effectively balance local culture with a truly multinational company.
HR plays a key role in this strategy, and leading the team in Australia and New Zealand for the past four years has been Amber Kristof.
"Having worked in multinationals before, something I've really appreciated here at L'Oréal is what we call universalisation," Kristof says. "That's where we think globally but act locally. That's not just how we sell the product to the market – for example, whether we use an Australian spokesperson for Garnier – but also how we manage the culture here in Australia."
HRD chatted to Kristof about those cultural differences, some of the tougher aspects of undertaking work in HR, and why her goal is to create a 'school of excellence' at the company.
HRD: Can you outline some highlights of your career to this point?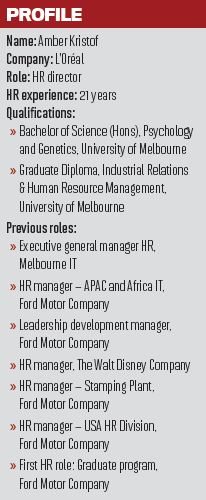 Amber Kristof: I started my career as a graduate with Ford Motor Company around 20 years ago. This was one of those really rich HR experiences. Ford was very heavily involved in manufacturing back then, and we had rotations through training, recruitment, and business partnering. It was a three-year program and I always describe it as doing a second university degree, full of great practical elements and not just theory.
HR in manufacturing is not easy, and I made many mistakes, but I was fortunate to have some great mentors who guided me along the way. I was also fortunate early on to have my first international experience with Ford, when I spent almost three years at the Detroit headquarters. When you're working for an international business in Australia as I am today with L'Oréal, spending time in that head office, understanding how things come about and get cascaded down, to see it from that side of the fence is really important.
I left Ford for a few years and worked with Walt Disney, another great learning experience in a totally different industry with a totally different business model. The company has a number of successful divisions in Australia, but unfortunately, during my time at Walt Disney the company opted to shut down non-strategic Disney stores around the world. Sadly that included all stores within Australia, and hence one key project I delivered during my time with them involved planning and executing the activities to close down a whole division.
After two years at Disney I was lured back to Ford where I took a role focused on leadership development, followed by a role in New Zealand. My final role with them was an innovative APAC and Africa HR regional role supporting the IT functions across the 14 countries in the region.
Before L'Oréal, I worked for Melbourne IT, an Australian listed company with operations in 16 offices in 10 countries. It was my first role dealing directly with a board and shareholders, so again I learnt a lot. I had some great years there as part of a dynamic executive team who, via organic and inorganic growth opportunities, transformed the business from one dependent on the sale of products that had become highly commoditised, to one that leveraged the use of online services in the enterprise space and helped introduce services like brand protection and cybersecurity management to companies globally.
HRD: What are some of the lessons from your time at Walt Disney Company?
AK: When we had to make our retail staff redundant the most critical thing I learned was about making messages as honest and human as possible. Where we can get caught up is when we try to tell stories that aren't true, or we forget that people are human. So I learned about the importance of authenticity in HR; this comes to the fore when you're dealing with things like poor performance, and especially things like redundancy.
Importantly, I believe you can balance the human side with the business side – so you can have your serious business hat on and understand the business drivers and bottom line, and you can also be human and show empathy. Those two aren't mutually exclusive. When you try to do only one or the other, you're not authentic, and I often say whenever we're doing a redundancy that person always needs to leave feeling that you've treated them with respect.
HRD: What's the HR philosophy at L'Oréal?
AK: We talk in terms of HR's proximity to our employees. Do we really know them and what they want to be doing in their careers? Do we get into the finer details so we can then help them be successful? We're measured as an HR function on how close we are to people, whether we are getting the best out of them and how we're providing them with opportunities to grow and advance their careers.
We also want to create a school of excellence so people start their careers here and can continue here. That means allowing them opportunities to move around the business – we have 34 brands globally, so there are plenty of opportunities. For millennials who are perhaps not as loyal to companies as previous generations, having this school of excellence mentality to draw from is invaluable. If we can create that within the organisation then there's no need for us to lose their IP as they haven't had to move elsewhere to gain experience.
HRD: How would you describe the culture at L'Oréal, and do you believe this is consistent around the world?
AK: The perception from the outside might be that it's all very Devil Wears Prada and glamorous events, but that's not L'Oréal's Australian culture at all. It's very much about collective success: the brand will be successful; we're all going to be successful. We'll launch this particular fragrance and we're going to do it together. There's a real sense of people helping each other to achieve success for the business.
However, we operate in a very dynamic and competitive market so we can't play it safe. We have to be innovative and we have to be far more on trend than a lot of multinationals might, simply due to the changeable nature of the marketplace. In 2017 the L'Oréal Group invested €877 million, or 3.4% of our sales, in research and innovation. We have 20 research centres across the US, Japan, China, India, Brazil and South Africa, and last year we filed 497 patents. Beauty is above all a scientific adventure, and we know to stay ahead of the game we must be quick and inventive.
The other great aspect of L'Oréal's culture is its focus on diversity and inclusiveness and ethics. We foster a workplace where all people of every ethnicity, social background, religion, gender, age and ability feel welcomed and valued. Throughout its history, L'Oréal has always set itself the objective of providing security and protection to all of its employees, to enable them to work with peace of mind. Our Share & Care program, initiated in 2013, is part of a long tradition of social progress and attention to the individual. It promotes, in all the group subsidiaries, a common set of social benefits at the best market level while drawing inspiration from local initiatives and specificities.
We also give back from the philanthropic perspective. Take our iconic For Women in Science program that combines science, which is at the heart of our business, and our passion and drive for equality. Each year, the program recognises the achievements of exceptional female scientists at different stages of their careers and awards them with fellowships to help further their research. We give $25,000 to four Australian Fellows and one New Zealand scientist to promote and highlight the critical importance of ensuring greater participation of women in science.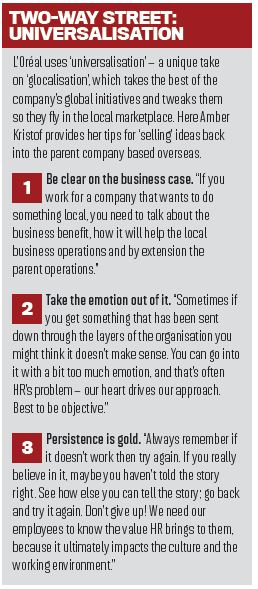 HRD: You've mentioned universalisation. Does this mean you can pick and choose what works best for the local market?
AK: What comes out of France is great, and we're lucky as there's lots of research behind it all. But we usually pick the initiatives that make the most sense for us, and make it work for our culture. Often, as long as the underlying message is not lost, the company is fine for us to tweak it to make it work and ensure it is successful.
HRD: Like many organisations L'Oréal has a focus on D&I, but your problem is somewhat unique. Can you explain?
AK: Seventy-five percent of our workforce is female, so we are concentrating on bringing more men into the company. The retention bit is fine once males join us and see what we have to offer. The difficulty is around attracting them, because we are perceived as being a beauty business. To combat this our messaging to candidates focuses on how we are a successful global business, our innovation, what we are doing with technology, our excellent opportunities for career growth, and how entrepreneurial behaviour is expected and rewarded in the business.
We also offer extensive learning opportunities, which is attractive to all candidates. L'Oréal mandates in every country that a certain percentage of sales be put back into training every year. We have a budget and it doesn't falter. In the middle of every year managers sit down with their employees as part of the performance review process, and input into the system training suggestions (from a catalogue of training opportunities); the data is collected and the training team then works with the leadership team to plan the annual training calendar. There are also other learning opportunities such as individual coaching, and some employees are fortunate to go to Paris for L&D sessions – I've been lucky to go several times for HR-specific training. We have had gatherings of 400 or more HR people undertaking HR lab-type hackathons with external 'disruptor' experts to ensure we're going to be cutting-edge in the HR space too. We also just launched a new parental leave policy, which provides all L'Oréal employees with equal paid leave for secondary and primary carers.
This initiative means that if a L'Oréal employee's partner takes parental leave after the birth or adoption of a child, then the L'Oréal employee will be entitled to take 10 days' paid leave immediately after the birth or adoption, followed by 12 paid weeks once their partner has returned to work (within the first 12 months). This matches the entitlement our employees currently receive who are primary carers.
This initiative was a key step to providing equality within our workplace, which supports both parents in having significant time as full-time carers; it also aims to make it easier for the primary carer to return to work and fosters a culture of shared parental responsibilities.