How will HR be affected by rapid changes? That's what the Cisco Webex sponsored event "The Future of HR: A Collaboration of Ideas" sought to uncover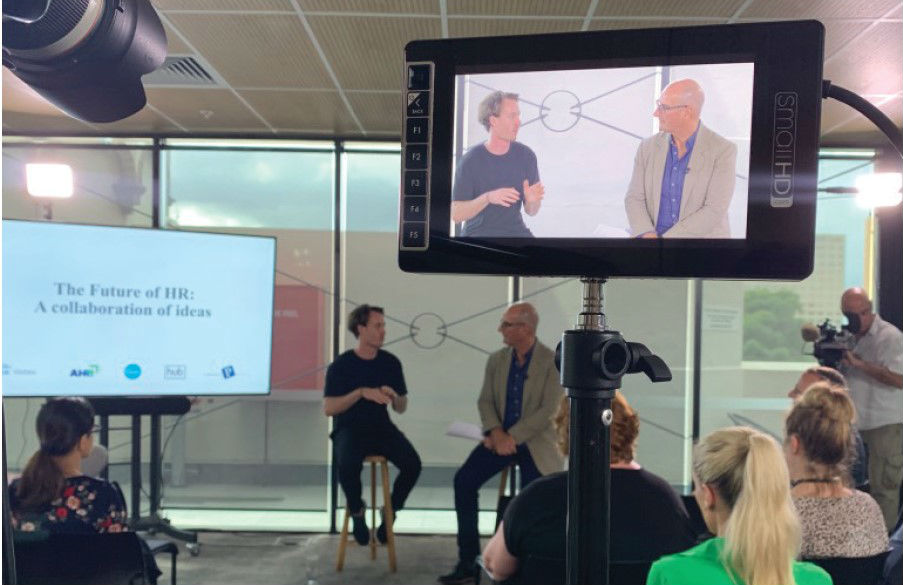 Held in Hub Hyde Park, the Cisco Webex event 'The Future of HR: A Collaboration of Ideas' highlighted thought leaders in the field of HR, demonstrating new ideas and ways of approaching the subject in 2019. The sessions were intended to help HR leaders thrive in the new world of work. To view the video summary of the event, visit cisco.com.au/thefutureofhr/.
Emceed by noted TV personality David Koch, the event featured a number of speakers, each providing their insights into the modern working environment and the longer-term implications for HR. While best known for his various hosting roles, Koch himself has an extensive background in the world of small business and personal finance.
In his introduction, he spoke of the diversity of small businesses in Australia and the challenges they face, including the growing competition for talent. Then there was the question of how businesses could create a positive culture within the workplace.
The trend in the modern office, Koch said, has been towards a more collaborative environment made easier by new technology and digital tools. Placing greater emphasis on such an approach not only encourages more creative thinking but also helps breed a better culture within organisations. When people are collaborating, it can enable a broader variety and higher quality of outcomes.
"How can we tap into the expertise and how do we provide the tech to go along with that revolution?" asked Koch.
He also spoke of his own interest in continual learning, and explained that his role in the Australian media had also enabled him to facilitate such learning both for himself and for viewers. The event was a logical extension of that interest, he said, before introducing Zach Kitschke, head of community at Canva.
Canva: Balancing rapid expansion with cultural preservation
Founded in 2012, Canva was the brainchild of Melanie Perkins. Serving as an online graphic design platform, it provides images, templates and layouts to professionals and amateurs alike. In 2019, Canva now has 15 million customers around the world.
Kitschke spoke about the unique HR challenges organisations face when they are undergoing rapid expansion. The fifth person to be employed by Canva in its early days, he's seen the group expand from a handful of staff in 2012 to more than 500 employees across multiple countries today.
Asked about the HR's biggest challenge, Kitschke said: "HR needs to be more strategic and stop trying to be corporate HR" – largely because people often switch off when they feel they're being "sold" to. Rather, the organisation needs to look for more effective ways to incorporate human elements.
Kitschke stressed the need for organisations to scale their practices regularly.
"Even going from five to 10 people it was a big shift!" he said. And with Canva hoping to drastically expand its employee numbers to 800–1,000 employees by the end of the year, there's an urgent need to ensure that the company preserves its distinctive culture.
Upskilling leaders internally will prepare for this change and retain the original culture, even as new leaders join the organisation.
In practical terms, Canva has numerous tools in place for this kind of growth. Hiring choices are carefully considered in light of the company's existing needs and culture. A hiring strategy document is drawn up for every new position, creating a brief on why the hire is necessary, what sort of duties will be carried out and what larger goals will need to be achieved.
During the interview process, there isn't a big emphasis on aptitude tests, but considerable emphasis is placed on attitude, Kitschke said. With the company routinely attracting hundreds of applications per position, there's an impressive pool of candidates, but there also needs to be an effective way to cut through unsuitable applicants quickly.
"We have quite a structured interview process that looks at problem-solving, values, and how [candidates have] gone about how they deal with challenging situations and environments," he said.
Once hired, onboarding at Canva also lasts around six months – Kitschke referred to it as a "boot camp" – which ingrains the organisation's culture into the new recruits.
Additionally, Canva invests extensively in its internal processes, assessing which employees are collectively setting high workplace standards, and what traits they possess. While not based on any one individual, it allows Canva to better determine best practice for future candidates.
This is also built into future planning. Teams are deliberately developed to be modular, splitting into new teams if they become any larger than about eight people.
"It's time to split if they grow much bigger than that," said Kitschke, also noting that this modular approach helps encourage a positive attitude towards change, and prevents individuals from getting too tied to specific roles or titles. Senior staff are still able to mentor younger staff, but there's also scope for individuals to be self-contained and autonomous.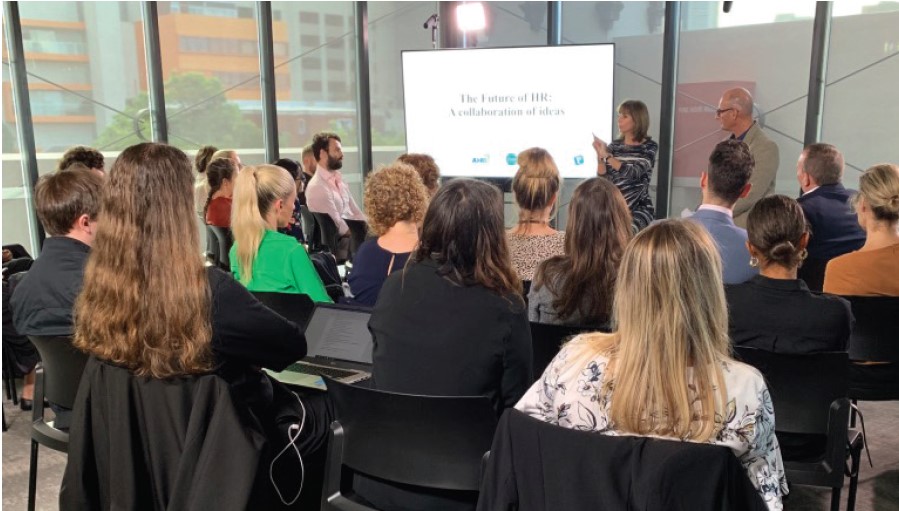 Given that Canva offices now span the USA, Beijing and Manila, it's not enough to communicate via telephone calls or meetings, Kitschke said. Rather, other purpose-built team collaboration tools need to be used to facilitate asynchronous communication in order to keep everyone on the same page.
For any business with multiple locations and/or remote workers, technologies such as Cisco Webex Teams become crucial for enabling virtual meetings, secure file sharing and real-time collaboration across the business.
However, as Kitschke said, technology is just a starting point. Showing everyone how to use it properly and get the best out of it is essential – even with younger staff you can't automatically assume that everyone is using it in the way you would expect or getting the best benefit from it.
Founder Perkins' vision for Canva was "a long time coming", as she started pitching the initial concept about 15 years ago, Kitschke said. It's a purity of vision that has enabled many aspects of the company to be effectively realised.
"There's a lot of clarity on what we're moving towards and what we're wanting to build," said Kitschke.
Hub Australia: Making workplaces more flexible
Next on the agenda was Brad Krauskopf, CEO and founder of Hub Australia. Hub Australia provides flexible co-working space for a variety of organisations, ranging from individual freelancers through to departmental subsidiaries of major corporations. Around 3,000 people use Hub's co-working spaces across Sydney, Brisbane and Adelaide every day.
Speaking about the origins of the project, Krauskopf pointed to the GFC in 2008. All of a sudden there was a whole new group of freelancers, he said, largely as a result of mass layoffs throughout the world.
However, many of these new freelancers didn't simply want to work from their houses; the home environment presented too many distractions from the task at hand. But the cost of maintaining an office would have been excessive. A compromise was needed, and organisations like Hub stepped up to fill the gap.
When Hub Australia was founded in 2011, Krauskopf said the market for co-working was largely individual freelancers or tiny start-ups. But it's evolved since then, with larger companies increasingly seeing the value in co-working. The exposure to surrounding businesses and communal areas and the ability to move to a new location as required if the business expands or shrinks have proven a boon for many organisations.
Krauskopf also feels that co-working has been given a boost by limitations inherent in remote working. Remote working is great, he says, but only up to a point. It can be extremely isolating, particularly over an extended period. Many employees need regular human interaction in order to produce their best work. Co-working, Krauskopf believes, provides a simple answer to the question of how a workplace can be made more flexible.
The results have been evident in Hub Hyde Park, the site of the day's proceedings. Currently, Krauskopf said, the Hub has 50/50 gender representation, while also displaying an impressive range of age di Kitschke versity.
"That's our workplace," said Krauskopf proudly. Co-working does not have to be, and should not be, solely the preserve of youthful tech start-ups, he pointed out.
Ideas around the modern workplace are likely to continue to shift as work practices evolve.
"You can no longer have an OK place to work; it has to be an amazing place to work," said Krauskopf. If companies want employees to give their "heart and soul" to the organisation, they must also be willing to give back – and that extends beyond simple remuneration.
Krauskopf predicts that co-working (and other flexible working arrangements) will become increasingly common over the next five years. While both he and Koch expressed some scepticism about their viability as commercial enterprises in remote areas, it seems likely that their popularity will continue to expand around major CBDs in Australia.
"Culture, people and technology change, but property doesn't change that often," he said. Leases and other arrangements around property can have a negative impact on an organisation, inhibiting both its natural growth and cultural mores.
Smart companies, says Krauskopf, should be creating an office environment in which employees want to be, not a location they're simply stuck in because of the rent.
Building a new best practice
The afternoon was capped off with a Q&A with all of the speakers. With thoughtful questions from the audience and insightful commentary from host David Koch, it presented powerful new ideas about the workplace and the way it may affect best practice in HR. For those who weren't able to make the live event, a camera crew captured the key insights and learnings from the experts and attendees.
"The Future of HR: A Collaboration of Ideas" was brought to you by Cisco Webex to help HR leaders thrive in the new world of work. From online meetings to whiteboarding to secure file sharing with the whole team, Cisco Webex enables millions of businesses to collaborate and do their best teamwork every day.
To view the video summary of the event and learn more about Cisco Webex, visit cisco.com.au/thefutureofhr.