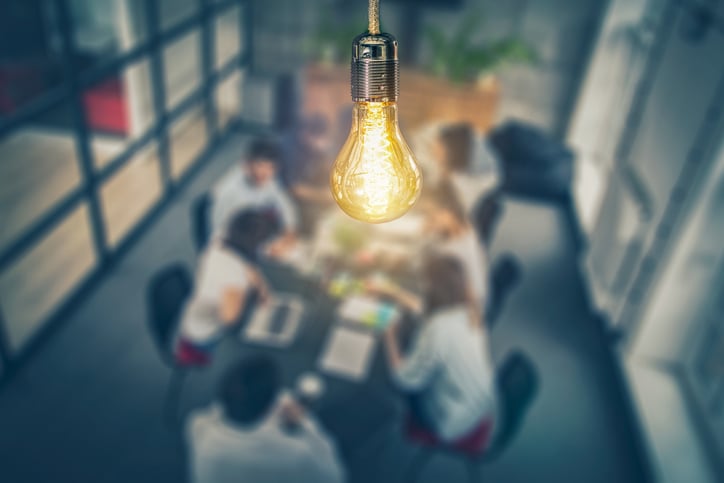 A 2018 survey conducted by Human Resource Executive magazine, "What's Keeping HR Leaders Up at Night", found that 32% of respondents considered employee engagement and productivity as their primary concern, an increase of 3% over last year.
These findings reflect a growing awareness in HR circles of the relationship between engagement and organisational success.
Employee engagement has long been on the list of global HR trends. A 2017 survey conducted by Aon Hewitt noted that Australian employees were less engaged than the global average. But, unlike the global downward trend, Australian employees reported higher levels of engagement than in 2016. This news is positive given the direct and indirect costs of staff turnover.
Increasingly, HR and senior management teams are touting the need to engage employees. But what does that mean and how can they achieve it?
"Equipping employees with technologies that enhances their work experience should be a priority for any HR team" Nick Southcombe, CEO, Frontier Software
Finding a conclusive definition of employee engagement is challenging.
A plethora of views and definitions exist, but analysis of these will uncover common themes.
First, employees become engaged at an emotional level. Unlike satisfied employees who are content in their roles, engaged employees feel a visceral commitment to their organisation.
The emotion then drives their behaviour as representatives of the company. Often, engaged employees exhibit elevated levels of enthusiasm for and dedication to their employers.
The behaviours elicited by such states produce positive outcomes for the organisations that hire them.
Hence, we will define employee engagement as: "the positive emotional and psychological connection an employee has to the organisation for which they work, as evidenced by voluntary, value-adding behaviours and activities".
There is little doubt engaged employees can produce beneficial outcomes for their organisations. Statistics vary, but typically those organisations with highly engaged workforces also report correlations with productivity gains, some suggesting over 20%, and earnings per share as much as 147% (Gallup) of their peers' with less engaged workforces.
The means by which employees can be engaged are dynamic, with both established and emerging ideas vying for HR attention. Some published lists have up to 60 activities that HR teams can implement to engage and retain their workforces.
The "What's Keeping HR Leaders Up at Night" survey identified the most prevalent practices adopted by respondents, as shown in the boxout on page 36.
Other common engagement strategies include providing the right tools to succeed at work, excellent onboarding processes, developing interpersonal relationships with team members, and, less often, welcome kits, dress codes and flexible work spaces.
Despite the broad range of engagement activities and options, global surveys indicate a general decline in employee engagement levels – but why? According to a recent survey by TINYPulse, several factors are in play.
Employees don't feel connected to their peers.
Earlier surveys showed employees like nothing more than feeling connected to their co-workers. Typically, that means members of their immediate team and not colleagues in other departments. Most recent results show that only 24% of respondents feel their employers build teams well. Cross-department team-building is rarely undertaken.
Recognition programs
Seventy-four per cent of respondents didn't feel valued. But, of these, 58% indicated more recognition would increase engagement levels.
Culture trumps perks
A common belief that salaries, benefits and perks are important to engagement appears unfounded. Respondents reported that having fun at work, working with happy people, and company culture are the things that drive happiness and engagement. Perks are great, but culture still reigns supreme.
Opportunities for professional development
Only 26% of employees reported that there were enough opportunities for professional development. Put simply, there aren't enough meaningful, exciting and self-actualising jobs for everyone, and it is unrealistic to expect that organisations can achieve engagement from all employees.
Performance reviews are outdated
Engaged employees prefer performance feedback on a more regular basis. Organisations relying on annual performance reviews are not providing the opportunity for employees to receive this feedback.
In fact, 79% of survey respondents felt their employer's review process was outdated. These are only some of the reasons for the declining engagement levels.
Even for companies with great engagement programs, is it possible that employees have come to view these as the norm, rather than an exception? For HR practitioners, the challenge becomes one of determining what they can do with the discretionary budgets they have.
They also need to turn their attention to the employee experience rather than a singular notion of engagement.
According to Gallup, only one in three employees strongly agree they have the tools needed to do their job well. Nick Southcombe, CEO of Frontier Software concurs.
"As a major contributor to engagement programs, equipping employees with technologies that enhance their work experience should be a priority for any HR team," says Southcombe.
"The idea is not to disengage the employee from their peers and colleagues but to minimise the time required to complete necessary administrative tasks."
The employee is then free to pursue those activities that engage them with their employer and thus return benefits. Employee self-service (ESS) is a simple tool that empowers employees by giving them access to their own data. Deployment options include both browser-based and mobile apps, thus ensuring that employees with flexible work arrangements can access their data as and when required.

ESS offers employers the following benefits:
Increased employee autonomy
ESS systems empower employees by granting access to their own data. Transactional workflows, such as leave and timesheet submissions, can be quickly completed online. In addition, employees can be granted access to organisation charts, policies and third-party portals such as salary packaging providers. Banking details can be updated and payslips viewed and printed directly from the portal itself. Research by the Aberdeen Group showed employee self-service was capable of creating employee engagement scores that were 18% higher than those of companies without ESS.
ESS software increases employee input into decision-making
Apart from powering transactional and data management operations, ESS provides a portal to learning management systems and a means by which course catalogues can be viewed and training bookings made.
Performance and other appraisals can be completed via the self-service terminal, with advanced systems ensuring that appraisals can be undertaken at any frequency that suits the role and company.
Training courses can be linked to developmental requirements, enabling employees to focus on their professional development. Succession planning can be aided by screens capturing career aspirations and manager comments about readiness to move.
The power of ESS lies in its ability to enable processes that underpin employee engagement. When coupled with the potential cost savings and process efficiencies, ESS o­ffers organisations a practical and effective tool to facilitate engagement activities. Evidence shows that engaged workers produce better outcomes for their employers, with perhaps no better evidence than the famous business turnaround experienced by Campbell's Soup when they focused on the employee experience.
As American businessman, Doug Conant, famously said, "To win in the marketplace you must first win in the workplace".
Smart HR practitioners know this and are already considering ways to embed technology in their employee engagement experiences.