A record crowd of over 850 HR professionals gathered at The Star Sydney for the annual awards ceremony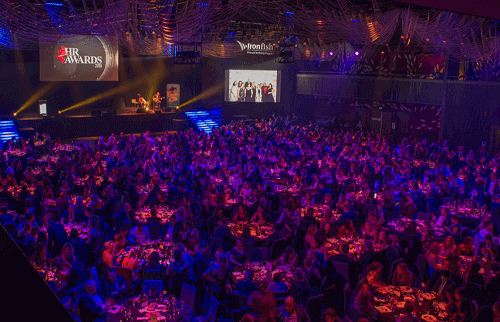 Over 850 HR professionals attended the Australian HR Awards, sponsored by Ironfish, at The Star Sydney on Friday to see 20 awards presented to the industry's best companies, individuals and teams from across Australia.
The evening was hosted by Logie-winning actress and presenter Natalie Bassingthwaighte. Guests were also treated to music by popular band Furnace and the Fundamentals and soloist Linden Furnell.
After much anticipation, Christian Campanella of Pernod Ricard Winemakers took home the Davidson Australian HR Director of the Year award, with Michelle Phipps from Brown-Forman highly commended; and Claire Vissenga of Family Planning Victoria was named Hays' Australian HR Champion of Change of the Year.
Meanwhile, Youi and MSD both took out two awards each. Youi won the Best HR Technology Strategy and the Achievers Best Reward & Recognition Program awards; while pharmaceutical company MSD picked up trophies in the HRD Best Workplace Flexibility Program and the PeopleScout Employer of Choice (100-999 Employees) categories.
Finally in a hotly contested category, Ashlee Hodson of City of Canterbury Bankstown was revealed as the winner of the Australian Risking Star of the Year award, with Lauren Raven of Harris Scarf was highly commended in that category.
HRD News Editor John Hilton said: "HR professionals are absolutely paramount to the overall success of their organisations, and it's wonderful to see their hard work and innovative ideas rewarded on such a special night.
"This year's winners and nominees came from a very diverse range of organisations and industries, showing what a positive impact HR can make no matter the size and scope of the workforce.
"Congratulations to all the finalists and winners who are all a reflection of the very high standard of HR and leadership right across Australia. It's fantastic to see how excited the winners are when they receive this career-defining award."
For the second year, Ironfish - Financial Wellbeing Program was the major event sponsor of the Awards. In her opening address, Susanne Anderson, Co-Founder and Director of Operations at Ironfish agreed that the Awards have a great impact, not only as a career-defining moment for an individual but also for their organisation.
"When outstanding achievements and behaviours are recognised and awarded, this has a huge impact – not only in helping to know your contribution is being valued, but also in the flow-on effect to your organisation's culture. As a 2018 HR Award winner or nominee, you've set a very high bar, which your colleagues will inevitably work hard to meet," Anderson said.
"This is great news for your organisation, which will receive all the benefits of a committed team who are pursuing new heights of excellence. But it's also great news for Australian employees, who will be supported by the right culture, by the right structures, by the right benefits and support services that will help them perform at their best."
Photos and video coverage of the event will be available shortly at http://www.hrawards.com.au/ and the October issue of HRD.
2018 Australian HR Award winners:
Davidson Australian HR Director of the Year
Winner: Christian Campanella, Pernod Ricard Winemakers
Highly commended: Michelle Phipps, Brown-Forman
Ironfish Australian HR Manager of the Year
Winner: Katie Dunn, Merlin Entertainments
Australian Rising HR Star of the Year
Winner: Ashlee Hodson, City of Canterbury Bankstown
Highly commended: Lauren Raven, Harris Scarf
Hays Australian Champion of Change of the Year
Winner: Claire Vissenga, Family Planning Victoria
Hays Australian HR Team of the Year (≤1000 Employees)
Winner: Employsure
Ironfish Australian HR Team of the Year (>1000 Employees)
Winner: TAL
Employer of Choice (1-99 Employees)
Winner: INS
Highly commended: Excite Holidays
PeopleScout Employer of Choice (100-999 Employees)
Winner: MSD
OC Tanner | Accumulate Employer of Choice (≥1000 Employees)
Winner: Deloitte Australia
Employer of Choice (Public Sector & NFP)
Winner: HomeStart Finance
Best Change Management Strategy
Winner: City of Canterbury Bankstown
Best Graduate Development Program
Winner: Honeywell
Converge International Best Health & Wellbeing Program
Winner: Commonwealth Bank
Highly commended: Bechtel HR Team, Wheatstone LNG Project
Best Leadership Development Program
Winner: Hollard
Best Learning & Development Program
Winner: MinterEllison
Best Recruitment Campaign
Winner: VetPartners Australia
Achievers Best Reward & Recognition Program
Winner: Youi
Best HR Technology Strategy
Winner: Youi