HR departments can no longer play it safe anymore when it comes to employee development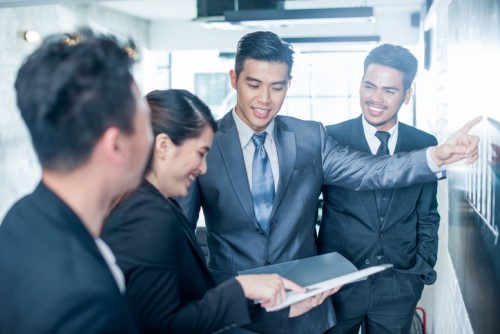 Learning and training has perhaps never been as important as it is now. The way that we work is changing rapidly, meaning employees need to learn new abilities quickly, across multiple platforms. Learning and training is therefore a crucial part in an employee's lifecycle and should be a key focus for all HR practitioners.
The issue is that most people revert to convenient and cost-effective training methods like videos or PowerPoint presentations, which are simple to implement but not the most engaging experience for employees. This type of learning makes it difficult to fully gain an employee's attention and focus when they are sat in front of a screen or watching content that is info-heavy and lacks excitement.
The next generation of workers are children of the digital age and used to constant stimulation across all forms of technology. This expectation extends to the workplace and companies need to consider how they can fulfil the creative hunger of this generation. We need to consider: how can we motivate our new hires and existing employees in the right direction?
Innovations in training such as microlearning and blended learning come in waves and companies are always hot to get on top of the training trends and trial them all out, but not all the forms are useful. Leaders in learning roles must understand to play the right form at the right time to please this new generation and motivate them in the right direction.
Not just a physical space
Immersive learning involves individuals being placed in a physical or virtual environment which allows them to experience a realistic work scenario without impacting on the real business processes. In previous times, this type of training might have involved activities such as role-playing and story-telling with other colleagues or physical team-building exercises.
Now, in an age where workers use technology in every aspect of their day, the immersive learning environment can encompass a virtual space rather than a physical one through Virtual and Augmented Reality technologies, leading to all kinds of possibilities in training and development.
With a virtual space, we can immerse our workforce into any kind of situation they may encounter. For example, Dementia Australia has developed a VR experience for professional carers which allows them to see the world through the eyes of a person living with dementia.
This experience helps build a better understanding of dementia, while also pushing carers to consider the best ways they can provide support for sufferers. Utilising this new kind of learning can bring many great benefits, not only to the employee themselves but also to the company.
Why is immersive learning successful?
For many who take part in this type of learning, it is the truly immersive part of the programme which is a real eye-opener. Despite potentially being apprehensive going into the experience, employees will often come out with a new understanding of themselves and their style of working.
Virtual immersive learning is fairly out of the norm compared to traditional training methods, which helps employees feel more open-minded and willing to try the experience. It can also have more of a long-lasting effect than traditional training methods – it becomes more of a memorable and a personal experience for the individual, allowing them to retain information easier.
Research has already proved the success of immersive learning and knowledge retention amongst students when HTC Vive studied VR-based education against traditional education methods. The results showed that students who were learning via VR-enhanced methods were achieving an average of 93 per cent on test scores versus 73 per cent achieved by those who had not.
Locally, Data61 has seen the opportunities that this technology can give companies and created an Immersive Environments Lab which focuses on developing AR, VR and 3D web technologies. The lab has a fleet of wearable immersive technology, which develops interactive computer graphics and imaging services for the retail, manufacturing, agriculture and construction sectors. They saw a huge opportunity for Australian companies to grow their economic returns by adopting this tech, and in particular via training programs.
Immersive learning may not look like the most cost-effective training technique at first, but from a long-term investment perspective the return gained is a more motivated and engaged employee leading to increased time to competence in the job, improved productivity levels and in turn increased revenue/cost savings to the business.
However, it has to be carefully planned out, addressing topics and technology that can be easily maintained and updated regularly. Not all training topics are suited to immersive learning, so it's important to choose wisely in order to mitigate costs and see results.
In fast-moving organisations where employees increasingly expect new ideas to support their career goals, HR departments can no longer play it safe anymore when it comes to employee development.
Employees who want to take a literal step out of their comfort zone and learn something different should be able to have the opportunity to. We are reaching a turning point in workplace learning with technologies like immersive learning, so organisations shouldn't be asking the question of 'why should we be doing this?' but 'why aren't we doing this?'.