Forget bowling or laser tag for your next team-building event and discover why you should lock your staff in a room instead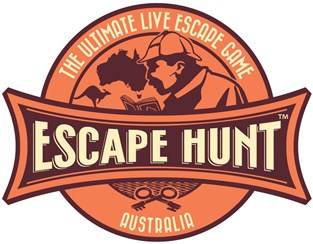 You're locked in a room, the time is ticking down, and it's up to you and your team to crack the code and escape. While this may sound like a scene from the next Hollywood action blockbuster, it's actually the basis of the next big activity in corporate team building: escape rooms.
After working with teams from major corporations such as Google,
Commonwealth Bank
and
Woolworths
, Rebecca Assice, master franchisor for Australia and New Zealand at
Escape Hunt
, knows a thing or two about what makes a good team-building event and how organisations can get the most out of these types of activities.
Five characteristics
There are five key qualities that make a memorable team-building event, Assice says. The first is a clear objective so everyone knows what they are trying to achieve and what a successful outcome looks like. "It's even better if this can be made competitive so teams can compete against each other to see who succeeds first."
These activities must also have the full participation of all team members and be structured so no one can simply opt out or sit on the sidelines.
Next, team-building events should be skill neutral, Assice says, so they do not favour individuals with particular attributes such as physical strength, speed or hand-eye coordination. "Requiring physical skills can often put off weaker team members and reduce their enjoyment of the team building activity."
Interaction among team members is also important, and the chosen activity should encourage teammates to share ideas, communication and work together to solve problems and achieve common outcomes.
Finally, the event should be unique. "The activity should be sufficiently different and intriguing to gain the enthusiasm of team members. It also needs to vary quite a lot from their day-to-day working environment," Assice says.
A literal break-out event
Due to their design, escape rooms stand out from other types of team-building activities for a number of reasons. The sheer uniqueness and novelty of escape rooms is one factor that should pique the interest of employees.
"Many people still have not heard of them and most have not played them before, although they are quickly gaining popularity," Assice says. "People often turn up with very little idea of what to expect, so there is an element of surprise and mystery to the whole experience beyond the mysteries being solved in the rooms."
Escape rooms are also universally engaging. Rather than physical skills, the test involves mental capacities such as brainpower, logic and problem-solving skills. This sets these rooms aside from other activities such as bowling, sailing, go-karting and laser tag, which favour the physically fit. These more physical activities can put people off , especially those who think they may not be able to participate in an adequate way due to their bodily limitations.
"Escape rooms are purely about mental capacity and your ability to think laterally to find clues and solve puzzles. The most successful participants or teams are often not the ones you would expect either."
Lastly, there is a certain exhilaration to an escape room as teams race both each other and the clock. "Whilst there is no physical skill required, hearts will be racing and adrenaline levels will be pumping as the clock counts down in front of you. Once the team cracks the final puzzle and escapes the room the energy level is sky high and teams cannot wait to try it all again!" Assice says.
The thought escapes me
One of the most important parts of any team building session is the debriefing afterwards to ensure that participants get the most out of the activity. Escape Hunt provides a structured debriefing exercise for teams to participate in. This is entirely optional and can be done back at the office. It includes analysing how the team interacted with each other inside the escape room, in order to look at which techniques worked well and which did not.
During the debrief, participants are asked a series of questions about the competencies that the teams needed to successfully escape, Assice says. This includes:
Strategy
Communication and leadership
Idea generation
Problem-solving
Stress management
Asking for help
Teamwork
Collaboration
"The teams have a chance to discuss these questions amongst themselves and can then share their top three key learnings back to the wider group," Assice says. "The exercise also encourages the teams to refl ect on these learnings and come up with an action plan for what they will change or how they will work differently when they are back in the office."
The perfect disguise
In a 2011 survey, one in two employees reacted negatively when told about an upcoming team-building event. Escape rooms are a great way to counter this adverse reaction as it is really "team building in disguise", Assice says. "It is so much fun for participants that they won't even realise they are actually learning or participating in a team-building exercise."
One reason why employees may react negatively to team-building events is that so many of these activities require some physical attributes, Assice explains. Another reason may be that certain teambuilding activities seem almost clichéd – meaning that people find it hard to get excited about something they've done before. Escape Hunt and escape rooms in general offer a unique, engaging experience that is guaranteed to garner excellent feedback from participating staff, she says.
For employers, it is possible to position an Escape Hunt activity as a fun and mysterious afternoon, keeping the details secret so employees are surprised once they arrive on site. Additionally, most Escape Hunt branches offer food and beverage packages either on site or at nearby bars so employees can relax and spend some social time together after (hopefully) escaping the room.
Thinking inside of the box
Since escape rooms encourage lateral thinking, it is no surprise that they are being used for more creative purposes in the corporate world. Escape Hunt has been involved in several of these, including brand promotions, post-merger integration activities and recruitment.
Using escape rooms to attract new candidates is currently very popular in Japan, Assice adds, with the trend now shifting to Australia as well. Here, Escape Hunt is positioning itself as a unique way to bring in graduate talent – conducting group assessment in a novel manner that distinguishes one firm from the rest.
"Using escape rooms, the graduate recruitment process can become a dramatically different experience where candidates have to solve challenging problems by working effectively together under significant time pressure. Observers can be in the rooms with the candidates to see how they behave and interact together, and all rooms have CCTV so assessors can watch the videos when back in the office."
In this way, employers can scan for desired competencies in a real-time manner, especially since teams are under significant pressure to escape the room. Firms can also get a lot of free brand exposure, with candidates raving about the fun, unique recruitment experience they have gone through once it is completed.
The Rise of the Escape Room
Part game, part theatre, part team-building exercise, escape rooms are now one of the fastest growing forms of live entertainment. From virtual non-existence 5 years ago, the number of permanent rooms world-wide has grown to over 3,000 today. The Escape Hunt Experience is the global leader in this incredibly popular and fast growing industry and the only group specialising in the unique needs of corporate clients. With over 40 branches worldwide from Sydney to Paris, Tokyo to Houston, Escape Hunt has delivered more than 8 million minutes of exhilarating game time since opening its doors in 2013.

The Escape Hunt Experience
In 2015, Escape Hunt held over 1,000 successful corporate events across Australia for a wide range of clients, including small businesses, start-ups, government departments and major organisations such as Google, Commonwealth Bank, Woolworths, KPMG and McKinsey. With branches centrally located in Adelaide, Brisbane, Gold Coast, Melbourne, Sydney and Perth – they will work with you to host an unforgettably fun and engaging team experience. Find out more at www.australia.escapehunt.com