Limited seats are available for sessions on HR technology, recruitment and talent management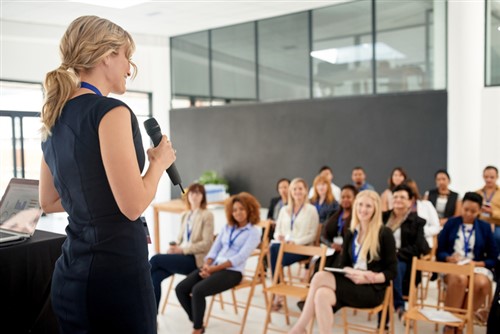 HR practitioners have a valuable free professional development opportunity at the HR Summit Melbourne taking place later this month, thanks to the return of the popular workshops program.
A series of 30 and 45-minute sessions will cover a range of topics from working with millennials and Gen Zs, creating a high-performance team and managing workplace mental health to negotiating with unions, nutrition and performance, and more. These workshops are held at the HR Summit Expo, which is expected to attract over 200 HR professionals a day.
The Expo will also feature a number of activities including free corporate photography sessions, networking activities, and more. There's also a chance to go in the draw to win a $2,000 Grand Prize when on completion of the expo passport.
Register online to secure your place as seating is limited in the workshops of your choice as seating is limited. HR professionals interested in accessing all the conference and keynote sessions can still purchase tickets for the HR Summit Melbourne here.
Tuesday 31 July
9:30am From Millennials to Gen Z: Productivity in the new workplace
Presented by Dr Justine Ferrer, Lecturer, Deakin University and Gavin Walker, Manager, Graduate Recruitment Services, Deakin University
11am How FISH! will transform your team culture
Presented by Dwain Richardson, Managing Director, Corporate Challenge Events
11:45am Are you a (management) accident waiting to happen?
Presented by David Pich, Chief Executive, Institute of Manager and Leaders
1:15pm The high performance team:  5 critical steps for HR leaders to nurture high-trust teams
Presented by Marie-Claire Ross, Chief Corporate Catalyst & Founder, Trustologie
2pm Managing workplace mental health
Presented by Ingrid Ozols, Director, mentalhealth@work, Senior Fellow, Dept of Psychiatry, University of Melbourne
3:15pm Effectively negotiating with unions
Presented by Deborah Lindemann, Associate, Adelhelm & Associates
Wednesday 1 August
** NEW** 9:30am Going global: Work visas and international talent management
Presented by Esther Taft, Senior Consultant, Newland Chase
10am Food as brain fuel: Maximising productivity through nutrition
Presented by Samantha Gemmell, Nutritionist
11am Overcoming negativity: 16 actionable steps to improve productivity and regain positive focus in the workplace.
Presented by Sharon Wilks, Chief Executive, Mindfulness Experiment
11:35am Stress and positivity is not an oxymoron – how to harness good stress
Presented by Catherine Stevenson, Mental Wellbeing Coach, Life Skills Coach, Workplace Counsellor
More information is available at http://melbourne.hrsummit.com.au.