From an increased focus on people analytics to the rise of the employee experience, employers in 2017 look set to take a holistic approach to employee recognition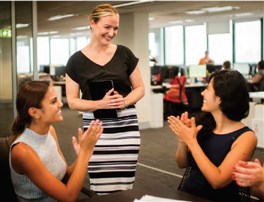 From an increased focus on people analytics to the rise of the employee experience, employers in 2017 look set to take a holistic approach to employee recognition and engagement. Alan Heyward, executive manager, accumulate, reports
I've been in this industry for over 10 years, and the pace and nature of change within the employee recognition and engagement landscape constantly amazes me. Over the past 12 months, that changing landscape has been characterised primarily by the far more strategic lens through which organisations are viewing their employee recognition and engagement initiatives. That has manifested itself in a number of ways, perhaps the most significant being the new light in which organisations are viewing their employee data.
People analytics: increasing sophistication
As a senior contact from one of our largest financial services clients noted recently, many organisations have for a long time invested heavily in sophisticated data analytics in the customer engagement sphere; however, that's where the focus has traditionally ended. He agreed that there are plenty of untapped opportunities to apply that level of sophistication internally, to drive significant engagement among both employees and customers.
We have seen this wheel starting to turn for a number of organisations over the past 12 months. Growing numbers are using their employee recognition data to generate a range of important insights, with most using them to help optimise the performance of their recognition programs. Others are using them to draw correlations and, ideally, causal relationships, between recognition and overall engagement levels. Some are feeding recognition data insights into their broader talent identification and key influencer initiatives. A far smaller number are looking to match recognition and engagement data with sales and customer data, to create a clear picture of key drivers at critical stages of both the employee and customer life cycles. While focusing on employees first to drive organisational growth is not a revolutionary concept, we expect to see far more organisations seeking to more effectively mine the rich employee data sets at their disposal.
Focus on the employee experience
Countless multinational organisations are considering, or have already implemented, a global HRIS. And it is difficult to have a discussion relating to employee recognition platforms without also mentioning API integration. Add to that the trend towards organisations seeking to make far better use of social enterprise platforms such as Yammer, Slack, Chatter and Confluence, and a clear pattern begins to emerge. It's a pattern of organisations seeking to create a more seamless, engaging employee experience across their various technology touchpoints and at various stages of the employee life cycle.
The majority of these organisations also understand that when it comes to recognition, as with many other employee touchpoints, technology is simply the enabler. Growing numbers are ensuring they assess how the technology supports their strategic objectives and operates within their recognition framework, rather than evaluating platform features and functionality in isolation.
It seems clear that the strong focus on Yammer and other social enterprise platforms will continue as organisations seek to better leverage the inherent power of employee communities to drive collaboration, knowledge-sharing and engagement. As one client put it, "it's about blending professional conversations with personal interests", in the interests of creating a more "robust, collaborative employee community". Once again, Yammer (and others) is simply the enabler; it's about a broader organisational issue of empowerment and connectivity. The richness of the data provided via these channels will continue to add a further dimension to the people analytics discussion.
Keeping the finger on the cultural pulse
The desire to monitor real-time employee sentiment is not new, but it is likely to shape the engagement strategies of growing numbers of organisations over the coming 12–24 months.
The degree to which some companies have reinvented their performance appraisal frameworks is well documented, with a deliberate move towards more regular performance-oriented conversations. In a similar vein, many companies have begun questioning the efficacy and reliability of annual engagement surveys, in favour of mechanisms that enable them to monitor their cultural health more regularly.
It seems clear that companies will continue to employ mechanisms such as pulse checks (daily, weekly, monthly), onboarding surveys and exit interviews as means by which to continually review and refine key aspects of culture more broadly, as well as specific elements of the employee life cycle. Once again, these mechanisms add a critical element to any people analytics initiative.
The right expertise
The more strategic, holistic focus on employee recognition and engagement appears here to stay for the immediate future. We expect organisations to become far more sophisticated in their use of employee data.
As a result, organisations engaging third parties for recognition, and indeed many other elements of their people strategies, are increasingly seeking a partner with expertise, rather than simply a vendor with a platform.
Additionally, ownership and accountability for employee recognition and engagement are beginning to reside at an organisational level, rather than being the sole domain of the HR team.
It will be an interesting year ahead in an uncertain economic environment, but it seems clear that employee recognition and engagement will continue to have a significant role to play.
TRENDS TO WATCH FOR IN 2017

1. Increasing levels of sophistication in the use of people analytics
Recognition and other employee data sets will increasingly be used to optimise the performance of recognition initiatives and inform organisational decision-making.

2. A focus on the employee experience
A more holistic view will enable organisations to identify opportunities to improve engagement at every stage of the employee life cycle.

3. More effective employee sentiment monitoring
Channels such as pulse checks, online forums and communities, surveys and interviews will gain further momentum to provide more frequent insights into cultural health.

4. A shift in ownership and accountability
Once the sole domain of HR, ownership and accountability for employee recognition and engagement will become more prevalent at a broader organisational level.
accumulate, a Qantas Loyalty business, partners with many leading Australian brands to help drive employee engagement and loyalty. Talk to us today to find out more. info@accumulate.com.au; accumulate.com.au