Disturbing new research has found 14% of Australians admit they have 'chucked a sickie' to spend a day at the beach this summer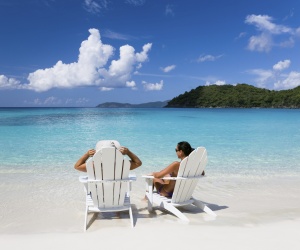 Don't be surprised if you check the Facebook page of a "sick" employee and find they actually spent the day hitting the surf at Bondi Beach.

That's according to new research from finder.com.au which found 14% of Australians admit they have 'chucked a sickie' to spend a day at the beach this summer.

The survey of 2,031 Australians found that women were more likely than men to have called in sick if the beach conditions were suitable.

Moreover, West Australians were most likely to take a sick day to hit the beach, followed by Queenslanders.

Over 1.6 million workers have given work the flick to go to the beach - at a cost of about $380 per worker per day. Consequently, skipping work to hit the surf is costing employers about $645 Million a year in lost productivity and payroll costs.

Andria Wyman-Clarke, professional career expert and Job Toolbox founder, told HC that some companies have an engrained 'sickie culture' where there are many workers with a poor attitude towards attendance.

"However, if you have a bad boss then the incidents of sick leave will be much higher," she said.

"As an HR professional, monitoring the sick leave at different levels can give you clues as to what teams are performing better and have a better culture."

Wyman-Clarke added that because of legal situations HR is sometimes scared of tackling a sickie culture epidemic.

"You can tackle it using the legal means of checking everyone's Facebook account, and some people have been successful with that in the courts because it was very obvious that they are not sick."

The Finder research also revealed one in five Generation Y workers (those aged 18-34) had taken a sickie to take a midweek beach break, compared to 15% of Generation X (aged 35-54) and just 8% of Baby Boomers (aged 55-74).

Bessie Hassan, Money Expert at Finder, urged workers to lodge an annual leave day rather than chucking a sickie.

"There's a bit of a culture in Australia where we think it's 'our right' to take sickies - when in fact sick leave should be viewed as a safety net if you or a family member come down with an illness or injury that forces you to take a day off," she said.