The property company dismissed an employee this week over comments that were publicly directed to columnist Clementine Ford.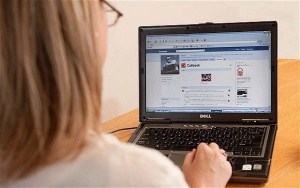 Meriton Apartments has fired a manager for using Facebook to call popular feminist commentator Clementine Ford a "sl**".

According to one employment lawyer, dismissals over social media behaviour can be warranted if it brings the employer into disrepute.

It could be interpreted that the dismissal was a form of damage control for Meriton; when explaining the reasoning behind the termination of the employee, Meriton emphasised that it "does not condone this type of behaviour".

Ford directed the company's attention to the comment made by Michael Nolan – formerly a supervisor at Meriton – which was posted in response to an anti-misogyny post she had written.

She also shared a screenshot of her interaction with Nolan with her 80,000 Facebook followers, simultaneously bringing Meriton's association with Nolan to their attention.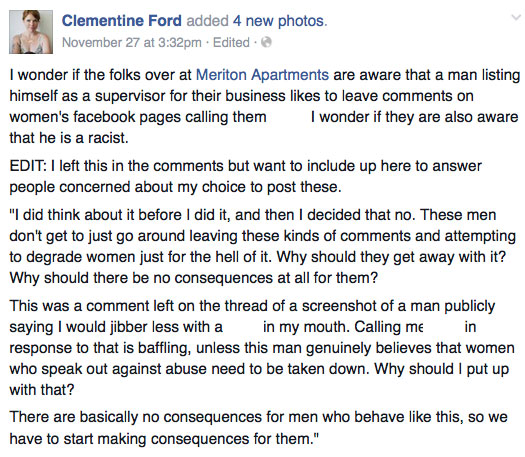 Meriton swiftly responded by contacting Ford to assure her that Nolan's behaviour was not condoned by the company – and that he no longer worked for the company.

"Michael Nolan was removed from the Meriton site on Saturday 28th November pending an investigation, and as of 2:30pm today 30th November 2015, he no longer works for the Meriton Group," Meriton's statement read.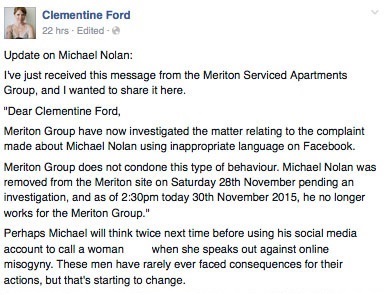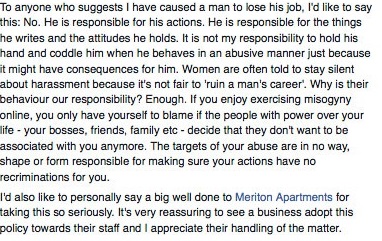 "It's very reassuring to see a business adopt this policy towards their staff and I appreciate their handling of the matter," Ford subsequently wrote on Facebook.

Speaking to HC, Kathryn Dent, director at People + Culture Strategies, explained that employers can justifiably take disciplinary action against an employee over after-hours behaviour.

"These days, with constant access to social media, out of hours conduct can 'go viral' and attract a wider range of adverse publicity for both the employee and potentially an employer," Dent explained.

She told HC that there have been many FWC decisions recently where after hours conduct – particularly where they are social media-related – were justly used as the basis of disciplinary action and dismissal.

"It comes down to after-hours conduct being an extension of workplace behaviour, which has been enabled by technological advancements, both in terms of what employees do and how they may be captured," she explained.

"If the behaviour does bring the employer into disrepute by people being able to connect the employee with the company, the employer is likely to be able to take action."

She added that this is why it is important for employers to ensure that their contracts and any employment policies reflect whether or not after-hours behaviour is something which may warrant disciplinary action or dismissal.

"Often social media policies include this; it gives the employer the right to discipline or dismiss the employee," Dent said.

"They may make reference to after-hours events in order to clarify how employees should be acting in public."

She also noted that employers always need to afford employees procedural fairness, which includes giving the employee the opportunity to explain themselves before any action is taken against them.

Ford also fired back at those who criticised her actions in involving Nolan's employer.

"To anyone who suggests I have caused a man to lose his job, I'd like to say this: He is responsible for his actions," she wrote online.

"He is responsible for the things he writes and the attitudes he holds.

"It is not my responsibility to hold his hand and coddle him when he behaves in an abusive manner just because it might have consequences for him.

"Women are often told to stay silent about harassment because it's not fair to 'ruin a man's career'. Why is their behaviour our responsibility? Enough."

HC commented Meriton for comment, but received no response prior to publication.