The Coalition is giving strong indications they will ramp up their defence of the FWC's penalty rates decision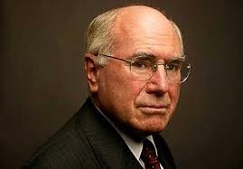 The Coalition is making its strongest defence yet of the recent decision by the Fair Work Commission to slash penalty rates.

The move comes after the NSW Police were involved in escorting former Liberal prime minister John Howard through a crowd of vocal union protesters rallying against cuts to penalty rates in Sydney's CBD.

Howard was at a conference on Pitt Street before being confronted by the protest group, who heckled him and held up Construction, Forestry, Mining and Energy Union (CFMEU) banners.

The 77-year-old was initially shocked, however NSW Police soon "came to the rescue", according to a spokesman for Howard.

The protests prompted PM Malcolm Turnbull to tweet: "I condemn CFMEU's thuggish harassment of John Howard today. A reminder of why ABCC is needed. Bill Shorten should condemn CFMEU as well."

The uproar comes amid the Coalition giving strong indications that they will ramp up their defence of the FWC's penalty rates decision.

The Finance Minister Mathias Cormann emphasised that the decision needs to be given a 'fair go'.

"This is a decision which the Fair Work Commission says will boost employment and will help small business open on a Sunday," he told Sky News.

"We believe that this Fair Work Commission decision needs to be given a fair go, that's because we believe that small business needs to be given a fair go, and that unemployed Australians looking for work need to be given a fair go.

"And we believe that those Australians that who want to work more, by working more on a Sunday, need to be given a fair go.

"So of course, this wasn't our decision, but it's a decision that needs to be given a fair go."

Moreover, the government is set to rally backbenchers and businesses to help make a case for the employment boost that will arise from the decision, according to The Australian.

Following the announcement of the decision, Labor and the Greens were swift in promising to fight it. In fact, the Labor leader Bill Shorten used International Women's Day to promote penalty rates and attack Turnbull.

"If Malcolm Turnbull wants to do one good thing for women on International Women's Day, he will join with Labor and stop the penalty cuts right now," Shorten said.

Shorten added that cutting penalty rates will widen the pay gap between men and woman.

"Malcolm Turnbull loves to quote that women hold up half the sky, but women are not getting half the way in Australia," he said.

"This will be the thin edge of the wedge for other women who rely upon penalty rates."

The Australia Institute and Centre for Future Work recently released data showing the traditional measure of the gender pay gap (which has women earning 17% less than men) for ordinary pay, equivalent full-time positions is blown out when the concentration of women in part-time work is taken into account.

The Fair Work Commission is yet to rule on when the cuts to Sunday rates will apply to retail and hospitality workers.

The cut to penalty rates on public holidays begins on July 1.