HC talks to Reni Otter about how Fraser Properties is using a smart, passive workplace design to boost employee wellbeing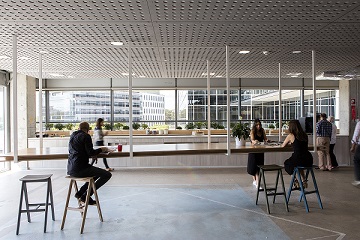 In an attempt to improve employee wellness, innovation and leadership,
Frasers Property Australia
(formerly known as Australand) has unveiled its new head office located at the Rhodes Corporate Park in Sydney.
Architectural practice BVN, in conjunction with Frasers Property's commercial division, led the $9.8 million fit-out comprising 3,700 sqm spread across two levels.
Reini Otter
, executive general manager commercial & industrial, said the design reflects the corporate values and culture of their business, as well as their future aspirations.
"What I personally like best is the inherent passive design approach that we have adopted here that encourages movement," Otter told
HC
.
"This include basic things – for instance, we all come in the one entry door which has a social aspect to it as well.
"Additionally, we have one central communal café and kitchen area called The Steps, whereas before we had four separate areas.
"Everybody also has lockers rather than storage at their desks - so all of these passive measures means that you have to move more."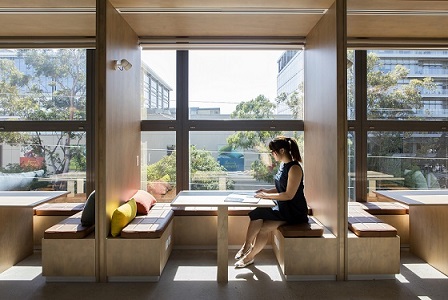 Otter added that it's not a 'ram it down your throat' kind of wellness approach. Rather, it's a smart, passive design that encourages the outcomes that they want.
"What we are noticing is that the cultural aspects are great as well," he said.
"You have got more visibility among people, people are seeing each other more and they are speaking more.
"It's all about mental, as well as physical wellbeing."
Otter said the company also wanted to encourage a much higher level of engagement and knowledge sharing both within teams and between teams.
"One thing we are very focused on in our business is empowering the right people and giving them the autonomy to do their job effectively," he said.
"If people feel empowered in a workspace then that attitude flows through to how well they do their jobs."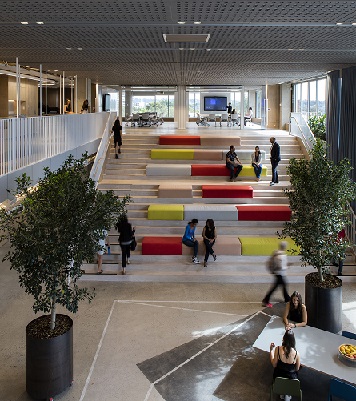 Five key principles that shaped the design include:
Create authentic places that inspire creativity and passion.
Provide choice to support a variety of activities.
Enable and connect with seamless technology.
Bring the customer into the heart of the business.
Foster a sense of community.
"Fundamental to the design is the belief that the built environment can directly affect our health – making employee wellbeing a top priority," added Reini.
"Flexible work spaces also promote innovation and evolution. The workplace is an enabler for team building, coaching and developing people. Teams need to be given autonomy and a platform needs to be provided for decision making and ownership."
Some of the wellness features include:
A significant air conditioning upgrade including more fresh air and higher filtration aimed at improving air quality, comfort and efficiency.
Workstations and chairs assessed by an ergonomist who will also be on hand after the individual ergonomic assessments. Key items include adjustable monitor arms and chair adjustment.
High quality and diverse break out and private spaces including quiet rooms, booths and benches.
Thirty per cent sit-to-stand desks and standing conference and meeting points throughout.
A focus on health and nutrition with initiatives such as daily fruit and vegetables, nutritional tips, a health and wellness library, reimbursements and subsidies for some structured fitness programs and activities.
End of trip facilities including showers, lockers, change rooms and a bike repair kit have been built into the space, equivalent to a five star hotel quality to encourage exercise either on the way to work or during the day.
Indoor plants and trees (three metres high) improve air quality and connection to nature.
Dynamic, collaborative spaces with open offices and flexible space to promote innovation and create a more exciting office culture.
Natural light and views – accessible to many and owned by no-one, with sight lines across the entire floor plate.
Access to outdoor space and fresh air with two balconies accessible from open common areas – meetings can spill outside.
Rhodes Corporate Park is a unique environment – extensive landscaping and access to parklands. The walking paths are various durations to encourage movement and access to fresh air, provide new venues to hold group brainstorms and discussions or simply to take a break.
Free access to the Rhodes Corporate Business Park gymnasium which includes an initial fitness assessment.
Related stories:
How contingent pay affects employee wellbeing
Wellbeing is central to most business strategies, says report
Do employees need assistance with financial wellbeing?