The professional services giant talks about how its 'activity-based' workplace stimulates innovation and collaboration amongst staff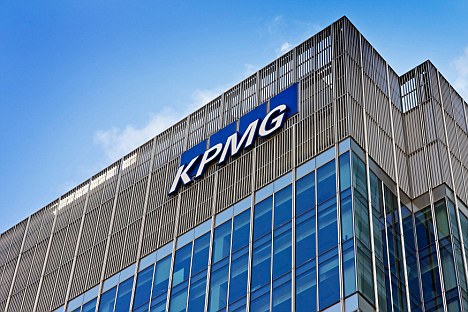 "We're trying to encourage staff not to sit at the same desk all day. Instead, they will move around a lot more according to the type of work they're engaged in."
Susan Ferrier, head of people, performance & culture at
KPMG
, talked to
HC
about the firm's 'activity-based workplace' and the design principles it was based on. The underlying theme, she said, was that different spaces on each floor were designed for different types of work.
"What you need to do is think about the kind of work that you're doing and then move around our workplace to choose somewhere that suits the content."
Examples of this are collaboration spaces, focus areas (for individual work) and spark spaces (for generating new ideas in a team).
In addition to this, KPMG also encourages its staff to sit at a different desk each day, Ferrier said.
"That means you have different conversations with different people, you bump into different people, and you meet people beyond your close team boundary."
Blurred lines of innovation
The design of the company's current workplace in Barangaroo has been two years in the making through a separate central Sydney pilot space. By experimenting with different types of furniture and teams, KPMG has been able to collect plenty of data – making this an evidence-based approach, she added.
Smaller offices in Adelaide and Greater Western Sydney (Parramatta) have also featured this newer design for around a year.
"We're responding to what we see as a workplace trend where there's a blurring of lines between home and work. What we're saying to our people is that workplaces are increasingly looking like homes and vice versa."
Inspiration for this move stemmed from the firm's strategy of cultural transformation towards entrepreneurship, innovation and experimentation.
"There's much more of a test-and-learn type approach," Ferrier said. "It's permeating through everything that we do including our decision to move from our old building to our new one."
Initial results and the future
While it is still early days for the new office design, she told
HC
that feedback has been very positive with a happier, more creative, more enthusiastic and more engaged workforce.
In order to determine the full extent of the new workplace design in the future, KPMG would continue to run surveys and collect data.
"I think before Christmas we'll have a pretty good indication about what we think the success measures are. They'll range across several metrics – people engagement, and responses our people give to innovation and experimentation in our people survey. We'll also be monitoring wellbeing metrics like sick leave and absenteeism."
Adjusting to change
To help staff adjust to the new workplace, KPMG put around 1,500 people through the Sydney pilot program. This was called 'Workplace of the Future' and lasted from 10 to 15 weeks, Ferrier said.
The firm also ran an agile leadership program to support everyone – leaders and employees – moving across to the new work environment, and also held a speaker series where people could listen to talks on this new workplace.
"We also ran an expo where people could come and look at the pilot. They could see the design for the new building, what the desks were going to look like, what the furniture was going to look like, etc."
Related stories:
Why the modern workplace is failing
Could the traditional work desk hold the secret to workplace wellbeing?
Can your office trick you into getting healthier?