Today, learning is a lifelong process, but the classroom paradigm is standing in the way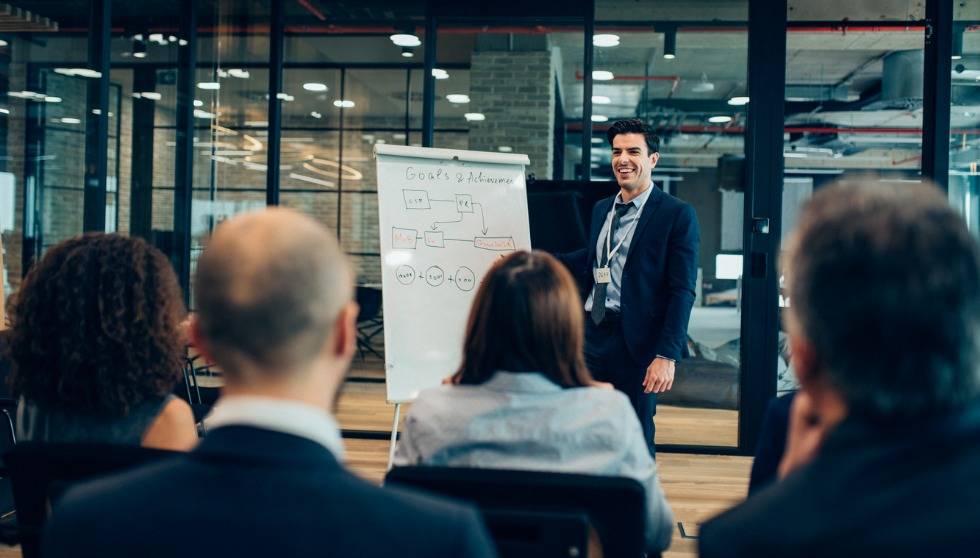 By Stefaan Van Hooydonk, Chief Learning Officer, Cognizant
A century ago, it would take 35 years for half of what an engineer learned when earning their degree to be disproved or replaced. By the 1960s, that time span shrank to a mere decade. Today that figure is placed between 2.5 and 5 years.
As the shelf-life of knowledge and skills in the technology sector decreases exponentially, employee training has become ever so more important. In fact, 70% of employees do not have mastery of the skills they need for their roles, and more than half of employees say they need better upskilling, according to Gartner.
In order for employees to pursue skills at speed and scale, the corporate learning and development (L&D) model needs to embrace personalised training processes. Every aspect of our lives has changed dramatically in the past decade ― how we get work done, how we are entertained, how we connect with friends, how we shop, and so on.
This is a world of personalisation and customisation ― an experience that is more contextual to the need of the consumer.
Yet, the way we teach and learn expects all students to go through the same sessions; each learner is expected to achieve the outcome by taking the same route. While this was effective in the past, today's instant-gratification-loving generation needs a different, more engaging framework. Personalisation has become a core part of how we live our everyday lives.
However, very little personalisation has made its way into how companies curate training programmes and help educate employees. According to research carried out by our own Centre for the Future of Work, most CEOs are concerned that their available talent can't keep pace with how quickly robotic process automation and artificial intelligence are changing businesses and ultimately, work.
The stark reality is that many organisational training programmes continue to focus on a one-size-fits-all paradigm, resulting in one-size-not-fitting-anyone. Assembly-line learning courses and methods are passé. New forces have come into play and are fundamentally transforming the world of work.
At the centre of a new reality being heralded by the 4th Industrial Revolution is the employee, and technology is the new disruptor. Employees are increasingly required to change their skills at an accelerating pace. What's more, they are willing to learn new skills or completely retrain for that much-needed competitive edge.
Shifting education needs
Today, learning is a lifelong process, but the classroom paradigm is standing in the way. Its focus is not on each individual employee, but on some abstraction, we identify as 'the learner', an amalgamation meant to approximate some average person in a group of hundreds, if not thousands, of people. And while a classroom framework has its advantages such as joint work and collaboration, the shortcoming of such an approach is that it neglects the individual needs of each participant.
Fortunately, companies are now realising that their current and immediate needs are not going to be solved by a prescriptive training model. It is crucial that we move from a prescribed to an autonomous model, from training to learning. The learning opportunities should be identified and enhanced by curating experiences specific to employees' skillsets.
Companies should hone in on their employees' "what" and offer them more autonomy to pursue skills that are specific to them. While this particular approach does not provide career-specific plans, it does offer a direction for an individual to follow in developing specific skills or capabilities in an area of their interest. It puts the employee in the driver's seat.
The shift towards a more individualised workspace requires the creation of a more flexible setting for work and learning ― as they are intrinsically linked ― giving employees the freedom to choose the environment, hours, resources and modes of learning that allow them to flourish and thrive.
Companies therefore need a compilation or collection of easy-to-trawl, most-sought-after learning resources. This can be based on various learning themes and provide some direction on their worth in terms of future jobs where employees can identify the abilities required to boost their competencies. In such a knowledge marketplace, employees get an idea of what skills need to be developed to remain relevant now and in the future. At a glance, with essential links, employees have access to a curated set of learning resources available for them, based on learning themes such as hot skills, future of work, digital technologies, technical development for managers, and so on, helping employees to charter their own development plans.
The aim is to orchestrate capabilities to truly change the game across strategies, design, technology and industry or functional knowledge. Given the time and attention constraints of the average employee, these resources to upgrade skills should be readily available and accessible.
Embracing autonomy in learning
The change is already happening but like seeds thrown in the air. For the change to take effect, it has to be carefully sown and nurtured. It is the responsibility of L&D organisations to support highly personal experiences to make the desired individual and business outcomes more visible.
Whether the ideal L&D model requires a knowledge platform that empowers employees to get easy access to topics or whether it requires cutting-edge technologies depends on the digital maturity of each company. However, one thing is certain: that model needs to support autonomy in learning to meet the way the consumer personalisation experience has shaped expectations. It also requires that learning be integrated with daily work, and that it happens at the point of execution of work. This way, the learning can be curated to address the specific needs of the employee.
We can speak better to corporate needs and priorities if we focus on learning, rather than training. We can produce better impact if we focus on people, rather than learners. We can provide more opportunities to learn if we think of resources, than courses. With this as our framework, we can move forward towards a more personalised L&D model informed by both speed and consistency. It's time we made learning personal by getting specific with each individual employee's needs.