24% of employees opt to leave an employer is they don't align with their values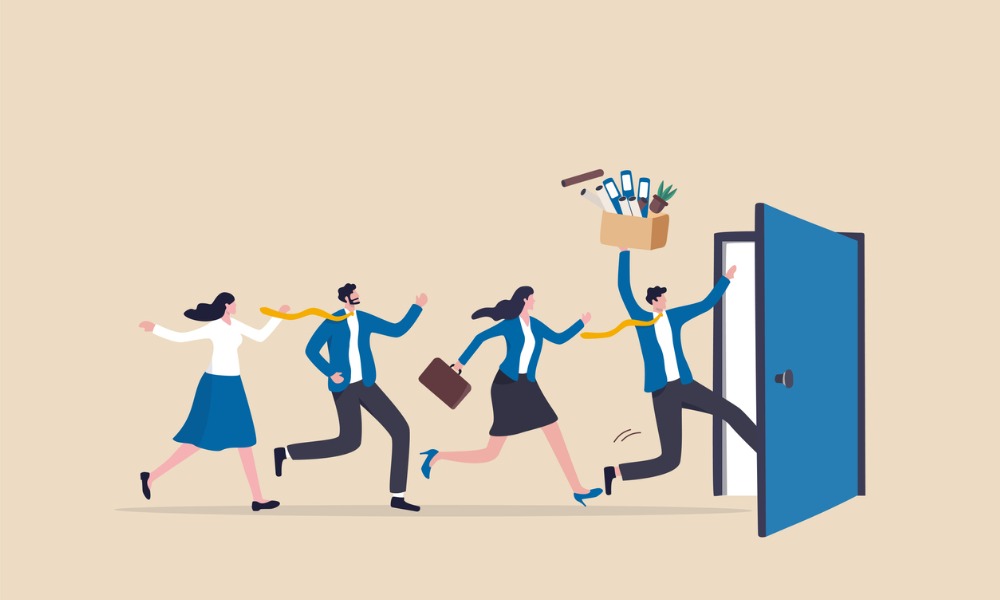 The past couple of years have been as unprecedented as they have been disruptive for employers – with talent woes dominating the HR strategy. And while other HR practitioners fret over how to keep hold of top talent in an increasingly candidate driven market, for Dave Barnett, chief human resources officer at DeVry University, retention just hasn't been an issue.
"We joke internally that we've been waiting for the Great Resignation – and it just never happened," Barnett tells HRD. "At DeVry, we've done a really nice job of attracting talent to the university."
Filling roles in 30 days and under
So much so, in fact, that at DeVry the average time to fill a role remains under 30 days – even throughout a global talent shortage and the pivot to remote work. From DeVry University's perspective, attracting highly skilled individuals who are passionate about their mission is crucial. As Barnett tells HRD, they're focused on ensuring they've got the right talent in place to help their students and their employees. This involves making strategic decisions about their educational programs to align with future job opportunities.
"We put the mission at the centre of our recruitment practices," says Barnett. "And so, we've seen this typographic shift in the employee populations. It used to be all about a traditional employee value proposition – tell me about this benefit, tell me about vacation time. What we're seeing now is that those things don't matter – they didn't go away but that conversation's been rounded out with questions around the meaningfulness of work, the organizational values, commitment to diversity and inclusion."
And this is really emblematic of the shift in employee expectations post pandemic. According to data from Korn Ferry, 24% of employees opt to leave an employer is they don't align with their values. What's more, according to Glassdoor, 64% of jobseekers consider workplace diversity a leading factor when deciding whether or not to accept an offer – with 50% of workers wanting their current employer to do more to improve workplace diversity.
'Our retention throughout the Great Resignation was incredible'
At DeVry, one reason their hiring rates are so competitive is that they build these elements into their recruitment processes – creating an all-encompassing process that displays authenticity and truth. Two things candidates crave in job interviews.
"This means we find people who care about the mission, care about the impact we're trying to make in the world," says Barnett. "And those people stay. Our retention throughout the Great Resignation was incredible – we didn't' see big turnover, we didn't see a mass exodus. We kept filling positions quickly. We're hitting record levels of employee engagement and much of that is because we are a mission centric organization and that's at the heart of what we do."
While talent scarcity and changing work dynamics will always present challenges for HR professionals, DeVry focus on mission and values has allowed them to successfully navigate these hurdles. By attracting individuals who're passionate about their mission and creating a culture of engagement, they've been able to not only hold on to top talent during the Great Resignation, but attract a fair share of it too.
Telling our story
This itself, says Barnett, will be part of their ongoing initiatives for the rest of the year – especially where their employee value proposition is concerned.
"Our goal this year is to more effectively communicate our story," he says. "While our culture, our employee value proposition, has been a tremendous strong suit for us, we're currently working on telling it better. We recently ran an organization-wide workshop, pulling in people from all areas of the university to ask them why they chose to be at DeVry. The best part is that they told us exactly what we'd hoped to hear.
"I let our employees, not HR employees, actually articulate the employee value proposition to us. Now we're doing the word smithing and the packaging of that EVP. And we're nearly there – but that's big work for us because ultimately it will help us better tell our own story."