A positive corporate culture is one that fosters respect and creativity and invites everyone to participate on an even ground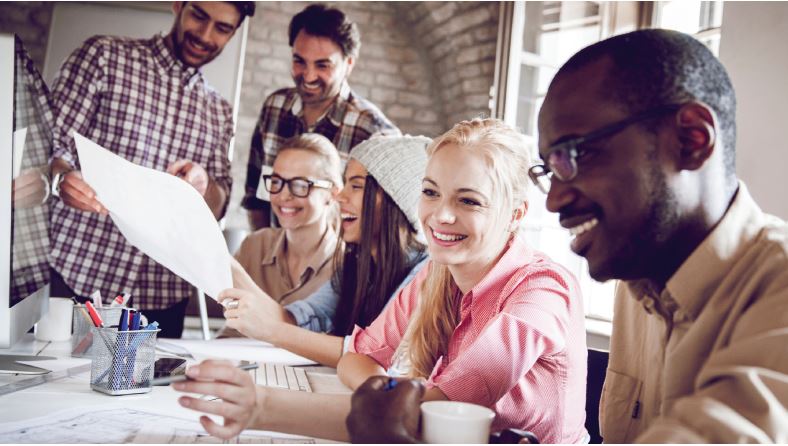 A positive corporate culture is one that fosters respect and creativity and invites everyone to participate on an even ground. HRD outlines how you too can create a FUMISH culture
Culture is the glue that binds our communities, organisations, groups and families together. A culture can be positive, toxic or somewhere in-between – but it's obvious that employers that aim towards a positive culture reap significant benefits. While positive may seem like a subjective term to use – after all one person's idea of a perfect company may vary depending on age, circumstance, even gender – there are some defining traits of a positive culture.
For Dwain Richardson, managing director of Corporate Challenge Events, a positive culture is the feeling you get when you visit a workplace. "It's that initial vibe but it's also carried throughout your entire experience with the company. Not only do your staff feel this but so do your clients."
Richardson sums up the key characteristics of a positive culture with an acronym: FUMISH, which stands for: friendly, uplifting, motivating, inviting, supportive and happy.
However, there's a potential problem: times are tough, budgets are tight, and people are stretched. Richardson hastens to add that there's a key difference between staying positive all the time and having a positive culture.
"Life is tough, business is tough and there will be times that are tough. But if you have a FUMISH culture then those times when things do get tight will be easier," he says.
Creating a FUMISH culture
The term the fish rots from the head down places organisational leaders as key players in any effort to create a FUMISH culture.
"I think it's well and truly shown that the best leaders recognise the importance of culture," says Richardson. "I'm a big believer in leaders setting the example. Since I founded Corporate Challenge Events, whenever I've had a meeting with managers around doing team events and the managers have said they won't be involved, my comment is always, 'If you want to get the best out of this program, I'd suggest you get involved. Don't separate yourself out from your team'."
In Richardson's experience there are typically two roadblocks to establishing a positive culture: time and commitment.
"It's not that time or commitment should be a barrier, but those two become the barrier. In terms of the time barrier, I use the example comparing it to everyone's excuse for not exercising: I don't have time. But we all know if we do exercise we'll be more efficient and we'll have more time. It's the same here: we know that a positive culture will create a better organisation for us but we can't because we make excuses like, 'I've got to respond to this email' and, 'I've got these KPIs I must meet'."
Similarly, in terms of commitment, Richardson says he will often be asked about organising a three-hour The Amazing Racestyle team event on behalf of a client, and the client will then outline a multitude of issues or challenges they are trying to resolve in the organisation. "I say, 'We're not going to solve it in three hours. You need to now put a plan together and commit to an ongoing desire to change the culture in your workplace'."
Help along the way
Helping with the plan are service providers like Corporate Challenge Events. Richardson says his company can help as much or as little as a client needs. Some organisations with large HR teams might require Richardson and his team to assist only with single components of their predetermined culture-building plan. Others might require assistance in designing an entire culture-change program.
In relation to Richardson's three Es, Corporate Challenge Events provides services that touch on education, engagement and environment. For example, in the education space are the company's corporate training services. This training typically covers cultural change – areas like behavioural profiling, working with teams on clarity of values, vision and mission, or sessions on how to build resilience.
HOW TO CREATE A FUMISH CULTURE
Dwaine Richardson outlines his three Es:

Education "We've all heard the anecdote about the CFO who says to the CEO, 'What happens if we train them and they leave?' And the CEO responds with, 'What if we don't train them and they stay?' That's what the education component is about. The more you do this, the better employees feel about the organisation, and the more positive the culture is."

Engagement "This is around people getting to know each other and appreciating and understanding each other. Knowing who they are, not just for the position they hold within the organisation. Whether you're the CEO or the check-out operator at the supermarket, at the end of the day you're both individuals and you've both got your own stories to tell."

Environment "This encapsulates the two items above. Don't just sit in a boring square room to deliver a personal development session. Create an environment that will get the most out of people. It's the physical as much as the mindset environment."
Under the environment banner are the company's conferences and events services.
"Our team will help with the event logistics, whether a conference or a team meeting, and they also advise on how you create an environment that is more conducive to getting the most from your people," Richardson says.
Under engagement is the team-building arm of the business. Richardson says that after 23 years of experience in the field, this is the company's "bread and butter".
Team building in focus
Team building has come a long way since the days of group hugs and the trust fall from days gone by. Today, Richardson says team building has become more creative. For example, one popular option is tying CSR programs into a team-building exercise. Corporate Challenge Events' most popular program over the past three years has been bikes for tykes, whereby a team or groups of teams undertake a series of activities and then collaborate with each other to build flatpack bicycles, which are then given to kids with serious medical conditions.
Another popular option is cooking classes. However, rather than cooking for cooking's sake, teams will make tasty dishes and donate the food to a kitchen that helps the homeless.
There's also a merging of team building and events occurring.
"What we're finding is a willingness for organisations to understand it's more important to break up a one-day or two-day conference with something else, perhaps something light-hearted," Richardson says. "That comes back to the environment piece – create an environment where people are not sitting in a seat for two days straight and not really taking it all in. By throwing something different in midway, you break it up and help to raise people's concentration levels."
For example, an The Amazing Race-style team-building event might be worked into the event. This is particularly effective if people have travelled to another city for a conference. The clue-hunting team-building exercise is used to explore the city.
The Corporate Challenge Event website lists plenty of other examples, and Richardson says it really depends on the style of the conference or event and the amount of time delegates have.
"It could be anything from an outdoor two- or three-hour survivor program onsite, or an amazing race offsite. Or you could even put a socially responsible program in place where the kids are brought out to the venue." Richardson adds that the key to a successful team-building event is making sure that whichever provider is chosen understands the outcomes you're hoping to achieve. Secondly, it must be delivered in a non-threatening way.
"The perception of team building has changed," says Richardson. "Today, it's perceived as being a recreational fun day where people turn up and the barriers fall between the CEO and the people on the front line. It's about appreciating the person for who they are, not appreciating them for their job title. So it needs to be non-threatening and inclusive so everyone can take part."
Richardson has no doubt that team building in particular can help build positive cultures. Among the benefits are six key points to remember. Team building can:
Show that the organisation cares about individuals
Foster inclusion
Create a sense of team camaraderie
Bolster engagement
Create a sense of fun
Produce significant flow-on effects, for example, greater collaboration across divisions
"The more people understand each other the more likely they are to work more effectively with you," says Richardson. "I don't have to be the same as you but if I can understand you I can then get to know you better. I'll know how to work with you and communicate with you more effectively. These are all offshoots of effective team building, and it's something positive cultures excel at."
WORKPLACE CULTURE MONTH

For the month of April, Corporate Challenge Events is spreading best-practice tips and guidance about how to create a positive workplace culture. Dwaine Richardson explains:

"When we looked into it, we were surprised that we couldn't find anything like this anywhere in the world. Our plan is to put the spotlight on the importance of culture for the entire month of April – not only how important it is but how simple it is to create a positive culture. I'll be releasing an ebook with some simple tips on creating a positive team culture, and we'll also be hosting a number of events in Australia and New Zealand and using our social media platform to showcase how other companies are enhancing their culture. We're also encouraging people to use the hashtag #workplaceculturemonth to highlight what they're doing in their organisation."
CORPORATE CHALLENGE EVENTS
Corporate Challenge Events is a leading corporate training, team building and conference planning provider with offices across Australia and New Zealand. Its vision is to help clients achieve a positive fun team culture by delivering unique and rewarding team events, corporate training and staff experiences that leave a lasting happiness.

Website: www.corporatechallenge.com.au
Email: info@corporatechallenge.com.au
Head Office: +61 3 9753 2562