One workwear expert says the right attire can improve employee engagement while also boosting business results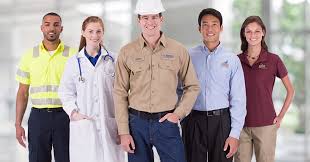 HR professionals may be underestimating the potential of employee uniforms after one workwear expert says the right attire can not only improve engagement but also boost business results.
"We live in a society where the clothing you wear represents your values, beliefs and purpose and helps others identify with you," says Pamela Jabbour, founder and CEO of Total Image Group.
"A company uniform defines what you are about as a business and ensures that your team is aligned with the same messaging," she continues. "If done correctly a uniform will ensure your team look, feel and act the part and will ensure clients are confident, comfortable and proud to be associated with your brand."
Jabbour has worked on employee uniforms with a number of major names – including the Australian Olympic Team – and says carefully designed attire can make a big impact on organisational success.
"Winning business is tougher today than ever before and the company that takes the time to ensure their staff uniform represents the best version of their brand, culture and purpose are more likely to get ahead in sales and performance and be market leaders in their field," says Jabbour.
"A company uniform is an effective and cost-efficient way to shout out to the world and your team who you are as a business and imperative to ensure your brand image is being correctly presented."
She also says uniforms can lift employee engagement and help forge strong company cultures.
"A good uniform will ensure employees are excited and motivated to get dressed and it creates a feeling of team spirit and sense of belonging," she tells HRD. "Team members will wake up each day and be reminded when getting dressed who they work for and what that represents."
For that reason, Jabbour says organisations should also consider involving their employees in the design and decision-making process.
"It is important employees feel they are valued and that their needs are considered with the uniform design," she says. "Whilst it is impossible to please everybody, when staff are engaged or feel a part of the design decisions, the overall attitude and sense around the uniform is far more positive."
Jabbour also warns that uniforms – when done badly – can have serious workplace repercussions.
"There is without doubt a correlation between performance and dress," she tells HRD.
"A lazy outfit equals lazy output, equals lazy impression. Staff who take pride in their dress sense take pride in their work. If uniforms are outdated, unflattering or not practical, employees will look, feel and act the same way. The exercise ends up being far more costly, resulting in a poor team culture, attitude and damaging to your brand."
Related stories:
Can you force employees to wear certain clothing?
Position descriptions, policies and procedures – do they still matter?