Jump to winners | Jump to methodology | View PDF
A GOLDEN OPPORTUNITY IN LEARNING
The pandemic has changed the world of work immeasurably, and no facet of HR has gone untouched – including learning and development. The stressful events of the last 12 months have caused employees to question the driving forces in their lives, be it their career trajectory or the place they call home. The impact on L&D has been a far greater appetite for learning and upskilling than ever before. Coupled with the increasing sophistication of learning platforms and, for some, more time on their hands, it has created a golden opportunity in the L&D sector.
Equally for employers, the pandemic has underlined the need for continuous learning and upskilling to become truly resilient organisations in the face of change. Although lockdowns and restrictions put a hold on face-to-face learning, forward-thinking HR leaders knew it was a crucial time to double down on L&D, rather than scale back. By exploring virtual offerings in the market, organisations have been able to deliver high-quality, engaging content at the time it was needed most.
Rosie Cairnes, Asia-Pacific regional vice president at Skillsoft, one of this year's 5-Star Learning and Development award winners, says the organisation saw a fourfold increase in the overall learner activity during the pandemic, highlighting the vast spike in demand. Interestingly, the motivation behind the desire for learning has also shifted.
"The motivation used to be around professional development, but now it's more about acquiring skills and deeper learning – two areas that will help the employee perform better in their current role but also prepare for their next role or the way in which their role might be changing," she explains.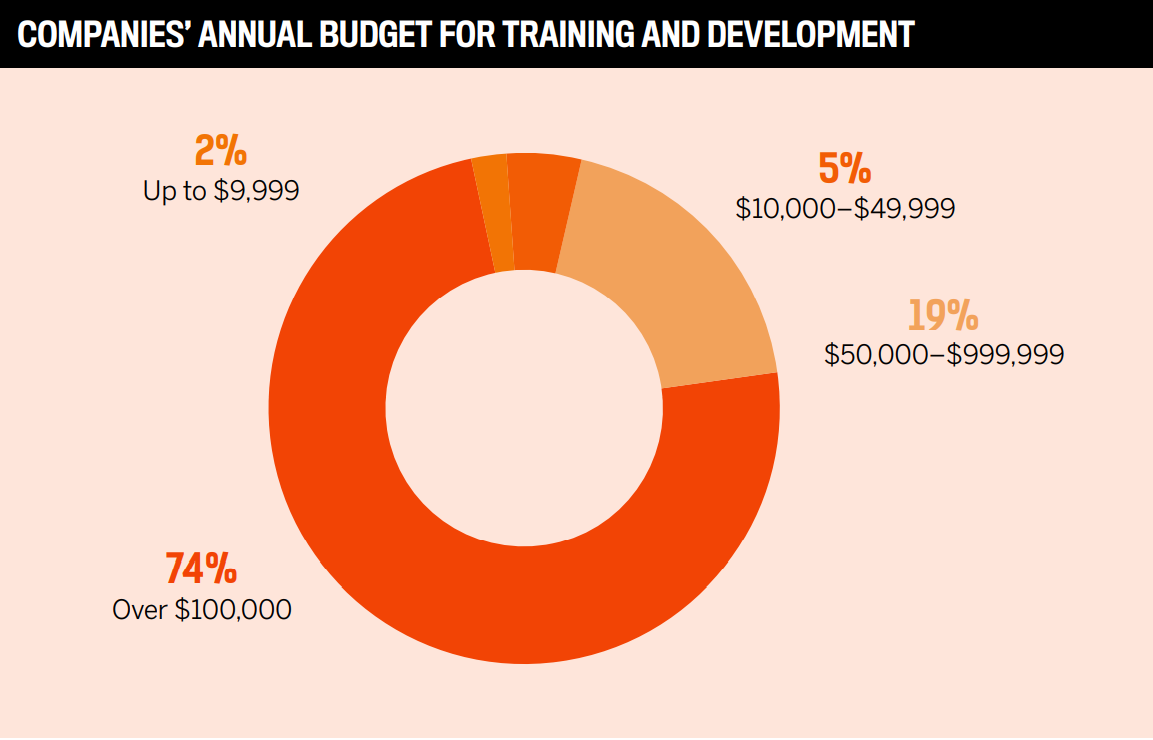 Staying one step ahead
This year's award winners demonstrated an ability to react to the accelerating needs of customers in real time. As the value of learning was elevated to the top of the priority list, so too was the demand for highly sophisticated technology that could integrate into businesses' existing systems, offer a seamless and engaging user experience, and provide predictive data on emerging skills gaps.
In another year of lockdowns and restrictions, the quality of a provider's virtual learning became paramount. Delivering the same in-person content by video is no longer enough to engage users, especially for a workforce already struggling with Zoom fatigue. As a result, the demand is for immersive and interactive experiences that mirror the peer-to-peer learning delivered in a classroom setting.
Dominique Powrie, managing consultant at DDI, another 5-Star Award winner, says virtual learning has guaranteed that HR can support their people leaders, despite the rolling cycle of on-and-off lockdowns.
"We've definitely noticed a shift in acceptance of virtual learning because we've learned how to create virtual leadership development experiences that bring people together to work in teams to explore concepts, to facilitate shared learning and share stories, to do exercises together and practice one on one or in small groups virtually," she says.
When virtual learning is delivered well, the benefits speak for themselves. It's more accessible to a wider cohort of employees, is more cost- and time-effective, can offer high levels of engagement and peer-to-peer learning, and facilitates the adoption of practical skills.
Kim Seeling Smith, founder and CEO at Ignite Global, a 5-Star Award winner, agrees that delivering content by video alone will not spark behavioural change. However, the pandemic has provided employers with an opportunity to rethink how they deliver truly successful L&D.
"Nobody wants to spend good money to train their line managers or their staff on things that are not embedded," she says. "So, we need to recognise that learning is different now. People have a very short attention span in this digital age where information is coming at us faster than we can process it.
"Users need to learn from videos or lectures and then apply [the lessons] on the job, as well as experience mentoring and coaching. I think as much experiential learning that we can bring into it, the better the learning will be and the more it will land."
Another priority for HR leaders has been the ability to tailor content to suit specific roles and skills needs within the business. Rather than relying on off-the-shelf solutions, HR leaders want bespoke, personalised teaching that equips employees with the skills they need now and in the future. The 5-Star winners ranked highly for being responsive to these evolving customer needs without sacrificing the quality of the content.
From a technical perspective, HR leaders now expect more from their LMS provider in terms of capability. Cairnes says the demand for integration has been a prominent trend among customers who want the LMS they choose to fit seamlessly within the employee's existing technology.
"We've witnessed this rise of organisations wanting to urgently focus on deep and seamless integration with multiple platforms," she says. "Organisations almost want the LMS to be somewhat invisible and serve learning in the flow of work when it's needed but not necessarily be front and centre."
The user experience should also mirror the quality of other apps that employees use daily. More importantly, the LMS must be securely protected. Where providers have been able to deliver on these priorities, the result has been cementing a strong relationship with their customer base.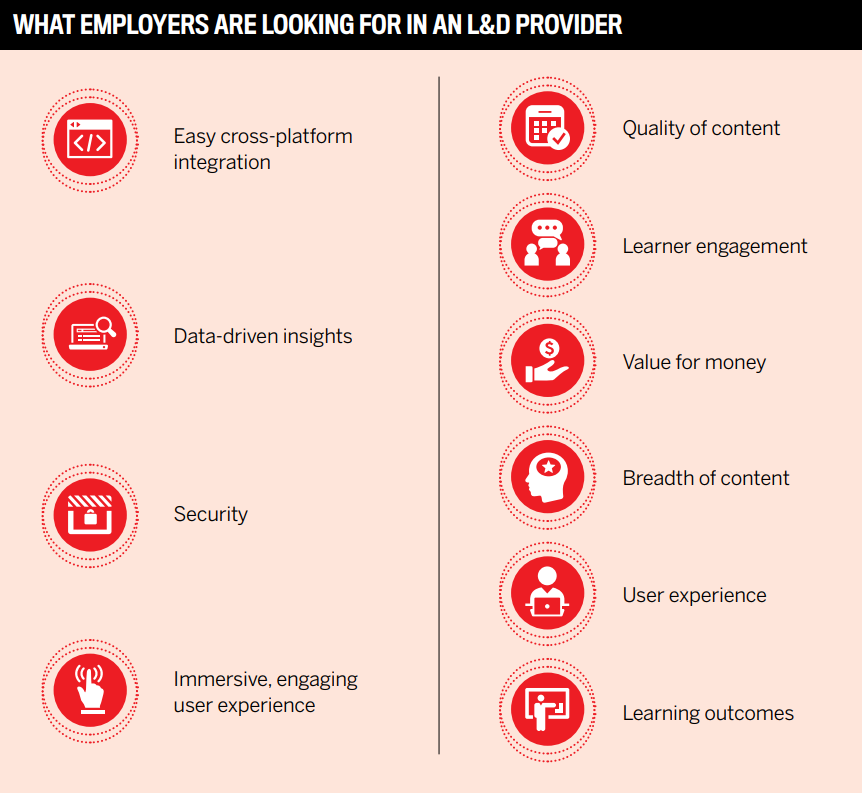 The future of L&D
As the world of work continues to evolve, L&D providers will play a key role in enabling businesses to become more resilient. Cairnes expects to see greater investment in L&D as HR leaders strive for a holistic approach to the employee experience.
"One of the roles for L&D providers will be to really help organisations drive a culture of learning," she says. "The only way that organisations can truly be resilient and prepared for the future is to have the skills and mindset that learning brings and really support leaders of learning to be a more strategic partner to the business."
That sentiment is echoed by Powrie, who says that if an organisation does not have a learning culture already, HR leaders must begin to put steps in place to create one.
"To create a learning culture, you really need your managers to be on board with supporting learning for their people," she says. "I think the learning of the future is really going to be taking what we are learning and iterating now and creating the right environment by providing the right resources, tools and assets to the team at the time they need them and that the content is really relevant."
While technological capabilities will continue to play a vital role in the future, L&D providers must remain human-centric to really engage with users, especially in a hybrid world of work.
This year's 5-Star winners have proven that an investment in L&D is paying dividends for organisations. A more skilled, resilient and engaged workforce – wherever they might be working – enables businesses to prepare for the challenges ahead.
Australian Institute of Management
Blanchard Australia
BTS
Learning Ventures
PD Training
Realizer
Simply eLearning
The Learning Wave

LMS Software Providers
Adobe Captivate Prime LMS
Pegasus
SAP Litmos
Skillsoft
Across the categories of LMS provider category, the 5-Star winners have scored highly in factors such as ease of use, ease of integration, technical support, platform features, management reporting and value for money. In the L&D training provider category, the winners were ranked on quality and breadth of content, learner engagement, user experience, value for money and learner outcomes.