Collectively, we're all drinking, smoking, and eating too much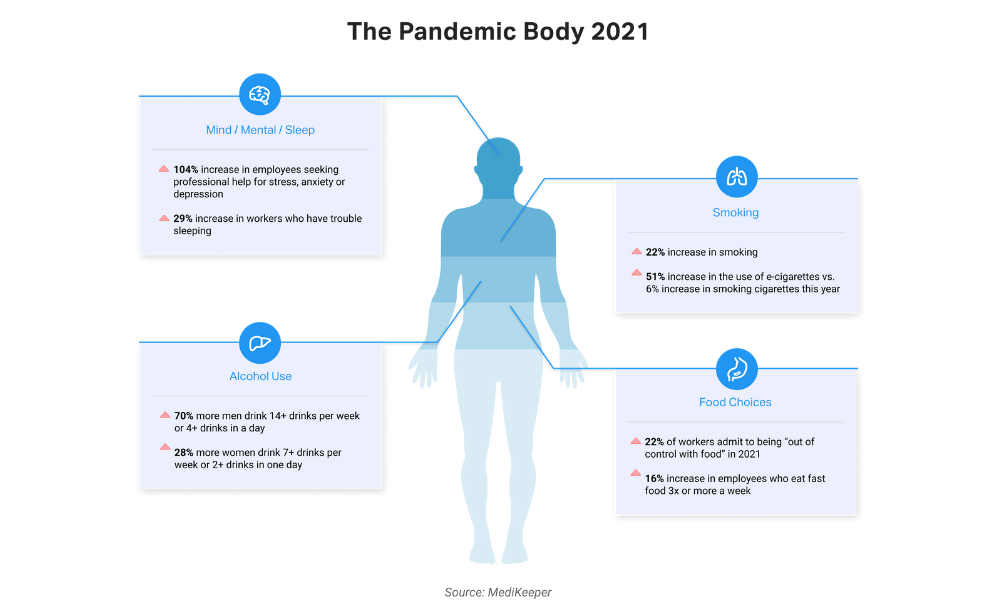 As we emerge from the COVID-19 pandemic, it seems as if there's finally a light at the end of the tunnel. Vaccines are here, cases are declining, and employers are looking to return to their offices for good. However, it's not quite smooth sailing just yet. The pandemic has shredded employee mental health, with more and more teams reporting feeling anxious, depressed, and stressed. Think of it like a quarantine hangover – a 'Quarantini' – causing a huge headache for HR leaders.
In fact, emerging research from MediKeepr highlighted the pandemic's impact on alcohol use, diet and exercise, sleep, and smoking - and the results make for some pretty shocking reading. The report found a 70% increase in men who drink more than 14 standard drinks per week or more than four drinks in a day. What's more, there was a 19% increase in people regularly eating red meat four or more times a week – followed by a 20% decrease in daily vegetable consumption.
Read more: CEOs to drop degree requirements in hiring
HRD spoke to Dr Tyler Amell, chief health officer at MediKeeper, who revealed the dire intricacies of the research.
"I am saddened but not surprised that these data show an epidemic of unhealthy choices by employees during the pandemic, who may have lost access to the gym and the company-sponsored perks like yoga classes and subsidized healthy meals in the cafeteria," explained Amell.
"As a doctor, the alcohol consumption is something that I found quite disturbing. This increase in alcohol is showing up in various research studies – as is a reliance on other substances. This has long-term implications for employees – while alcohol is effective as a short-term coping strategy it's exceptionally poor and disastrous in the long-term. The repercussions around this increase are quite worrisome."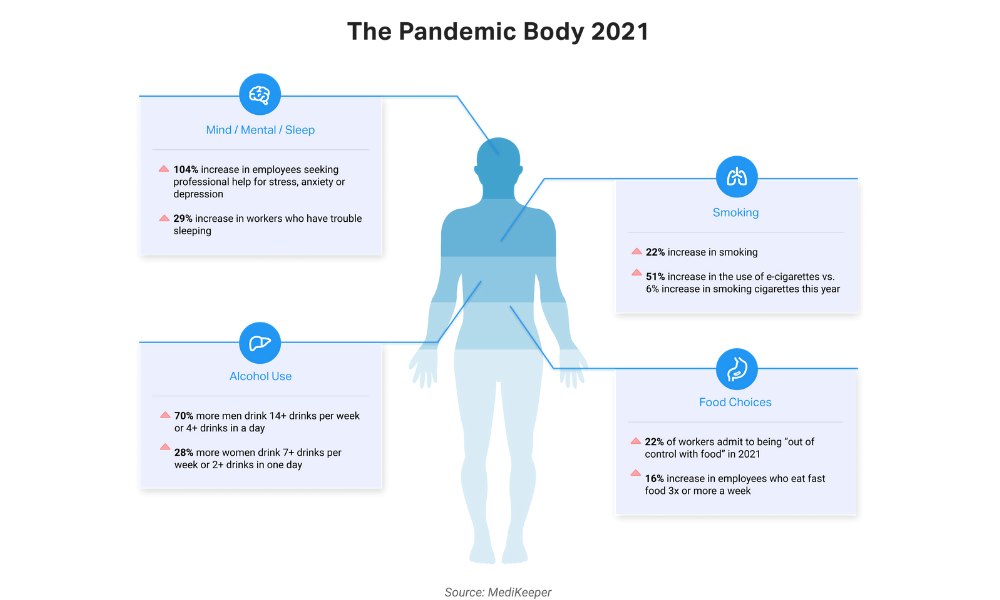 At the start of the pandemic, everyone was vocal about using the lockdowns to lose weight or stop smoking or improve their wellbeing. And while everyone started off with the best of intentions, it seems as if the opposite has happened. Physiological health is at an all-time low, alcohol and fast-food intake is on the rise, and people are feeling more disconnected than ever.
Read more: The cost of a bad hire is rising
"I'm one of those people who put on a couple of extra pounds," added Amell. "I've had to double down on my exercise initiatives during the pandemic, because I've worked remotely for a couple of years now. People were quite optimistic earlier on that this was not going to last more than a couple of months – as such, they were really positive. However, as the pandemic was extended through multiple lockdowns, the dynamic began to change bit. People started becoming dejected and depressed. This is when we saw the decline in mental wellbeing and an incline in self-medicating."
To combat this, Amell suggests improving company-wide wellbeing plans – suggesting that leaders need to look at mental health in the same way they do physical wellbeing.
"While more workers are concerned about their health, they may need guidance and structure to get them on the right path of making better, sustainable choices – with a goal of long-term behavior change," he told HRD. "HR leaders have a golden opportunity to help bring about the changes employees need by providing wellness services and programs for a healthier lifestyle in mind, body and spirit.
"I tend to look at this as a health continuum. When you onboard somebody into your company, you'd like to think that they're healthy - and they're going to stay healthy for the rest of their career with you. This is very naïve – and it's not the case whatsoever. This is exactly why we have insurance schemes in place - why we invest in lots of various support mechanisms. Part of the of the challenge is to really educate HR professionals on what solutions are available out there and available to their people."