'Even with a recession, finding the right talent will be a challenge'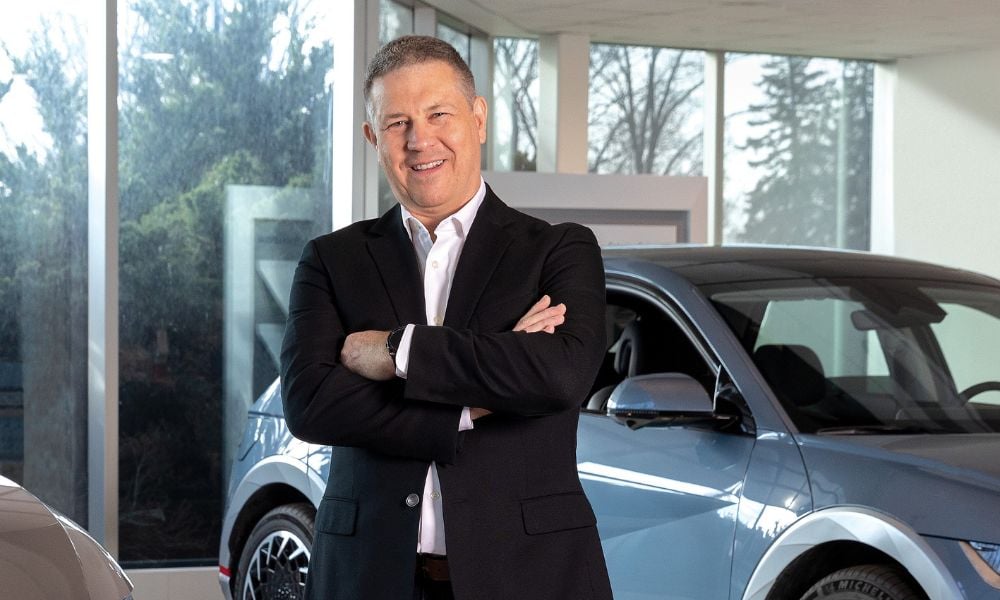 Kirk Merrett says he went to university before they had HR programs: "I guess that makes me old."
But while he was at university, Merrett — now the director of human resources and administration at Hyundai Canada — took a year off to travel and consider his career path.
"After some introspection, it became clear that while I wanted to operate in a business environment, I also wanted to impact people's lives. Voila: HR business partner – although that term didn't exist yet."
Merrett has worked at big names such as HBC, Eddie Bauer and Mitsubishi through his career, but even today, he says he will "still get a rush" when making a job offer or congratulating someone on a promotion.
"I enjoy the variety of being a generalist and being involved in everything from recruiting to compensation, benefits, talent development, employee relations… I could go on."
Looking at 2023, Merrett sees opportunity. A new year presents a chance to reflect on business goals, he says, along with areas for improvement in HR to set employees up for success.
The automotive company certainly has the track record to come through, having won several accolades over the years, such as the 2022 HR Awards in the categories of corporate social responsibility, diversity and inclusion and HR team of the year.
Looking ahead, there are three big areas of focus at Hyundai Canada: DEI, the employee value proposition (EVP) and employee benefits.
Devoted to diversity
Hyundai has put a big focus on DEI over the past couple of years, with impressive results. More than half (52 per cent) of promotions are made up of minority team members and female representation in leadership roles has increased, notably by the appointment of four women to national manager roles.
And in a male-dominated industry, 38 per cent of employees at Hyundai Canada identify as female.
Organizations must integrate DEI into their culture, and "belonging is the goal," says Merrett.
"At Hyundai, we are bringing in diverse new hires, but our culture is what ultimately leads to belonging," he says, referring to the diversity dance analogy coined by thought leader Vema Myers, where: "diversity" is being asked to the dance, "inclusion" is being asked to dance, "equity" is how much space on the dance floor you get, and "belonging" is who gets to choose the music.
So, how has the company reached these milestones? There are several initiatives, including a DEI speaker series, employee resource groups, a mentorship program, a diversity advisory group and a "Windows Into" series featuring employee-led sessions where people talk about their homeland or religion.
All team members are expected to attend the quarterly speaker sessions, says Merrett.
"The sessions focus on various DEI subjects, including anti-racism, 2SLGBTQ+, mental health and Indigenous history."
Recently, the company invited leadership and diversity expert Yassmin Abdel-Magied to speak about unconscious bias, as well as Canadian soccer star Quinn to share their journey.
"We have had some great sessions in which our own team members speak about their experiences and backgrounds," says Merrett, including a group of six team members who spoke about their Asian heritage and "shared their backgrounds, experiences with biases and reflected on how Asian stereotypes affected them throughout their lives — it was a very powerful session."
As for ERGs, Hyundai (Auto) Canada has three — Women@HAC, Inclusion@HAC and Parents@HAC — and each group has non-HR leadership with "unique meeting style and goals," he says.
Women@HAC has been around longest and is the most formal in structure, with regular meetings where committees report on their activities.
"That can be anything from sourcing high-profile speakers to university outreach to fundraising for a women-focused charity like the Period Project," says Merrett, who is a member of the ERG himself. For example, a recent full-day conference involved 200 people to promote Women in the Auto Industry.
The focus of Inclusion@HAC is to encourage a respectful and equitable work environment, by hearing about — and learning from — the life experiences of members.
"Last year, they produced a powerful video where team members held signs with their own specific commitments to advance inclusion," he says.
And Parents@HAC is a "highly interactive" parent community where members share work-life balance tips as well as parenting successes and failures to learn from each other, says Merrett.
For 2023, Hyundai Canada will be following through on the commitments and programs it has announced over the past couple of years, he says.
"This is the year that employees will see through the window dressing [to find out] if the organization is just going through the motions."
Emphasizing the employee value proposition
There's been plenty of talk in the past couple of years around the importance of the employee experience and the EVP, particularly given the pandemic and a tight labour market.
Just over a year ago, 92 per cent of respondents to a survey by Willis Towers Watson (WTW) said they planned to prioritize improvements in their employee experience offerings during the next three years — nearly double that found before the pandemic, at 52 per cent.
At this point, employers should be clarifying and building on their EVP by building on their strengths, understanding the motivating factors – not the hygiene/maintenance factors cited by American psychologist Frederick Herzberg – and focusing on areas such as meaningful work, advancement, development, job challenges, recognition and achievement, says Merrett.
"In a tough labour market, retention will be key," he says. "Even with a recession, finding the right talent will be a challenge."
To that end, Hyundai has been partnering with its marketing and PR departments to increase the visibility of its employer brand through the corporate website, recruiting portals, and social media feeds, says Merrett, and is already seeing results.
"We will be expanding this in 2023 to tell more stories about the employee experience at Hyundai Canada."
The EVP is also about career planning and development, and it's important for employers to develop individualized career paths for employees, says Merrett.
"These aren't cast in stone and most will change. But if [employees] don't see the path, they will make their own plans and probably leave."
Many career plans include lateral moves and cross-department moves, he says, "to learn different areas of the business and develop new skills."
At Hyundai, for example, most managers have spent time in field roles working with company dealers, "which greatly benefits them in future roles," says Merrett.
"The days of directly vertical career paths are over; zig zag career paths will be common."
Boosting benefits and flexibility
Of course, a big part of an EVP is employee benefits. That's backed up by an RBC 2022 survey that found 73 per cent of 13- to 34-year-olds and 69 per cent of 35- to 44-year-olds are prepared to leave their current employer for another that is offering "better benefits."
Hyundai has made several enhancements to benefits that prioritize flexibility and self-care, including personal and health spending accounts, orthodontic coverage, fertility and gender affirmation benefits, wellness and bereavement days, and a compassionate leave top-up program.
"We took a hard look at all DEI elements of the employee experience and realized we were coming up short in our benefits plan," says Merrett.
"Once we realized [that], it was a no-brainer and we had the full support of Hyundai leadership to make these additions – and fast. They included surrogacy, fertility and gender affirmation coverage plus parental leave top-up so it isn't just for the birthing parent."
As for flexibility, that's about where and when to work, says Merrett, and it comes in many styles and sizes – but it must fit your organization. At Hyundai, that can mean working from home and adjusting your hours for personal commitments, such as children going to school or a graduation, or a hybrid approach or working fully in the office.
"Frankly, in a post-COVID world, this is now an expectation of our workforce, and our leaders have been clear that flexibility is the new name of the game," he says.
"We also believe that there are huge benefits to being together and so, we are using a hybrid approach."