J.P. Morgan attracted sought-after Singaporean candidates by showcasing its charitable side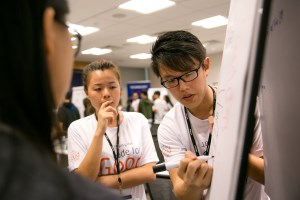 J.P. Morgan has confirmed the winner of its recent humanitarian hackathon after students from across Singapore attempted to devise innovative solutions to tricky business challenges.
Around 60 students from the four top universities were selected to participate in J.P. Morgan's one-day Code for Good challenge, held at the bank's Singapore Corporate Centre in Changi.
The undergraduates were divided into teams then required to develop tech solutions for specific challenges faced by two local NGOs – The Food Bank Singapore and Daughters of Tomorrow (DOT).
The winning team was chosen for its innovative solution for DOT, which runs a program to train financially disadvantaged women for careers in the eldercare sector.
While there is no shortage of women interested in the program, most of those involved are mothers and often struggle to find childcare when they are required to be at work.
The winning idea was an app which addresses this concern by matching women who have childcare needs with other mothers living in the vicinity who are willing to offer childcare for a small fee.
"We hope our solution will make a difference to women who have to juggle the challenges of work and ensuring their children are cared for properly every day," said Chen Kuang from NUS, who is part of the winning team.
The runner-up team was recognised for its solution to address The Food Bank Singapore's key logistical challenge of delivering food donations in a timely and efficient manner.
The app connects food donors and beneficiaries through real-time data sharing so the donation process can happen at a much quicker rate, reducing food wastage.
The top ideas will be developed into working prototypes with the support of J.P. Morgan's tech experts, who will also act as subject matter experts and mentors to the students.
Students from the winning teams keen to have a career with J.P. Morgan will also have the opportunity to fast track their interview process for technology analyst program roles.
While the initiative is clearly beneficial to both the students and NGOs involved, a representative for JP Morgan says the bank also enjoys some positive repercussions.
"Code for Good is a great opportunity for us to get to know university students and for university students to get to know us," Mark Golding, managing director and head of the Singapore Technology Hub at J.P. Morgan told
HRD
. "Our people are the foundation of our organization and we are always looking for great talent to join our technology community."
Golding added that creative and innovative initiatives such as Code for Good help students see J.P. Morgan as an attractive employer, rather than a boring career option.
"Students often view J.P. Morgan as a bank and they may not consider us when thinking about their future technology career. But J.P. Morgan is not just a financial institution – at our core, we are also a very large and innovative technology driven company," Golding said.
"Events like Code for Good help shift this perception. It's a great opportunity to engage our employees, showcase our technology workforce, and brand ourselves as a technology employer."
Related stories:
How to catch grads before they 'opt out'
How mobile apps are changing corporate health services