One fifth of staff said would prefer to work for a company with a less formal dress code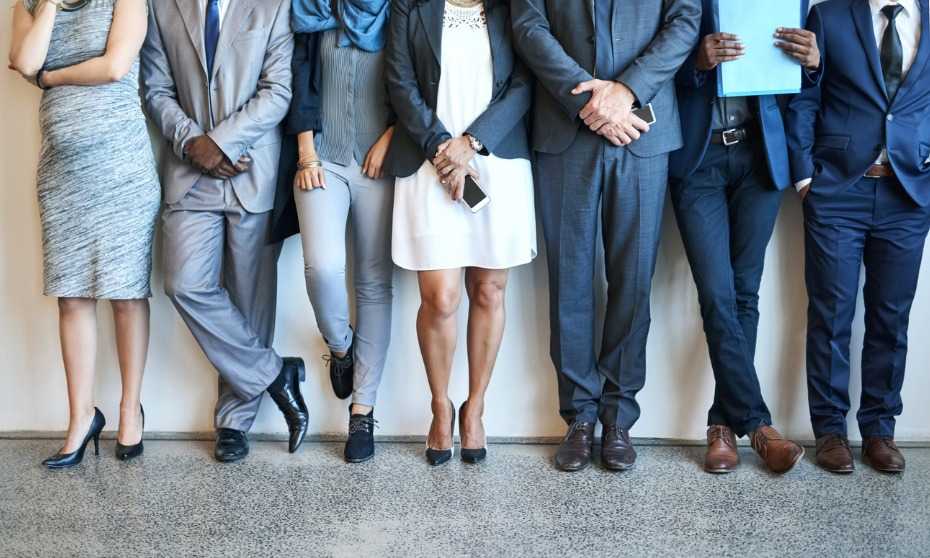 If you want a visual representation of how the workplace has changed over the past 50 years, all you have to do is look at office dress codes. The office of the 1950s demanded formal attire – meaning suits for men and pencil skirts for women – whilst the 1980s saw shoulder pads and heels. And though our perceptions of what is and what is not acceptable to wear in the office has shifted, we're still plagued by 'business-formal' restrictions in corporate HQs.
Which begs the question – should HR officially ban office dress codes?
Staggeringly, a recent study found that 12% of employees considered quitting their current role purely because of the dress code.
Last year, a London-based reception was sent home from work after she refused to wear high heels. Nicola Thorp then launched a petition online which in turn prompted the UK government to conduct a review of workplace dress codes. Guidelines were published which warned employers not to demand 'gender-specific' clothing (such as high heels) or ask employees to 'dress provocatively' – in a bid to cut down on sexual harassment.
The new legislation made shockwaves across the globe, sparking a heated debate over what employers are allowed to ask of their staff's attire.
But do employees really resent being told what to wear? Or is it part and parcel of office life?
According to a report from Robert Half, one fifth of workers said they'd prefer to work for a company with a less formal dress code, whilst 32% want a casual dress code or no dress code at all.
And whilst this may seem like a fickle subject, it's been proven that a more relaxed dress code is actually linked to higher levels of productivity. A report from Stormline found that 61% of employees feel more motivated when their office dress codes are relaxed, whilst over half of jobseekers admitted they have a negative impression of a company who enforces a strict attire.
Speaking on the issue, Koula Vasilopoulos, a district president for OfficeTeam, added: "How employees present themselves, including how they dress in a business environment, reflects their level of professionalism and may affect perceptions of the company itself.
"Workers should be aware of business guidelines and take cues from their peers, particularly as they look to advance their careers, in order to ensure they leave an impression that is consistent with their desired roles."
However, it seems as if there's a subconscious reason for formal wear in the office. Research fund that 68% of workers would be more likely to trust a 'well dressed' employee in the same position as someone who 'didn't make an effort'. So, what's the answer, here? How can HR moderate a tolerable dress code without coming across like a domineering parent telling their children what shoes to wear?
"Uniforms and workwear that protect the wearer or help them be identified have obvious utility, but I don't see the point in asking someone to wear a tie around their neck or to specify the colour of their shoes," explained Sir Cary Cooper, professor of organisational psychology & health.
"Employers should trust their people enough to let them dress how they please. They may wish to advise on items they don't want to see in the office, but to specify what they must wear is highly patronising.
"We must also consider the challenges of a formal dress code for people with disabilities, both hidden and visible, and chronic illnesses. Psoriasis sufferers, for example, may struggle wearing a buttoned-up collar but may not feel confident in asking for exemption from the dress code."
HR has to walk a fine line here – whilst we want our employees to feel comfortable at work, we have to bear in mind that all professions allow for a 'no rules' policy. If an employee's role includes meeting clients in a formal setting, then showing up in jeans and a flannel shirt might be an instant turn-off. Similarly, in customer-facing roles or industries which require safety gear, there's simply no getting around the dress requirements.
That being said, perhaps it's time for us to relax the office-based codes? Virgin founder and all-round leadership guru, Richard Branson, famously eliminated dress codes within his companies – believing them to be overrated.
Writing in his blog, Branson elaborated: "If people got rid of unnecessary hierarchies and formalities, they would have a lot more fun and get a lot more done. At Virgin Management, our receptionist is Rhubi, our CEO is Josh and I'm Richard. There are no tucked away offices, just shared working spaces. And everyone is encouraged to wear what they think will help them to work most productively — you won't find a tie in sight."
Branson wants rid of dress codes – do you? Tell us in the comments.