Spotting signs of a toxic workplace is difficult and many issues are left unresolved, damaging the employer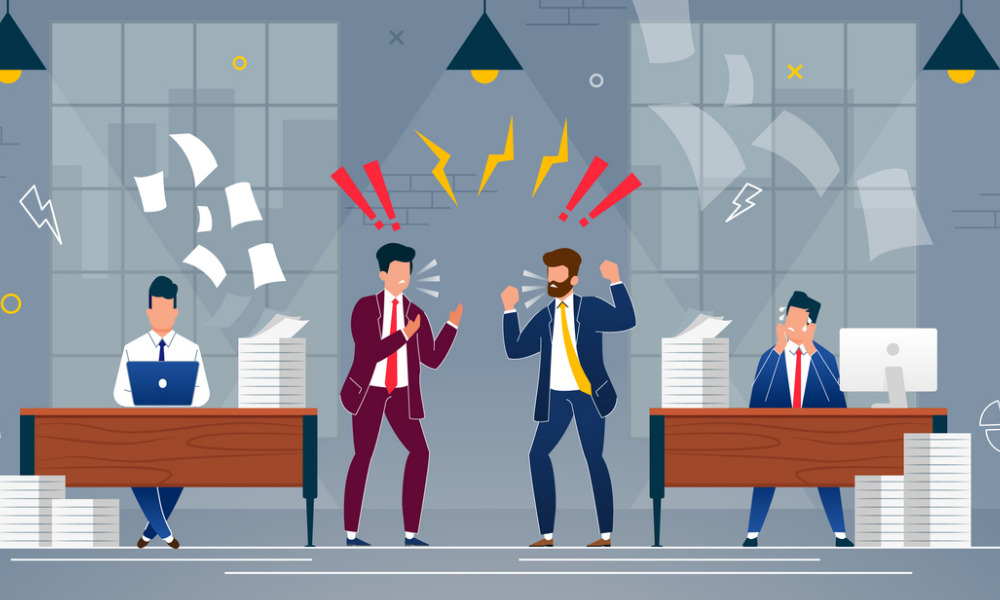 Improving a hostile work environment can be challenging for employers. Spotting signs of a toxic workplace is difficult, and many issues are left unresolved. Therefore, companies often need to be able to prove a toxic work environment in order to know what steps to take.
Below we discuss the need to prove a toxic work environment and how to improve the workplace culture.
Read more: Bosses behaving badly – what is HR to do?
Proving a hostile work environment is hard
According to Indeed, a hostile work environment is a workplace where words and actions of a supervisor, manager, or co-worker's words and actions negatively affect another employee's ability to complete work. A hostile work environment typically happens when there is a combination of different factors that make employees feel uncomfortable and unsafe.
For example, a rude or discriminating boss, an unpleasant co-worker, and a lack of teamwork can significantly affect the workplace. In addition, some company cultures that are not supportive of employees can also create an unhealthy workplace, such as a lack of perks and benefits, biased promotions and rewards, and bullying.
When someone claims a workplace is hostile – even without proving whether or not it is true - it can cause a rift beyond repair between the employee and the accused. It also creates mistrust and a tarnished image for the wrongly accused in the eyes of other employees and clients. It is why many federal laws in Asia, such as the Protection from Harassment Act (POHA) under Singapore's Ministry of Home Affairs, investigate any misconduct claims before proceeding with further action.
The employee making the accusation is typically the one with the burden of having to prove they are working in a harmful work environment. But companies can also confirm whether or not the accusation is true. Either way, companies should stay calm and open-minded when situations like this come up. Instead of going against the accuser immediately and making matters worse, it can be seen as an opportunity to improve as a company, which could drop the claim in time.
It is essential to have documentation and record any proof that supports or disproves the hostile workplace claim in situations like this. It is best for HR leaders to have an honest and thorough discussion with the employee on the details of the claim. HR leaders should be aware of the need for a safe environment and the understanding that the company will not hold the employees' words against them in order to conduct the discussions properly. If needed, a third-party employment lawyer could help in leading these discussions.
How to handle a toxic work environment
Handling a toxic work environment takes a lot of effort, and employers need to understand the proper steps in handling situations such as this. Listed below are some concrete ways on how companies can handle a hostile workplace:
Evaluate the current culture
It is essential for employers to assess the current company culture. This can be done through assessments of existing policies, procedures, performance levels, and feedback from employees and managers on their experience so far working with the company.
From there, employers can analyse and draw conclusions from the feedback obtained. The company should then put the focus towards strengthening the positive aspects of the company such as communication, growth opportunities, and teamwork, all the while improving weak elements of the company, for example, bullying, poor management, and lack of work-life balance. Evaluating the current standard of a workplace environment guides employers on what to do and lessens unnecessary costs on minor details that are not of priority.
Accept accountability
Once this identified that there is a problem with the workplace environment, leaders must hold themselves accountable for the state of the workplace and its employees. It is best for the company to release a statement explaining the situation, what caused it, what kind of workplace they plan to have, and the steps they need to achieve that.
Taking accountability for what happened to the workplace and culture instills trust with employees. It shows how the company is taking the situation seriously and understands that it is their responsibility to take care of its employees and make sure that they are given a safe place to work from. Taking time to explain the situation with employees makes them feel important and could encourage them to step up and be involved in improving the work environment.
Create and update useful company policies
An excellent way for companies to minimize the risk of creating or encouraging a hostile workplace environment it's to implement relevant company policies that support an engaging workplace. For example, enforcing an anti-harassment policy that covers even remote workers – who are just as prone to offensive comments and threats as in-office employees – can help lessen the risk of cultivating a toxic workplace.
Updating current policies is also essential. Employers should ensure the guidelines are up to date and aligned with the goals set out. These policies should be communicated clearly to the employees to ensure everyone is aware and follows the rules and regulations in place. It is best to thoroughly detail the policies in employment contracts, employees' handbooks, and any other media the company uses.
Train leaders and educate employees
Companies should make sure everyone in the organization is on the same path as the company in improving the work environment and culture. To do this, it is advisable for companies to provide training materials and opportunities for leaders and employees to understand and learn how to identify and handle any situation that supports a hostile work environment such as sexual harassment, miscommunication, burnout, and discrimination.
Investing in the growth of a leader and employee make them more motivated to stay and perform better in the company, knowing they are being cared for by the company through means of personal development.
Read more: Conflict resolution in the workplace at its finest
Trying to handle a hostile work environment and resolving the issues takes more than just the actions of the employers. Everyone – from the employees to the CEO – in the organization should do their part in trying to make the culture safer. Having everyone understand the goals to improve the workplace environment and knowing their role in cultivating a healthy company culture not only reaches the goals faster, but also build up employee engagement, trust, morale, and motivation.