Why many companies now believe program can help employee well-being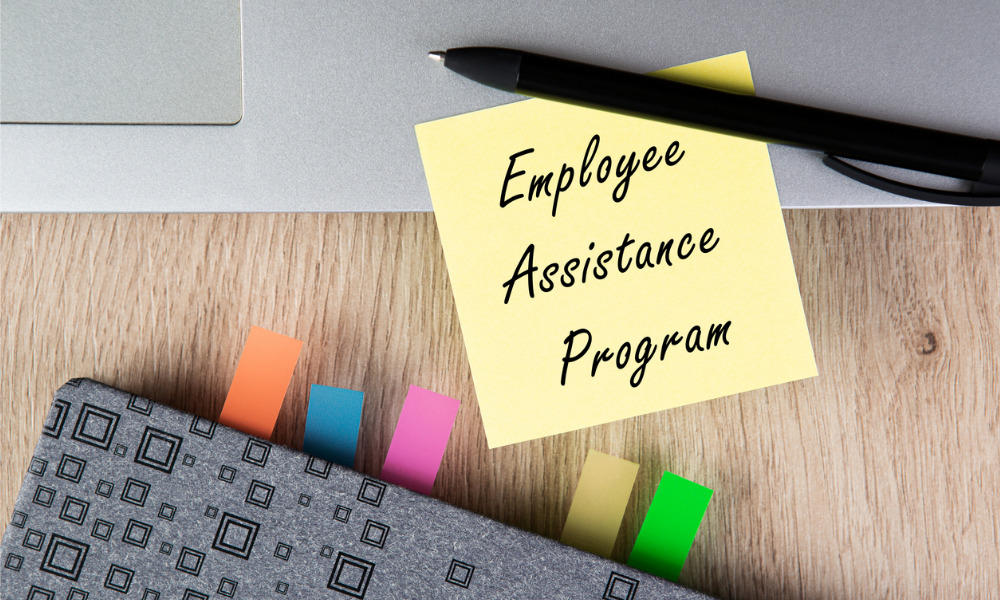 Many companies have started to emphasize the availability of an employee assistance program in the workplace – especially since the COVID-19 pandemic, which has resulted in many job losses and drastic changes to work routines. The question companies now face is whether an employee assistance program is effective in improving the mental health and wellbeing of employees.
Below, we look at what an employee assistance program is and how HR leaders can maximize the tool to improve employee wellness.
What is an employee assistance program?
According to the Society for Human Resource Management (SHRM), an employee assistance program, more known as EAP, is a program that aims to assist employees in handling and resolving any psychological and emotional problems that may be affecting the employee's performance in the workplace. EAPs provide counselling, referrals, assessments, and follow-up check-ins for employees. Usually, the program is offered to employees' family members who are struggling mentally and emotionally.
The employee assistance program usually deals with employees who are dealing with drug abuse, alcoholism, financial problems, legal issues, job stress, personal problems, separation and loss, and family violence. The program can be managed by the employer themselves or outsourced to a third-party service provider.
Read more: Why mental health benefits are 'table stakes' when recruiting
The important role of employee assistance program
Many employers are now seeing the importance of an employee assistance program in the workplace. The goal of an EAP is to support and assist employees in dealing with issues affecting their health and work performance. Companies can adjust an EAP's features and services to fit the needs of the employees – such as focusing more on providing consultations or prioritizing mental health or substance abuse diagnoses – but the main goal remains the same.
When employees are well taken care of through EAP, their health, productivity, morale, and motivation improve and stabilize, which will see an increase in high-quality products and services that lead to more sales for the company.
The effectiveness of employee assistance program
While EAPs are gaining traction with companies, there are still a lot of employers who think it is a waste of money and time. However, there are many research and studies that prove EAPs make a positive impact in the workforce.
According to a study conducted by the Federal Occupational Health (FOH), employee assistance programs have improved employee factors. The most significant improvement was seen in absenteeism which saw a 69.2% reduction. There has also been an improvement in employee engagement by 2.8%, a 24.2% improvement in life satisfaction, and workplace distress has lowered by 10%.
In addition, the Employee Assistance Professionals Association (EAPA) in Australia and LifeWorks has found that applying EAPs in workplaces across 28 countries has seen a 16% level of improvement when it comes to absenteeism, presenteeism or working while sick, life satisfaction, workplace distress, and employee engagement.
This shows that EAPs can yield a significant improvement in employees' health and wellness. However, employers should note that having an EAP in place without proper research and planning is not enough and should properly implement program initiatives that significantly benefit employees' needs.
How to encourage employees to use EAP
Even if companies provide adequate employee assistance program, it can turn into a failure if employees do not take advantage of the program. There are many ways to encourage employees to use their EAP.
Listed below are some examples:
Emphasize the importance of confidentiality
Typically, an EAP is conducted by a professional in-house counsellor that employees are familiar with or an unknown third-party service provider. While some employees can hold different opinions on whether they prefer to talk to someone they are familiar with or not, this can still make them feel uncomfortable in opening up and sharing personal information – making them shy away from the program entirely.
When employees do not reach out for proper help, their situation or issue worsens over time and could create long lasting negative effects to their health, wellbeing, and work performance. Employers should thoroughly explain to employees the confidentiality that EAPs uphold. A good way to do this is to send out reminders about the assistance program and how every information shared stays private and confidential. Discussing the laws around confidentiality breaches and even having the counsellors themselves explain how all information is strictly confidential can help ease the worry of employees.
Promote the program constantly
Sometimes, employees forget or are even unaware of the company's EAP. Therefore, employers should be proactive in promoting and reminding employees of the program, its benefits, and other important information such as how to schedule. Sending out emails and newsletters about the program is the easiest yet most effective method in raising awareness about the EAP. It is also the fastest and private way for employees to reach out when they have questions or concerns about the program.
Promoting the program all year round also helps in encouraging discussions on EAP between employees and the company. Employees who understand that the company is actively supporting and encouraging employees to seek help and better themselves increase their trust with the company and slowly help them be comfortable with topics in the workplace regarding mental health, burnout, stress, loss, and illness.
Confront stigma around mental health
The stigma surrounding mental health is still evident in specific workplaces and employees. This makes many employees ashamed of being judged instantly disregard an EAP due to its association with mental health. It is up to companies to address any misinformation on the matter.
Employees must understand the importance and health benefits of having talks regarding mental health. Therefore, holding seminars and lectures with professionals can help clarify any concerns regarding the topic.
It is also important to emphasize that EAPs aid employees with various concerns aside from mental health. Because the stigma on mental health can make many ignore the EAP, employees are not aware that EAPs handle many other concerns that they could go through, such as grief, financial distress, and burnout. Having employees aware of other EAP services can make them interested in the program and can serve as a way to ease the topic of mental health within the workplace.
Read more: How to help employees manage stress at work
Companies need to keep in mind that while it is great to have many employees use their EAP to the fullest, it is up to employees to decide whether they wish to talk to a professional on certain matters. Forcing them to use the EAP even if they feel uncomfortable or do not have a reason for it can cause distrust and even legal issues against the company. Therefore, employers need to find the right balance in encouraging employees to reach out for help while not overstepping any boundaries.