The vice-president for DHL Express Singapore chats to HRD about HR's role as a good listener, the difficulties of downsizing, and his lifelong love of cricket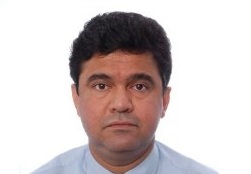 What is your exact job title and how did you come into this role?
In my career as an HR practitioner, I have held country, area and regional responsibilities. More than a third of my 30-year career has been with DHL – in India, Singapore and South Asia. In 2015, I joined
DHL Express
Singapore as the Vice-President HR for Singapore with added responsibility for the South Asia Hub as well as the regional and global staff based in Singapore.
What excites or motivates you the most about your role?
What excites me the most is the opportunity to work with a diverse talent pool. My stakeholders range from couriers, customer service agents and frontline salespersons to middle and senior members of the management team with country, regional, and global responsibilities. My job is about making it my best day every day at work: a work philosophy that all of us at DHL hold close to our hearts.
What is your favourite aspect of the job? What is your least favourite aspect?
Face-to-face interaction with people – either one-on-one or in groups – is an integral part of the job and something I love. It may sound like a cliché, but I enjoy all the challenges my job brings with it.
There is no aspect of my job that can be termed "least favourite" although giving "developmental feedback" can be challenging at times.
What's the best piece of HR-related advice you've ever received?
The best piece of HR related advice that I have ever received relates to my two guiding principles: 'Be a good listener' and 'Do unto others as you would have them do unto you'.
A big part of working in HR is about being a good listener. Active listening will allow us to truly understand someone's needs and find the best possible solutions for them. It is also important to be non-judgemental. Our role in HR is to resolve issues with empathy and lend the support to help people overcome challenges so that they can reach their fullest potential.
What are the biggest challenges for HR in Singapore for 2016?
Attracting the right talent in a market with a very low unemployment rate is a constant challenge.
Being the industry leader and the "most international company in the world" gives us the advantage of attracting and retaining the best people with a stable job and income and the opportunity to grow their careers internationally. Further, being an Employer of Choice helps in employee retention. Our manpower turnover over the recent years has been in single digits – considerably lower than the industry average.
What has been the most challenging HR scenario you've ever had to overcome?
For me, having to downsize the workforce has been the most challenging task. In my earlier employment I was required to downsize due to business exigencies and it is really tough and emotionally draining to let go of people – especially when your decision is impacting not just the individual but an entire family who is dependent on the impacted employee.
What are your hobbies and interests outside of work?
I love to read biographies of successful people: political and corporate leaders, athletes and artists.
Like most Indians, I am a cricket buff and my favourite teams are India and Australia at the international level and the Mumbai Indians in the Indian Premier League.