Supporting a major business transformation and helping to launch a new innovation centre are just two of the items on Fauzi Wahab's agenda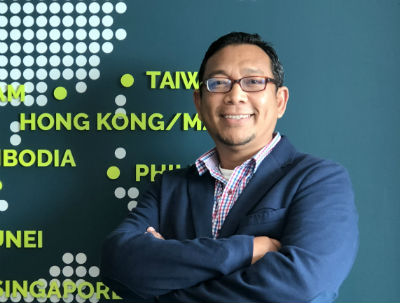 Supporting a major business transformation and helping to launch a new innovation centre are just two of the items on Fauzi Wahab's agenda
Although the name may not be familiar to some, Zuellig Pharma is the largest healthcare services group in Asia. The company provides world-class distribution, digital solutions and commercial services to support the growing healthcare needs in Asia, and although it has a wealth of experience to draw upon – it was founded almost 100 years ago and has grown to become a $10bn business covering 13 markets in Asia – there are plenty of challenges ahead.
Heading the HR function is the highly experienced Fauzi Wahab. Following stints at multinational corporations, including British American Tobacco, dairy powerhouse Fonterra and formula milk company Dumex, Wahab started at Zuellig in October 2015.
He's joined at a particularly challenging time. The company is broadening its core offerings, shifting from being a pharmaceuticals distribution company to a healthcare solutions company.
"Most of my job over the last 15 years has involved taking care of multiple markets within the HR portfolio," Wahab tells HRD. "It's been markets in Asia, the Middle East, Africa, or just focusing on Asia alone. The interesting thing about Asia, geographically, culturally and in many other areas, is that it's quite different. Every country is different. That presents challenges. But being in HR, particularly in an organisation that is transforming, really gives me a lot of exciting areas to work on."
Wahab shares his insights with HRD.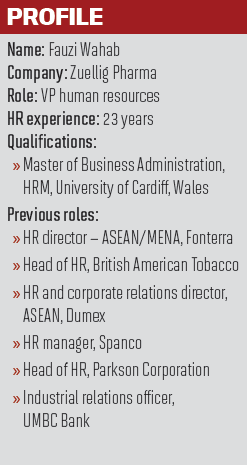 HRD: Can you outline your current responsibilities at Zuellig Pharma?
Fauzi Wahab: My role covers the HR spectrum from end to end, from hire to retire, all capabilities across the enterprise. We have around 10,000 employees across the region, and in the past each country has operated quite autonomously; part of my role as a member of the leadership team is to help us become more integrated as we deliver one common objective for Zuellig Pharma: to make healthcare more accessible to everyone, everywhere.
HRD: How will you go about that integration process?
FW: There are four key strategies I'm focusing on to shape the overall enterprise strategy.
One is about creating a more integrated business from a fragmented, autonomous business that we've been operating for the last almost 100 years.
Another is about bringing in the right people at the right time, filling both the new roles and the evolving roles that we are creating.
Thirdly, we'll be looking at how we go about ensuring our employees are engaged through our people programs.
Fourthly, we'll be sharpening our talent management and succession planning.
HRD: The company is also repositioning itself and what it does – can you outline this change?
FW: We're midway through a five-year journey to transform the way we make healthcare more accessible in Asia. This change has seen shifts in our structure, our services and, correspondingly, the different types of talent we require to drive this change.
At Zuellig Pharma, traditionally our core business has always been in distribution. To a certain extent the mindset – even how clients or partners view Zuellig Pharma – is as a distribution house. We are still a distribution house, but we're moving beyond distribution and into healthcare solutions. The kind of people and the skills we require will be quite different to what we've traditionally needed.
As we expand our business we must look at talent that comes from pharmaceutical companies or has a science background. It's difficult to find these people internally; they are excellent at distribution but not so strong in terms of the pharmaceutical marketing and sales operations.
It's a big change for the company, both in terms of the mindset of the distribution employees and getting a new breed of talent from healthcare solutions to integrate with the core distribution business.
HRD: How is Zuellig attracting and retaining millennials, especially in a market where competition for this talent is intense?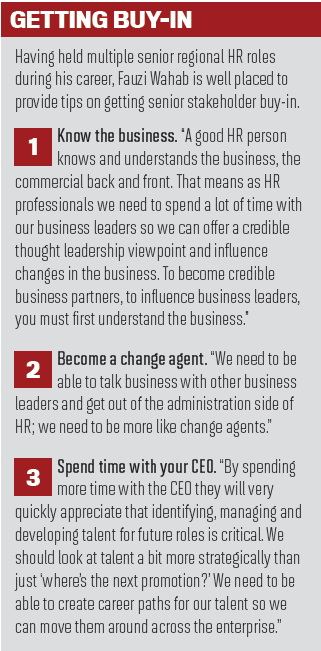 FW: I see millennials as being like butterflies. They like to go from one flower to another flower to gather nectar, and they don't like to stay too long. They are agile; they want to increase the richness of their experience, and that extends to wealth creation.
In our case we're investing heavily in technology, creating an environment where for our employees, the use of technology will become second nature and will replicate how they use technology in their personal lives.
We're also investing a lot in terms of capability building. We have a young talent program for those who are under age of 30 with a couple of years' experience. During the program we expose them to various parts of the business so they get a good understanding of what we do, from end to end. After completion, we expect they'll move up one or two levels in the organisational hierarchy. They will be our future leaders in the next three to five years.
We're also building an e-learning program so that our employees can have 24/7 access to either functional modules or leadership modules.
HRD: What's your philosophy on career progression?
FW: We believe in managing careers, not jobs. This mantra underpins our performance development framework that includes Individual Development Plans and 8 Quarter Plans, where selected talent have career development profiles that start with a realistic view of their current capabilities and a road map to realise their aspirations for the future.
With changes also come new opportunities for development, and through our Zuellig Pharma Mobility Programme we work with our talent to successfully place them in roles that give them exposure to other countries, functions and business units.
HRD: What impact does HR have on the innovation centre? (See box)
FW: The interesting thing is we started from ground zero, so having an innovation strategy is not enough; we need to make sure that we have the capability to deploy those strategies. When we look at our DNA or our core competency it's still predominantly in the distribution business. We must rely on sourcing talent from the external market. Data scientists, for example, are a different breed of people that must be sourced from Singapore and sometimes outside of Singapore. It's up to HR to source the right people and ensure we create a culture in which innovation can thrive.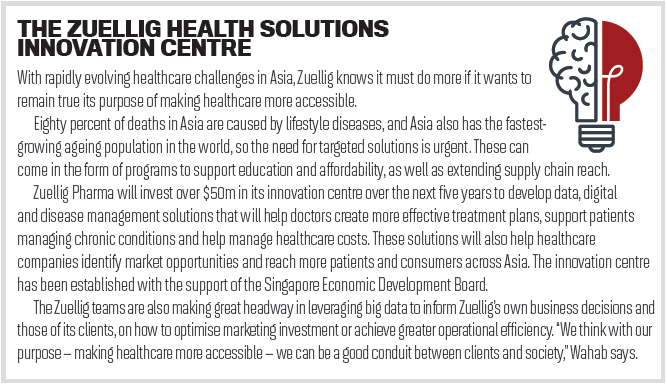 HRD: You've worked in multiple regional roles. Do you find it's tempting for people to group all Asian nations under the same umbrella?
FW: Yes, particularly when you're dealing with people. Sometimes we take it for granted; we generalise Asia as being Asia as one entity, but Vietnam is very different to Cambodia and certainly very different to Singapore. The north Asia market, which is more sophisticated in some areas like healthcare, is very different to the south. So we are very conscious of it. As a matter of fact, we recently restructured our organisation geographically. When I joined, headquarters was in Hong Kong, so I was part of the leadership team tasked with relocating HQ from Hong Kong to Singapore. Again, the thinking behind our relocation centres on our strategy to be closer to our clients, as most of our regional clients are here in Singapore.
We used that move as an opportunity. The role of the corporate headquarters has evolved from just facilitation to being more strategic, such as identifying opportunities for cross-fertilisation of talent and being much more efficient in terms of how we operate; that might extend from how we handle our global contract negotiations to how we move talent from one business to another business within the enterprise.