What are the essential elements of a successful and engaging recognition program? Daniel Sherrington of OC Tanner shares his tips with HRD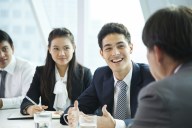 What are the essential elements of a successful and engaging recognition program? Daniel Sherrington of OC Tanner shares his tips with HRD
Does a good employee recognition program vary from company to company, or industry to industry?
Having a recognition program in place doesn't automatically increase motivation and engagement throughout your company. Our experience tells us that successful programs are not driven by the type of company or industry that the organisation is in. These make a recognition program successful: senior leadership buy-in and support; connection to strategic business outcomes and ROI; focus on a culture of engagement and appreciation instead of reward, per se; and the development of a good program as part of a broader culture enablement plan.
In your company, what do you most recognise?
OC Tanner's 'Our Great Work' program is our central recognition program. We recognise behaviours we feel, when applied, contribute to a culture of engagement and happiness. They include innovation, client care, operating excellence, celebrate and influence greatness. We look to focus more on the act of appreciation and subsequent recognition without linking it to a monetary value. No one is going to stay with your organisation because they received a voucher; however, if they feel valued as part of a culture of appreciation, they are much more likely to engage.
How do you get a sense of the rewards that are most meaningful to your employees?
For traditional rewards, vouchers are very popular in nearly all Asian markets. E-vouchers and store vouchers carry a very high redemption rate and can usually be applied to all generations.
Non-monetary awards, such as an extra day off, lunch with a senior manager and also wellness rewards are also highly valued rewards across global markets.
We know reward has its place, and for people who go over and above the call of duty to produce great work we provide lunches, public recognition, points that can be redeemed for merchandise and vouchers and time off to spend with family.
How do you craft your criteria for recognising employees and who does this – is it a team, or one person, and do the standards change over time?
This is extremely important and one that your CEO and leadership team need to be very involved with. It should be driven from the top and clearly communicated. It should be linked to the key behaviours that define your culture and this could be through your company values or the agreed behaviours you have identified that your employees really can relate to. Most organisations have a Vision and Mission set out by their CEO and leadership team, together with the behaviours they feel their people need to live up to in order to achieve that vision as a collective. This is a great place to start.


Daniel Sherrington
Regional director
APAC OC TANNER