'Bitesize learning' may be one way to engage workplace learners. Amanda Moody of the British Council Professional Development Centre outlines what's involved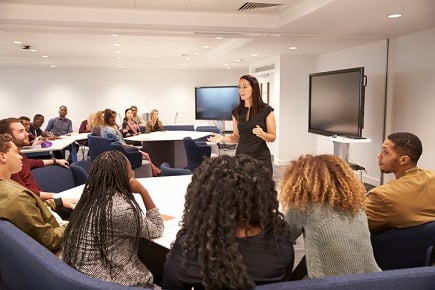 'Bitesize learning' may be one way to engage workplace learners. Amanda Moody of the British Council Professional Development Centre outlines what's involved
What made you decide that the Bitesize Learning and Development Program is needed alongside the others that you offer? Is this an emerging trend in L&D?
The Bitesize program was developed as organisations were coming to us and asking for short workshops for a 'lunch and learn'. It also helps bring together teams that are spread across the region, as they can be easily delivered over webinar. There is definitely an emerging trend of organisations opting for shorter workshops and even micro-learning, which can be as short as one minute.
These programs will complement, rather than replace, more traditional learning programs, which research still shows provide the best returns in the long run.
You offer a course on mindfulness, as well. What is the value of practising mindfulness in the workplace?
People who practise mindfulness on a regular basis are on average healthier, happier and more productive. In the workplace, this means there is a clear business case for teaching staff how to practise mindfulness. Beyond this, leaders can be more 'present' in the moment and increase staff engagement as a result, which has a direct link to overall company performance.
What is the most significant factor in developing courses or modules that focus on managing emotions and reactions in the workplace?
We know there is a proven link between high staff engagement scores and leaders with high levels of emotional intelligence. The question is how to improve EQ that creates sustainable change. One factor is to make sure that it is measureable and that progress can be tracked. There are a range of good tools out there that can score EQ and provide a benchmark to work from. Importantly, after the learning is complete, have an action plan followed by coaching and shorter follow-up workshops.
What are the L&D measures that you also provide your staff in order to make them up-to-date and attuned to what their clients need?
We are guided by the 70-20-10 model of development. This model suggests that the majority of an individual's L&D – 70% – comes from challenging assignments, or what the British Council calls 'stretch deliverables'. Examples of these could include leading a project team, taking on line management duties or delivering a new suite of courses.
The 20% refers to developmental relationships. Learning through or with others is the single best way to develop professionally – development days, peer observations, idea-sharing sessions, and masterclasses or mini-workshops, where trainers share their expertise with colleagues.
Finally, we have more formal training courses and qualifications – the 10% of the 70-20-10 model. Our trainers are accredited in a range of psychometric tools, from TMS to EQ and DiSC.


Amanda Moody
Director
BRITISH COUNCIL PROFESSIONAL DEVELOPMENT CENTRE