One recruitment expert weighs in on the continued decline of the labour market and says the sturggling economy may have something to do with it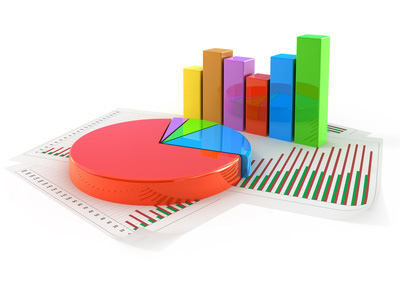 The Ministry of Manpower, Singapore, recently published the Labour Market Survey for Q2 2016. The release of the job vacancy statistics, following relatively positive unemployment and redundancy statistics, sheds light on the tough times faced by Singaporean businesses and employees this year.
Unemployment and redundancies on the rise
Unemployment is marginally up in 2016 from 1.9% in Q1 to 2.1% in Q2. So too are redundancies, which have increased from 4,710 to 4,800 in the same period. While unemployment continues to be low comparative to other hubs in APAC such as Hong Kong, which stands at 3.4%, the highest level since 2013, the concern remains for whether the situation will deteriorate further in Singapore. In total, the MoM recorded that 9,510 people were laid off in the first half of 2016, the highest experienced across the Q1 to Q2 period since 2009, where the number stood at 18,740.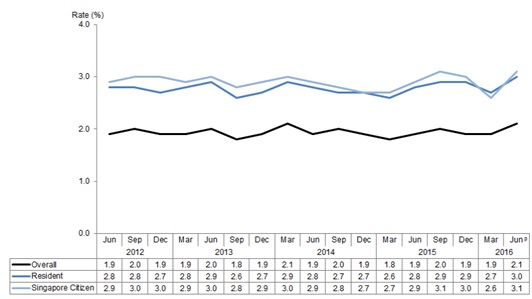 Source: Labour Force Survey, Manpower Research & Statistics Department, MOM
Job vacancies on the decline
The total number of vacancies is of particular interest to a recruitment consultant. The seasonally-adjusted number of vacancies fell from 50,000 in March, 2016 to 49,400 in June, 2016; a trend which continues on from December last year. Perhaps more significantly is the year on year change which has declined for both seasonally adjusted and non-seasonally adjusted. For seasonally adjusted figures job vacancies have dropped from 61,900 in June 2015 to 49,400 in June, 2016 - a drop of 25.3%.
So what is the case of such a significant drop in job vacancies? The Singaporean economy is struggling as GDP only grew 0.1% in Q1 of the year and 0.3% in Q2. If this continues, the economy may not fare well in the second half of the year, potentially falling into a technical recession.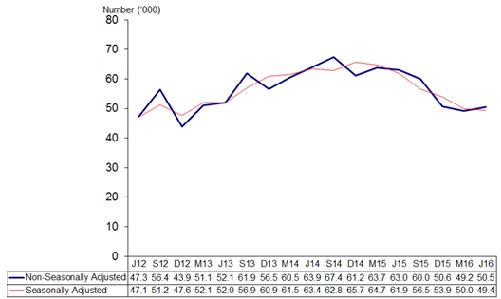 Source: Labour Market Survey, Manpower Research & Statistics Department, MOM
A tightening market for jobseekers
Comparing job vacancies to unemployed workforce figures, we see that while the number of employed people has increased, the seasonally adjusted ratio of job vacancies to unemployed persons continues to tighten, to 93 openings per 100 seekers in June 2016, down from 103 per 100 seekers in March 2016. This is the first time that job vacancies fell short of job seekers since June 2012, where there were 98 vacancies per 100 seekers.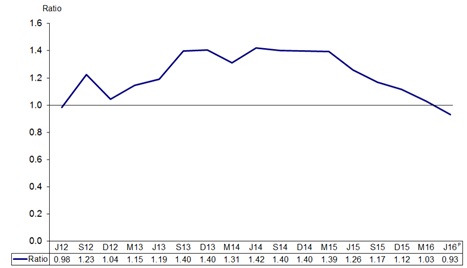 Source: Labour Market Survey and Labour Force Survey, Manpower Research & Statistics Department, MOM
An expat exodus?
In 2016, the average monthly salary in Singapore fell from SGD5,483 in Q1 to Q2 SGD4,789. While the monthly salary statistics have experienced ongoing fluctuation over the last few years, there has still been a dramatic fall of 20.7% in this period. What's the cause? Conversations with several HR professionals in Singapore suggests that the number of foreigners on high expat packages has dropped significantly, particularly in the oil and gas sector due to surging oil prices. Anecdotally, it is claimed that admissions to some international schools have dropped in some cases by as much as 20%, hinting at an exodus of highly-paid expats from Singapore shores. "We have seen a fall in rental prices in districts popular with the expatriate community and an increase in more aggressive advertising by international schools," says Lee Quane, regional director at ECA International. "This could, in part, point to a fall in expatriate packages."
As to why there may be a drop in expat packages, Quane suggests that there could be several factors at play. "It could be due to heightened restrictions for approving foreign talent, or the increased localisation of expatriate staff. The definition of expat has expanded as well, to include a more diverse range of low-salary locations, who may be more willing to accept the same salary and benefit packages as their local colleagues."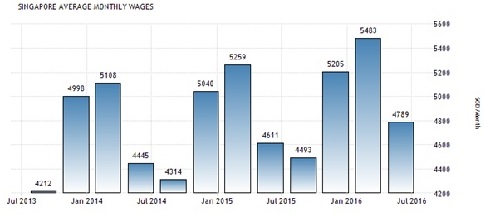 Source: www.tradingeconomics.com
What it all means
The Singaporean economy is struggling and businesses are experiencing tough times. 42,000 businesses folded in Singapore in just the first half of this year, compared to 49,000 for the whole of 2015. Conversations with candidates and clients in the HR function are focused on cost reduction, in the form of process re-engineering, off-shoring, outsourcing and headcount reduction. Jin Tan, HR director AXA Assistance Asia, says "though the economic climate across Asia is becoming more challenging, the expectations remain just as high. Every company is looking for ways to do things better, faster and more cost effectively, with the impact of this on people starting to emerge."
The statistics are worrying for job seekers as we enter the typically slow Q4 period. Yet the Singapore economy has proven to be resilient, managing to avoid a technical recession for many years now. And we can't forget the positives. The team at Elliott Scott HR has seen an upturn in job vacancies in the last few weeks particularly in the industries of pharmaceuticals, medical devices, fintech and HR consulting. While banking continues to be stale, there is continued demand in asset management, commodities and insurance. The majority of positions have been for the junior to mid-level segment of the market but senior-level hiring has also increased while the types of roles being sought are predominantly for generalist, HR operations and recently in payroll.
Moving forward it is definitely a challenging time for job seekers but there are opportunities out there and it is a matter of application, networking, and determination.
If you found this article of interest, please feel free to share or comment below.
Written by Vincent Romano, managing director of Southeast Asia at Elliott Scott HR

Elliott Scott HR is a global specialist HR recruiter with offices in Dubai, Hong Kong, London, New York, Sao Paulo, Singapore and Tokyo. For more information visit us on LinkedIn, Twitter, Facebook and our website.
Sources:
http://www.tradingeconomics.com/hong-kong/unemployment-rate
http://www.tradingeconomics.com/singapore/gdp
http://www.sandboxadvisors.com/asia-jobs-news/business-closed-singapore