Sophia Zhao, research scientist at the Center for Creative Leadership, outlines the barriers for women's career advancement and provides some tips to both individuals and organisations to improve the situation.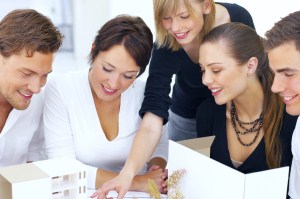 While 40% of the global labour force is female, there is still a dearth of female leaders at the top of most business hierarchies. Sophia Zhao, research scientist at the Center for Creative Leadership, outlines the barriers for women's career advancement and provides some tips to both individuals and organisations to improve the situation.
Research has consistently shown the value that women leaders bring to their companies
[i]
, however, women still remain scarce at the top of organisations. With 40% of the global labour force currently female, only 4.6% of Fortune 500 CEOs are female
[ii]
.
What are the barriers for women's career advancement? What can individuals and organisations do?
Understand the barriers
A McKinsey survey report found that 79% of entry-level women and 83% of middle-management women desire to move to the next level at work
[iii]
. Additionally, 75% of women aspire to progress to top management roles, including C-suite – this number puts their ambition on par with their male counterparts
[iv]
.
However, women still face barriers in their climb to the top. Many of these barriers result from a "second-generation gender bias", ie, unintentional actions and environments that appear neutral but reflect masculine values, and the life situations of men who have been dominant in the development of traditional work settings. These barriers include:
Traditional perceptions of leadership are often associated with predominantly male qualities – a prototype of a leader is typically a masculine man.
Many standard organisational practices reflect men's lives and situations. For example, a career path to senior leadership position in multinational companies often includes some oversea rotation or assignments, which assume that spouses can easily move along – a situation that is much less likely for women than men.
Women are expected to take up more family responsibilities than men. This may be especially so in Asia, where familial commitment and values are deeply entrenched in the culture.
Women face a double bind of being either capable or liked – but not both.
Women have limited access to network and sponsors, and have few female role models at high levels of leadership to look up to.
Women are hesitant to advocate for themselves or ask for what they want.
Organisational support
It is a challenge for organisations to develop, retain and promote talented women. We believe that a strategic combination of individual development and a systemic shift in mind-set is the solution.
Individual development
The choice to and how individuals take up leadership roles is fundamentally a question of identity. When a women leader internalises a leadership identity, she is likely to demonstrate behaviors that assert leadership. An example would be her willingness to go in for challenging assignments, seek growth opportunities, and take risks. Such behaviors will, in turn, be affirmed by the people around her, who regard her as a leader and reinforce her leadership identity.
However, many women find it difficult to internalise such leadership identity. This is because in most cultures, leadership is associated with masculinity while women are expected to be soft-spoken, caring and friendly. The mismatch between traits attributed to women and that of leaders is the essential reason of the struggle that potential women leaders face.
Hence, the goal of individual development is to help women talent overcome the "second-generation gender bias" and discover their true identity so that they feel empowered to be both women
and
leaders. It is especially important to help women discover their purpose and passion in life, as a sense of higher purpose motivates leaders to overcome fear, move out of the comfort zone, and think of
what is possible.
Developing women leaders in an all-women setting
With the aim of developing individuals, a women-only leadership program provides participants with a novel context that contrasts the more familiar, male-dominated work environment. Such context allows the shared experience of gender to inform the content and support the conversation, thus fostering learning and provoking insight. Among fellow women leaders, participants feel more comfortable to discuss issues that are pertinent to them, without worrying about judgment.
It is worth pointing out that, leadership development should occur in a variety of venues, with different designs to serve different purposes. Over the course of their careers, women talents can, and should attend both women-only and mixed-sex programs to achieve different objectives.
Systemic shift
A deep understanding of the unconscious bias that affects women in organisations is essential to promote more women leaders. With senior leaders' support, HR leaders can look for ways that unconscious bias in the organisation affects opportunities and motivation for women, rethink the talent management process and identify potential areas for improvement. Some practices that may help women talent include:
Flexible working conditions
Support for work and family life balance
Gender-specific hiring
Networking opportunities for women
Coaching, mentoring and sponsorship for potential women talent
Women can also spearhead their own development by playing active roles in the process. For example, by getting involved in discussing gender biases, women are likely to realise how they have sometimes participated in reinforcing these biases in society. They may also arrive at possible factors that prevent women from advancing into senior leadership positions within their organisations. A deep appreciation for gender biases engenders a commitment to being a change agent in the workplace and community. Individual development programs also enable actions, like mentoring others and being a positive role model, to make significant impact on the lives they touch, and ultimately, reinforcing a positive cycle.
---