More companies in Asia are embracing this way of thinking and are reaping the benefits of a more engaged workforce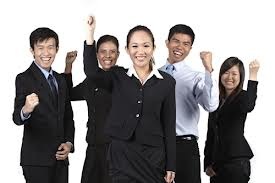 On the outset, it seems like common sense; treat your employees the same way you do your customers and you can expect them to be loyal to your organisation.
"Some companies just had their heads in the sand for the longest time," said Gretchen Huestis, senior vice president, regional director at Ketchum Change.
But companies, particularly those in Asia, are now catching up to these types of disciplines, she added.
"For the challenges that organisations are facing in Asia, there couldn't be a better time to think about this stuff," said the managing consultant and talent management expert.
More organisations are now looking to get a strong employer brand to match or mirror their consumer brand, she said.
Huestis suggested taking concepts from the consumer world and applying it internally so as to get a strong employer brand across your staff.
"For example, design thinking. It's an approach used in the consumer world to find out what it is that customers really want. Applying it internally means really getting under their skin, understanding at the very fine level what they do day to day, what their biggest issues and concerns are, finding out what motivates them and what challenges them," she said.
As companies are beginning to understand the importance of listening to their employees in the same way that they listen to their consumers, Huestis said many of them are turning to technology.
"Use of technology is accepted much greater in Asia than in any other part of world. People are used to working through these platforms … and commenting everything they think," she said.
Companies could either use already existing platforms that employees are already using in their personal life like Whatsapp or WeChat and adapting that for more internal purposes or use bespoke technology like Workplace by Facebook.
'Shadowing' employees and working alongside them would also get you a good and deep representative view of their issues and concerns, she added.
Treating employees like you would your customers in order to create a strong employer brand would yield two major benefits:
1) Better employee engagement. Showing your employees that they matter, that their concern is valid, would lead them to trusting the organisation and would create a more loyal, more engaged workforce that will also perform better;
2) Make better investments. The more you listen to your employees, the more you are able to use investments in the best possible that would be beneficial to the whole organisation and will get the outcomes that they would desire.
She also noted that it is important to communicate to the employees that they be good custodians of the company and its future.
Be transparent in letting them know that their 'demands' have been heard and how management is weighing up how it fits the company's current strategy and ability to compete and win in the marketplace, she added.
"If the asks would put the company's future at risk it is then the job of the company to explain this clearly and look for creative alternatives," she said.
Related stories:
How company culture affects employee engagement
Is staff engagement really linked to loyalty?
"Engagement and culture are not HR issues"