Experts argue that flexible dress-codes – often billed as "soft-benefits" – are good for business. Here's why.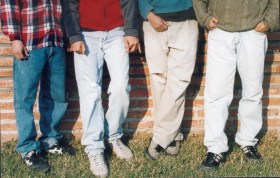 Large employers are increasingly relaxing their dress codes and experts say it's a tactic which makes perfect business sense – here's why.
The economy is improving
Which is brilliant, obviously, but it means employers are now recruiting from a slightly less crowded job market.
"When you start to compete for workers, there's both hard and soft benefits," says retail consultant Neil Stern. "The hard benefits are what I am going to pay you. But people are also paying attention to all the other quality-of-workplace environmental issues that go along with it."
Retail behemoth Wal-Mart is the latest household name to shift focus onto soft benefits – the company has loosened rules on its dress-code, promised to raise the notoriously-chilly temperature and is ditching repetitive playlists in favour of a dedicated radio station.
Stern says as the economy continues to improve, more employers will be turning their attention to soft-benefits in a bid to attract and retain valuable employees.
Millennials make up the majority of the workforce
For generations, young workers have been pegged as the demographic most likely to dispute dress codes but the sheer size of the millennial population means they have more influence than ever before – winning them over couldn't be more important.
"If you don't allow them to have some freedom, they're not going to work for you," says Stern – and it doesn't necessarily have to be the most drastic of changes.
Many organisations have implemented marginally-revised policies that make a big impact on millennials.
PetSmart changed its dress code to allow "appropriate" visible tattoos and lifted its ban on jewellery and piercings.
Starbucks relaxed its tattoo policy and began allowing small nose studs, larger earlobe piercings, black denim, untucked shirts and personalised name badges.
You could be asking for legal trouble
In a case which can't have escaped the attention of any HR professional, Abercrombie & Fitch were thrust into the unwanted limelight. The US Supreme Court sided with a Muslim woman who said she hadn't been hired because her head scarf violated the company's "look policy."
While the brand has since made changes – workers now simply have to be "neat, clean, natural and well-groomed" – the comprehensive policy once had specific restrictions on hair tone and length of finger nails.