With a greater focus on employing more locals in Singapore, one reason stands out for why expat HR directors are still attracted to the banking industry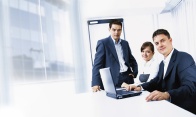 Despite recent government efforts to employ more locals in Singapore, there are still a large number of foreign executives, especially in HR, working in the banking industry. Why has this group chosen to stay? One reason stands out from the rest: maids.
Financial services careers website, eFinancialCareers, spoke to a number of foreign PMEs in Singapore who said their domestic workers made their lives "immeasurably easier" than they would have been back home.
As of 2015, there were over 220,000 foreign domestic workers (FDWs) in Singapore. With the average wage being around S$500 per month, the cost of a home helper is well worth it with regards to the benefits provided (even including additional expenses such as insurance and agency fees).
A better work/life balance was one advantage mentioned with many foreign executives experiencing more time to spend with their families or on their hobbies. Comparisons were inevitably made between Singapore and life back in their home countries.
"In the UK you plan an evening out months in advance – arrange a babysitter, pay for super expensive taxis and make sure you're back on time," Kyle Blockley, managing partner of recruitment firm KS Consulting in Singapore, told eFinancialCareers.
"Once you have a helper, you suddenly have time to enjoy life again and spend more time with your kids without worrying about cleaning the house."
Emma Boyd, managing director of data company Bright Tiger in Singapore, said that maids were very helpful for working mothers.
"I knew a couple of senior bankers who would have their helper bring their baby to work so they could breast feed and collect pumped milk," she said.
"It also means there's no anxiety over collecting children from school or over multiple bath and bed times. Plus play-dates can be arranged without need of a parent and you can take impromptu evenings out with co-workers without a second thought."
Properly managing the helper/employer relationship is especially important. In HR's case however, this should come naturally as the same skills and strategies used to direct staff in the office can also be used to benefit from and work with FDWs at home.
Related stories:
Government releases new foreign worker growth figures
Low wage earners' salaries set to increase
Hurdles to remain high for importing foreign talent