With MOM extending their partnership with the International Labour Organisation, Singapore HR professionals can expect a few region-wide effects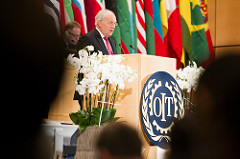 The Ministry of Manpower (MOM) has announced a renewed partnership with the International Labour Organisation (IPO) to "promote decent work in Southeast Asia".
The agreement was signed at the 105th International Labour Conference in Geneva, Switzerland on Monday (6 June) by Tomoko Nishimoto, ILO assistant director-general and regional director for Asia and the Pacific, and Aubeck Kam, permanent secretary of MOM.
"The partnership agreement that we are signing today will strengthen the ability of the ASEAN countries to promote the Decent Work Agenda," Kam said in a statement. "It will anchor Decent Work into the ASEAN regional integration process."
The Decent Work Agenda has been developed by the ILO and focuses on the four pillars of job creation, social protection, rights and work, and social dialogue. Gender equality is a key objective within this initiative.
"The renewal of the partnership agreement with the ILO reflects Singapore's continued commitment to working with the ILO and other ASEAN countries to improve labour and workplace practices in the Southeast Asian region," Kam said.
The agreement would also help the region reach the 2030 Agenda for Sustainable Development and the Sustainable Development Goals (SDGs), in particular SDG 8 which aims at promoting sustainable, inclusive economic growth and productive employment for both men and women.
Erman Tan, president of the Singapore Human Resources Institute (SHRI), told
HRD
that the agreement will complement the Tripartite model which already boosts Singapore's economic competitiveness, harmonious labour-management relations and overall progress.
"The renewed partnership between MOM and ILO will further enhance labour practices and enable us to raise HR standards in the workplace to reflect global conditions and interests of the workforce – not only locally but also in Southeast Asia," he said.
It will also allow Singapore to strengthen its bond with our neighbours and reinforce its position as a regional hub for human capital development, he added.
"In this increasingly boundary-less world, only with collective support and commitment can we strive for sustainable economic progress, productive work and decent work for current and successive generations."
Image by International Labour Organisation / CC BY 2.0
Related stories:
The TPP in Singapore – what can HR expect?
1MDB bank sued by recruitment firm
APAC HR leaders should take heed of NZ employment law changes