Organisations are changing at a rapid rate. This may be the solution to ensure culture keeps up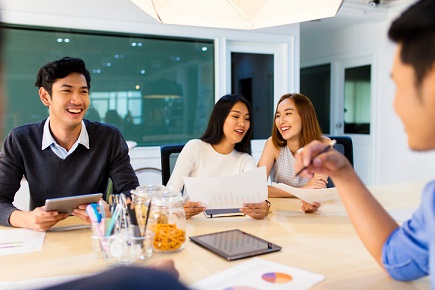 Technology has vastly changed the workplace in the last few years. In a recent webinar held by Sam Crumley, VP employee experience at Panopto, he shared how video technology can transform an organisation.
Based on his past experiences working with organisations from a wide range of industries, Crumley shared seven ways video technology helped to overcome key HR challenges and the opportunities HR can tap on to improve company culture and produce impressive ROI.
Capture and share knowledge
Crumley worked with a successful consulting firm that provided services for specialised areas. They had hundreds of employees spread out in different locations and time zones. But they didn't have an L&D function or extra time to capture crucial information needed by employees.
Expert knowledge was thus concentrated in a few and they had difficulty sharing it across the organisation for learning purposes. Knowledge-sharing was a cumbersome process and had to be done at live events or monthly meetings.
There was also no way to assess the impact of any processes. As more programs were developed internally by employees, more information was lost and there was a growing stack of documents shelved in each department.
With video: Expert knowledge can be captured on reusable videos, so individuals can access it anytime, anywhere. Instead of taking time out of important meetings reiterating the same content, videos can be provided ahead of the session so that staff can focus on more value-added discussions.
Video can also be used to capture data on customer satisfaction and provide reports for employees. Employees thus have expert knowledge at their fingertips and can easily search them with the use of content archives.
Manage expectations
Many companies have been redesigning their performance management processes in the last few years. Training managers regarding a new process can prove challenging, in addition to the documentation and campaigns involved post-roll out. It can thus be difficult to reinforce expectations and portray what "good" looks like.
New processes can also be a clunky campaign that would require constant coordination between HR and the internal communications team.
A new system however presented the opportunity to increase visibility of senior management and align expectations of the various level of leaders with the company.
With video: Nagging issues can be solved, including how a manager prepares ahead of the sessions and what a "great conversation" looks like using the instructional method of video. HR can also easily track adoption of the new processes.
Meet training needs of site workers
A natural gas utility company with an ageing workforce faced a challenge of consistently training new hires. Additionally, most of the staff were primarily based on-site and didn't have the time to attend training sessions at a different location. There was also a centralised L&D function but it was primarily accountable for managerial and supervising roles.
The company had a strong culture of quality and safety, and it highly valued tenure and experience.
As most experienced team members were retiring, the over-reliance on several "go-to people" who were known as the experts was proving to be quite a problem.
With video: A video-enabled solution would be able to capture the expertise of experienced employees and retain their expert knowledge before they leave the workforce. And as regulations change, videos can be easily updated. It is also a mobile method of learning that is perfectly suited for on-site workers who are always on the go.
Implement micro learning
Micro learning is growing in popularity due to its quick and seamless delivery of knowledge for employees. Crumley shared a case of a healthcare company with high standards and was reputed for its compliance and patient outcomes. There were also a lot of certification processes and regulation involved.
It had a very customer-focused culture and most of employees' time was put into delivery of care to its patients. The idea of taking time to develop employees' careers while still delivering a high standard of service was unknown to the organisation.
Training was typically done in small pockets of time when people were changing their shifts or had the chance to step away from work for a short period. A lot of the training was mainly slotted for new hires.
With video: Micro learning is about "what I need to know right now" – short 5 minute videos can easily help employees gain knowledge for routine or new scenarios. Since most staff are on the go, video-enabled micro learning would not take employees away from patient time. The platform can also collect feedback on usefulness of content and relevant content can be easily shared with others.
Raise awareness of company changes
Some companies may face the challenge of providing constant updates of changing product line. One national financial services company had to deal with just that and struggled with updating the different teams – sales, customer support and operations – on the company's frequent changes.
Frontline staff were spread out across regional sales offices while corporate functions were in a centralised location, including L&D. When training was needed for the different teams, individual departments and offices created their own training programs, making it difficult for LMS to keep track.
With video: Training content can still be created by employees as and when needed, but each session can be integrated with LMS for easy tracking. Videos can also be auto catalogued for each department for future use, preventing the need to recreate similar training content. The content can be easily shared across the organisation and the L&D team can track how content is consumed – and see whether it can be improved.
Change management
For this, Crumley shared a personal experience where the organisation was moving from an in-house L&D to an outsourced model. External vendors would be used to provide content planning, development, delivery, LMS and end-user support. This meant the company had to constantly to spend time and effort training vendors to ensure alignment with the organisation's values.
The company had a cultural issue where several roles experienced high turnover rates, so there was constant onboarding and training of people. To gather feedback on processes and L&D, the company had to send staff to travel and be physically present at its offices, which was spread across seven regions.
With video: Video solution allows case demonstrations across departments and locations, as well the ability to gain immediate feedback. Video would also ensure content remained consistent and did not vary depending on the external instructor's capability. It would also greatly reduce cost incurred from travel.
Overcome distance between offices
Crumley was once in charge of a project for a Canadian government authority that delivered services. Offices were spread across broad territories and it was rare for someone from the main office to travel to those in remote locations, although they eventually resorted to having periods of travel for staff.
There were also connectivity issues and most employees were unable to connect through live calls. The company had difficulty figuring out how to increase efficiency for employees and give staff in remote locations the opportunity to develop their careers.
With video: Instead of just waiting for content from the main office, employees can easily create content and distribute across the organisation for use. Video can also connect teams together with less travel – people are then aware of who they have been working closely with. Videos can also be downloaded, which helps the company overcome any bandwidth limitations.